Story highlights
Congressmen Brad Wenstrup and Mo Brooks tended to Steve Scalise's wounds in Virginia shooting
The shooting was "like being back in a combat zone in Iraq," Wenstrup said
Rep. Brad Wenstrup, of Ohio, rushed to House Majority Whip Steve Scalise's side Wednesday morning, as a stream of blood trailed behind the Louisiana congressman.
Scalise was shot in Alexandria, Virginia, where members of Congress were attending a practice for the GOP congressional baseball team.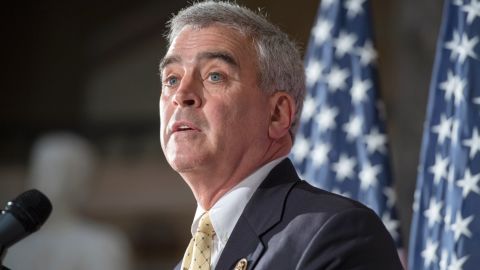 During the baseball practice, a gunman opened fire and Wenstrup immediately went into medical mode, Alabama Rep. Mo Brooks said on CNN. Wenstrup is a doctor, a podiatrist by training, and a veteran of the war in Iraq.
"I held a cloth over the wound to stop the bleeding as Brad was getting some kind of scissors device to cut through the pants to try to have better access to Steve Scalise's wound and his hip," Brooks said. "I put pressure on his wound in his hip."
He added that Wenstrup started to focus on minimizing blood loss in the hip area. Scalise was shot in the left hip, Wenstrup told Jake Tapper on The Lead on Wednesday afternoon.
"I found his entry wound but didn't find an exit wound and that concerned me greatly, so even though we were able to stop the bleeding externally I was concerned what was going on inside," Wenstrup said of Scalise.
Wenstrup added that no exit wound suggests that the bullet could have hit some internal organs or large arteries in the hip area.
"One of the big arteries – the femoral artery – is in that area. You want to apply pressure to the wound itself because of potential bleeding there," said CNN's Chief Medical Correspondent Dr. Sanjay Gupta in a special edition of Inside Politics on Wednesday.
"In all trauma situations, there's a very simple sort of way the people approach it. It's literally ABC. You want to make sure the airway is open, make sure the person is breathing and 'C' stands for circulation, which is basically trying to control blood loss," he said. "Those are the big things one can do in the most immediate situation under these circumstances."
After tending to Scalise, Brooks said, "Shortly thereafter the police showed up, and a helicopter landed in center field and took away whomever the folks decided was the most wounded, most critical."
In a post on Twitter, Wenstrup said, "Capitol police and emergency responders reacted swiftly and courageously – we are grateful for their presence."
An aide for Wenstrup said he is unhurt, and that Wenstrup described the shooting as similar to "being in Iraq again, only without his weapon."
Scalise's office released a statement following the shooting that said he was transported to MedStar Washington Hospital Center to undergo surgery.
The hospital posted on Twitter Wednesday afternoon that "Scalise was critically injured and remains in critical condition."
Another victim of the shooting was Zack Barth, a staff member for Texas Rep. Roger Williams, Williams said in a post on Twitter. The staff member is receiving medical attention, according to Williams.
The shooting appeared to be a "deliberate attack," congressional and law enforcement sources said.
Law enforcement officials identified the shooter as 66-year-old James Hodgkinson of Belleville, Illinois. The shooter has died from his injuries, President Donald Trump said in a press conference Wednesday.