Story highlights
Child travels to hug officers in 50 states
Officer: "It's like medicine that rejuvenates us"
Rosalyn Baldwin is 7 years old and is roadtripping across the US on a unique journey: She wants to hug police officers in all 50 states.
"This came about as a result of the Dallas shooting," her mother, Angie Baldwin, told CNN. She was referring to the killings of five officers last year in Texas. "And it really amped up after Louisiana," she said, referencing the deaths of three more officers last summer.
Rosalyn's family has close friends within law enforcement, and the spirited girl decided police officers needed her support. So, she told her parents she wanted to offer hugs. Her initial plan was ambitious.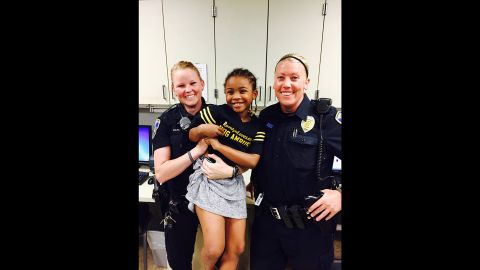 "First she [wanted to hug officers in] all the nations in the world," her mother said.
Angie and her husband, Eric, suggested their daughter start small, going to the police station in nearby St. Tammany Parish, Louisiana.
"We took her around to a few officers to see if it would pass."
It didn't. Rosalyn only wanted to hug more police officers.
"So, I said 'I'm gonna help her do it because I think as parents it's important to help her'" her mother said.
The journey
That was in January.
Today, the family is in Illinois – state number 16.
They travel during holidays and school breaks. The mission is funded in part by donations through GoFundMe. Angie hopes to hit all 50 states in two years' time.
The reaction
The reaction from the officers has been fantastic.
The police department in Springfield, Missouri, posted this message after Rosalyn's visit:
In Tulsa, Rosalyn got a hero's welcome complete with a procession of motorcycle cops and a ride in the police chopper.
"It's like medicine that rejuvenate us" said Major Travis Yates of the Tulsa Police Department.
"People ask: Is a hug enough? Well, yea! Every little thing that we can get to help us do our jobs is beneficial."
The reason
Her mom added: "It has been from near tears to just appreciation. They are just so grateful that she wants to do this."
"It becomes something people need - the police officers, their wives - they seem to need this."
But, for Rosalyn it's not about the fanfare, the attention or even the helicopter ride. It's something much more basic.
"She says this is her heart," her mother beamed. "She wants to show her love for them."