Story highlights
Hundreds of Gulf families face separation
Family splits amid Muslim holy month of Ramadan
In a large villa on the outskirts of Qatar's capital Doha, one family gathers to celebrate the holy month of Ramadan, handing out candy and singing songs.
This is meant to be a time when extended families meet and observe generations-old traditions. But the celebrations are overshadowed by fear and worry. The political crisis in the Gulf threatens to tear this family apart.
Dr Wafaa al-Yazeedi, a mother of three, is a Qatari single mother. Bahrain has asked her children, all Bahraini citizens, to leave Qatar.
"I am at risk of losing my children. It's my dream all my life to raise them around me until they get married. Now, I may lose my children any minute," she says, nestled between her two eldest children, Rashed, 22, and Alanood, 21.
When Bahrain, the UAE and Saudi Arabia – along with six other countries – severed ties with Qatar this month, hundreds of mixed Qatari families found themselves in this dilemma, according to the Qatar National Human Rights Committee.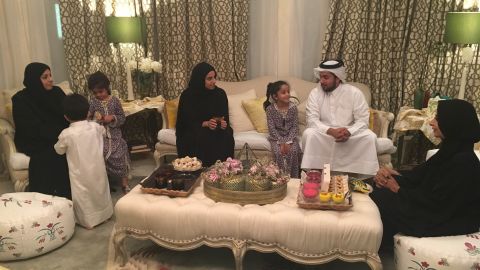 Saudi Arabia, the UAE and Bahrain have instructed their nationals to leave Qatar.
However, Qatar's Interior Ministry said in statement Sunday they were free to stay.
Qatar's Interior Ministry said it had "not taken any steps with regards to inhabitants of its territories which come from brotherly and friendly states that have cut off diplomatic ties" with the tiny peninsula Gulf state.
In government statements Sunday, Saudi Arabia, the UAE and Bahrain said they planned to "take into consideration" the impact of the crisis on mixed nationality families, adding that they will take "appropriate steps" to help. The statements stopped short of stating whether families would be allowed to reconcile.
The al-Yazeedis fear that defying the order to leave would result in the children losing their Bahraini passports.
"We are blood related in all the Gulf region and we thought they will never do that for us, but what shocked me more that they did it. They don't think about us as a population, they think about politics issues rather than human," says their mother.
Food, fuel and flights: How Qatar may suffer
Families 'beyond passports'
In Gulf countries, citizenship is generally passed to children through the father only. According to al-Yazeedi's daughter Alanood alJalahma, losing their Bahraini passports could ultimately leave the children stateless.
"My mom raised us by herself. It's tough, especially because she is a single mother but that made us closer and now after 21 years to decide to pull us apart based on the passport that we have…I mean families are beyond passports," said Alanood, a 21-year-old medical student at a Qatari branch of an American Ivy League university.
Alanood is concerned that leaving the country will impact her studies. Her brother Rashed alJalahma, an aeronautical engineer, believes the latest crisis could have a devastating impact on their careers.
"As a 22-year-old, you have to look at it from my point of view. My point of view right now is my education," he said.
"Right now to further develop myself–its only that and that's what's really important to me. And this country has given me everything to do that and then they say go back to the country that's holding 48 pages of a document? It's absurd."
Prior to the crisis, citizens of the region's Gulf Cooperation Council—which Qatar, the UAE, Bahrain and Saudi Arabia are a part—enjoyed freedom of movement and right to abode in member states. GCC members continue to refer to one another as "brotherly peoples," even amid the diplomatic fallout.
'It's not right'
Al-Yazeedi's family is not the only one in this predicament.
According to Qatari government figures, nearly 6,500 Qatari citizens are married to Emiratis, Saudis or Bahrainis.
Amnesty International has documented several cases of families forced to separate amidst the political crisis.
"These drastic measures are already having a brutal effect, splitting children from parents and husbands from wives," said James Lynch, Deputy Director of Amnesty International's Global Issues Programme, in a statement this week.
For Alanood, the decision to force people to leave is incomprehensible. "It's not right. Children should never be separated from their parents, especially by force," she said.
"I don't understand it especially in a region with multiple families from different regions and countries it makes no sense. There are people who literally have family in every single Gulf region country. It really doesn't make sense."
As the crisis continues, the future of al-Yazeedi and her three children hangs in the balance. But in a region where family ties go back for centuries this recent incident has had a lasting impact on her. "I never thought it would happen in our country and in the Gulf region. By who? by countries who are our brothers and sisters and neighbors?"
As politicians search for a light at the end of the diplomatic tunnel, for al-Yazeedi, the damage has already been done: "As a human, this is a wound I will never forget".