Story highlights
Jeff Merkley has found a lane among the left after endorsing Bernie Sanders in 2016
The two-term Oregon Democrat has a history of being an underdog and winning
He sat in a German brewpub in Southeast Portland for more than an hour without being recognized.
Wearing Levi's, boots, and a light-blue dress shirt, he ate a Reuben sandwich and chatted up the waitress. While looking at the menu, he quipped that it was "criminal" to use words like "notes" — as in "lovely banana-fruity notes"— in the beer descriptions.
It wasn't until the waitress ran his credit card and brought back the check that she realized she'd been serving one of Oregon's two US senators.
"Sen. Merkley, oh my gosh," she said, as she handed him his receipt. "I'm star struck. I didn't have context for your face. I'm so proud that you represent us."
Jeff Merkley, the soft-spoken Democrat, has a way of sneaking up on people, both in casual settings and more formally in his political career. He may not be the most bombastic personality in the room, but he's managed to maneuver his way from a blue-collar neighborhood in Portland — where he still lives — to the Oregon House to the US Senate, without losing a race.
And as 2020 approaches, he might be quietly mounting a bid to run for president in what will likely be a crowded Democratic primary.
"If Jeff doesn't feel that there is a strong progressive voice in the race, it would motivate him to get in," said a source close to the senator. "He's committed to making sure Democrats have a progressive choice."
Merkley, 60, has seen his profile rise in the past year, in part because he was the only senator to endorse Vermont Sen. Bernie Sanders in the 2016 Democratic primary, but also because of his biting attacks against President Donald Trump.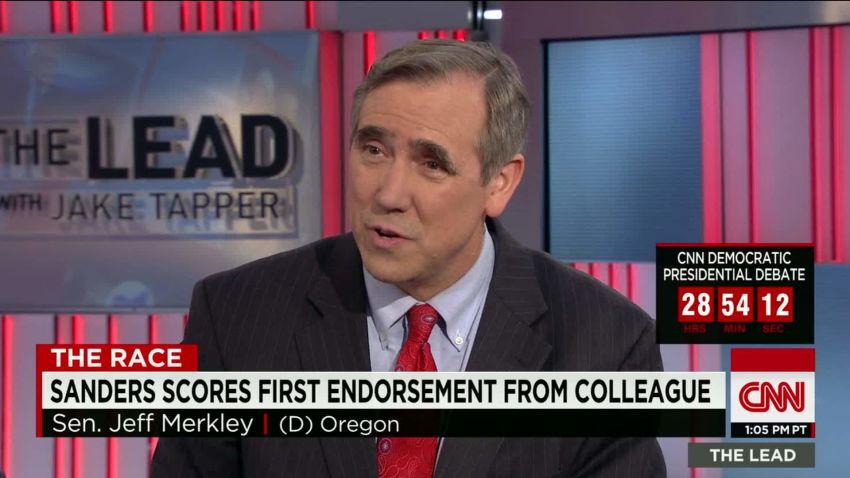 How realistic are Sanders' promises? Supporter Sen. Merkley responds
He's not up for re-election until 2020, and he plans to hit the trail for colleagues fighting to keep their seats in the midterm elections, a move that will further raise his name recognition.
Asked at the brewpub if he was interested in a presidential bid, the senator said his mind is "completely in the 2018 battle" but acknowledged a lot of Democrats will be angling to take on Trump. He alluded to the old joke that every senator wakes up in the morning and sees a future president in the mirror.
"Right now, every elected Democrat in the nation knows they'd be a better president than Donald Trump," he said.
"And I'm not just talking the House and the Senate, I'm talking every city council member, mayor, and county commissioner knows that they would be a better president," he continued. "So I'm sure we'll have many people sharing their thoughts and considering participating in the effort to make sure Donald Trump's damage to this country is limited to this four year period."
Merkley having a moment
Indeed, the progressive lane alone could have some stiff competition. Potential contenders include Sanders again, Sen. Elizabeth Warren of Massachusetts and Sen. Al Franken of Minnesota – three household names in Democratic politics and three of Merkley's good friends in the Senate.
Merkley has neither the charisma nor the attention-grabbing flare of any of them, but one Democratic Senate aide argued voters may be looking for a softer style in 2020. "After four years of Trump, that could be a huge asset."
The senator, now in his second-term, has been actively working with progressive groups and building a reputation as a leading voice in the grassroots movement.
"I would say he has a rising national profile," said Sarah Badawi, co-leader of legislative affairs work with the Warren-aligned Progressive Change Campaign Committee. "Obviously, he's well-known on the West Coast, but whenever something is happening on a progressive issue, Jeff Merkley is not far behind. People are recognizing that and more and more are coming to see him as a leading champion on the Hill."
Badawi described him as being "at the tip of the spear" when it comes to progressive rallying cries like the public option in the health care debate, debt-free college, and the expansion of social security benefits.
Merkley was one of several Democrats who spoke last month at a daylong event hosted by the liberal think tank Center for American Progress, which was widely seen as the first big cattle call for the 2020 Democratic primary.
Standing out among Trump critics
He made national headlines when he launched a 15-hour plus talkathon on the Senate floor against the nomination of Neil Gorsuch for the Supreme Court earlier this year, something he joked was "more uncomfortable" than the Ironman triathlon he completed last year.
Senator: SCOTUS nominee is far extreme right
Also on the Senate floor, he got national attention when he backed up Warren in February after she was censured for reading a 1986 letter from Coretta Scott King against the then-nomination of Jeff Sessions to a federal court. In support of Warren, Merkley came to the floor that night to read the same letter.
Despite his gentle demeanor, he's become one of the fiercest critics of Trump and his administration in the Senate, particularly when it comes to anything related to White House chief strategist Steve Bannon, whom Merkley early on labeled a "white supremacist."
And after the stabbings in May of three men – two fatally – who came to the defense of a pair of African-American teenage girls on a light-rail train in Portland, Merkley told CNN he felt Trump was responsible for a larger wave of violence and hate crimes in the country.
He voted "no" against 18 of 22 Trump Cabinet and other top administration nominees, tying with Sens. Cory Booker of New Jersey and Kamala Harris of California. The only senators who voted against more nominees were Warren, Sanders and Sen. Kirsten Gillibrand, D-New York.
And the left-leaning magazine The Nation named him "the most valuable senator" in its 2016 Progressive Honor Roll, calling him an "essential opposition leader" who "knows how the Senate works and pulls no punches when it comes to taking on racism, sexism, economic inequality, climate change, and Trumpism."
A history of long shots
Jeff Mapes, a senior political reporter for Oregon Public Broadcasting, noted that even though Merkley lacks charisma, the senator has a long history of defying expectations.
"The guy does have a lot of ambition, and he is somebody who is willing to take long shots," said Mapes, who has covered Merkley for years.
Merkley was born in Myrtle Creek, Oregon, where his father worked as a mechanic at a lumber mill. The first in his family to attend college, he muses that he ended up at Stanford almost by "pure accident," saying he applied to elite schools at the last minute simply because his vice principal gave him the names of schools and told him apply.
"So I showed up on Stanford's campus not knowing a damn thing about the school," he said.
He went on to get a graduate degree at Princeton and got a job as an analyst at the Pentagon and in the Congressional Budget Office. He then returned to Oregon to head up the Habitat for Humanity affiliate in Portland and also served as president of the World Affairs Council there.
In 1998, he ran for the Oregon House of Representatives. An article in Portland Monthly describes Merkley's state house bid as an unlikely endeavor, with no staff or polling in a crowded four-way primary. Merkley, the article said, would jog from house to house, asking people to put his campaign sign in their yards since political signs were banned on bigger streets, even though his opponents didn't follow those rules.
Merkley won.
During his next four terms in the Oregon House, he would work to help Democrats win the majority. They found victory in that pursuit in 2006, and soon after that, Merkley became Speaker.
Boosted by his political wins, Merkley set his eyes on another challenge and successfully unseated Republican Gordon Smith from the US Senate in 2008.
"His history is being willing to take gambles like that," Mapes said.
His time as senator
Since being in the Senate, Merkley has risen to a low-level leadership position as chief deputy whip in the Democratic caucus. He sits on four committees: Budget, Appropriations, Foreign Relations, and Environment and Public Works.
Democratic leadership aides describe Merkley as a smart, under-the-radar senator who has his pulse on the grassroots movement. "He's quiet but doesn't have to be loud to make his point heard," one top Democratic aide said.
Frustrated by Republican obstructionism when Democrats held control of the Senate, Merkley became a big backer of filibuster reform, calling to eliminate the 60-vote threshold to advance legislation and nominees. He also wanted to restore the tradition of a talking filibuster, where senators had to literally stand on the floor and keep talking to hold up key votes. Merkley did however blast Senate Majority Leader Mitch McConnell's recent move to remove the 60-vote threshold for Supreme Court nominees as a "dark deed," which led critics to accuse him of hypocrisy.
Legislatively, Merkley also put himself on the map with his push to get breastfeeding rights included in Obamacare, and he's continued to introduce legislation to expand those rights to cover salaried workers. That initiative mimics a law he got passed in Oregon in 2007.
He authored provisions against predatory mortgages in the Dodd-Frank bill, and was active on the Employment Non-Discrimination Act, which the Senate passed in 2013 when Democrats still had control of the Congress; the legislation prohibited employment discrimination on the basis of sexual orientation or gender identity. Furthermore, Merkley is adamant about legislation he co-introduced that would aim for 100% renewable energy use by 2050 to fight climate change.
A day in Portland
Merkley might seem tranquil in comparison to some larger-than-life politicians, but he's nonetheless engaged and smiles often – as exemplified during a recent day he spent in his home state.
He answered one question about his record for 17 minutes at the brewpub, growing more animated as time went on and speaking loud enough to drown out Lionel Richie's "Don't Stop," which was playing in the background.
While on tours of a vinyl record factory and a knife factory in the Portland area, he was inquisitive, asking detailed questions about the products and recalling his own time working in a factory as a young man.
He next spoke to a group of locally elected officials sitting in a circle of chairs. Hunched over in his seat, he offered assurances that Trump's budget, which had just been announced days earlier, wouldn't end up as "dramatic" as proposed and spoke as fluently about questions over public lands and timber issues as he did about appropriations.
At a town hall in Clackamas, Oregon, he fielded questions from constituents for an hour, then spent another 45 minutes talking one-on-one with people afterward.
One Washington-based Democratic strategist, who asked not to be named in order to speak freely, argued it's going to be a challenge for Merkley to turn up the heat if he runs for president, noting the range of other potential contenders includes some who have celebrity status like Sen. Cory Booker or billionaire Mark Cuban.
"You're going to have to have a really loud voice to cut through a crowded field," the strategist said.
What he lacks in volume, however, could be made up for with his blue collar appeal, his supporters argue.
"When I think about Jeff, I think of someone who has a unique ability to channel a lot of what Bernie Sanders' supporters are looking for in a candidate, while also having a unique ability to speak to Trump supporters, as well," said a former Merkley staffer, who also asked not to be named. "He doesn't have to fake it to speak to the concerns of working class voters, because that's who he is."
Blythe Nordbye, a voter who attended Merkley's town hall, was intrigued at the idea when asked how she felt about a potential Merkley White House bid. "I'd have to think about that," she said as she began to seemingly think out loud. "He's got experience. He's got good principles. He doesn't represent money, he represents people."
Still, voters at the town hall were quick to point out that it's very early to start talking about possible 2020 candidates.
"I hesitate to start floating names," said Margy Lowe of Rhododendron, Oregon. "They become lightning rods."