Story highlights
Geimer was 13 in 1977, when Polanski had sex with her at Jack Nicholson's home
She asks judge to close case as "an act of mercy"
For the first time in 40 years, Roman Polanski's victim stood before a judge Friday and asked him to drop the sexual offense case against the famed film director.
"Justice is not only about punishment, it is about equity and consideration," Samantha Geimer said.
Geimer, 54, has long-forgiven Polanski for having sex with her in 1977 while she was 13, and said that Polanski should be sentenced in absentia to time served in part to end the scrutiny she has faced in the case.
Polanski fled the country in 1978 after pleading guilty, but before he could be sentenced. CNN does not normally identify sexual assault victims, but Geimer identified herself publicly years ago.
"Without dismissing Mr. Polanski's shared responsibility," Geimer told the judge, "I would implore you to consider taking action that would finally bring this matter to a close as an act of mercy to myself and my family."
But prosecutors countered that dismissing the case based on Geimer's wishes would only disrupt the judicial system.
"Such a rule would incentivize perpetrators to harass their victims," LA County Deputy District Attorney Michele Hanisee said.
Geimer called that argument hypocritical at a news conference after the hearing.
"If I was standing here saying to throw the book at him, my opinion would matter," Geimer said.
Judge Scott Gordon called Geimer's testimony to the court "elegant and courageous," adding that "closure is something you deserve."
But as he did throughout the hearing, Gordon alluded to Polanski's ability to end this case now by returning to California for sentencing.
"There is a person that holds the ability" to bring closure to the case, the judge told Geimer.
Geimer now joins Polanski and his attorneys in claiming that judicial misconduct gave Polanski a fair reason to flee before sentencing.
Polanski's attorney, Harland Braun, said the original judge in the case (now deceased) reneged on a deal that promised Polanski a 90-day sentence.
"It was a commitment by the judge in the presence of the district attorney, the defense lawyer and the victim's lawyer," Braun told reporters after today's hearing. "Then he changed his mind saying (the sentence) could go up to 50 years."
Braun wants a deposition from Roger Gunson, the original prosecutor in the case, unsealed because he thinks it will prove his argument that a deal was firmly in place, and that Polanski had reason not to trust the system.
"I'm not defending his conduct, I'm trying to defend against a dishonest system," Braun said.
Gordon said he would issue a written ruling on the matter. If he were to drop the warrant for Polanski, 83, it would end a nearly four-decade effort by authorities to have the director extradited.
Polanski fled to France in 1978 after he pleaded guilty to having sex with a minor and shortly before he was to be sentenced in the case.
Geimer was five years younger than the age of consent when Polanski, then 43, had sex with her during a photo shoot at actor Jack Nicholson's house in California.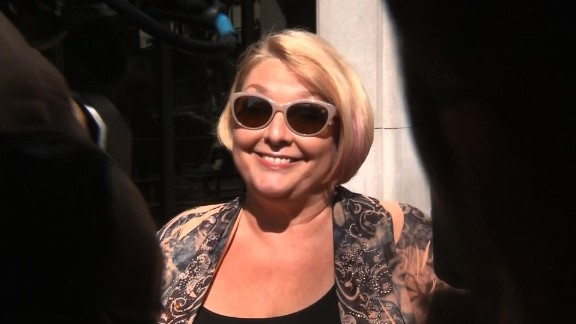 CNN
Polanski trying to get warrant lifted
Polanski is trying to have his outstanding international arrest warrant lifted. He has been abroad since his flight 39 years ago; the warrant even kept him from the 2003 Academy Awards ceremony when he won an Oscar for "The Pianist."
Geimer told CNN in 2003 that Polanski was taking pictures of her at Nicholson's house in 1977 when he raped her. He was accused of, besides having sex with her, giving her champagne and part of a Quaalude tablet.
He was charged with a number of felonies, including rape and sodomy, but prosecutors dropped most of the charges in a deal that saw Polanski plead guilty to unlawful sex with a minor.
Polanski fled the country after learning a judge might not go along with a short jail term he expected to get in exchange for his plea.
Since then, he has successfully fought US extradition efforts in Poland and Switzerland. Meanwhile, he continued his career as a Hollywood exile in countries where he would not face potential extradition.
In April, a Los Angeles Superior Court judge rejected a motion by Polanski's lawyer that asked for assurances the filmmaker would not serve more jail time if he returned to the United States.
At the time, Braun asked the court to consider the time Polanski had already spent behind bars. Polanski spent 42 days in a California jail in 1977 and approximately 300 days in a jail in Switzerland during extradition proceedings.
The judge rejected the motion.
CNN's Jason Kravarik and Stephanie Elam reported from Los Angeles. CNN's Jason Hanna wrote in Atlanta. Dakin Andone, Sonya Hamasaki and Cheri Mossburg contributed to this report.