Story highlights
Former FBI director's testimony was appointment viewing for many across the country
Bars, restaurants open early
Marjorie Sweeney knew James Comey's testimony would be a spectacle – that's why she joined a few dozen others on Thursday at a Brooklyn coffee shop for a watch party.
But she might wish it wasn't such an event.
"We are treating this like a reality show, but that could not be further from the truth," Sweeney told CNN from the party at Building on Bond. "I hope that this turns out to be a brush fire, a one-shot that clears away the apathy.
"When the growth returns, we will be in a better place politically."
The former FBI director's testimony before the Senate Intelligence Committee about his interactions with President Donald Trump came during banking hours on a weekday, but it was still appointment television for many across the country.
Bars and restaurants opened early for communal watching. Suggestions for drinking games floated on the Internet, and some watchers appeared to play along.
At the Brooklyn coffee shop, many seemed to take Comey as a sympathetic figure. Some shouted "give 'em hell" as he began.
Cheers and applause rang out, followed by silence in which watchers intently listed to every word.
People chuckled when Comey said, "Lordy, I hope there are tapes" of his conversations with Trump.
"I want those tapes!" one watcher said.
Politics over pancakes
In the Southern California community of Silver Lake, twins James and David Codeglia served up breakfast at a small watch party in their condominium.
They are 36-year-old Democrats and filmmakers. They watched the testimony – starting at 7 a.m. on the West Coast – wearing plaid pajama bottoms and T-shirts.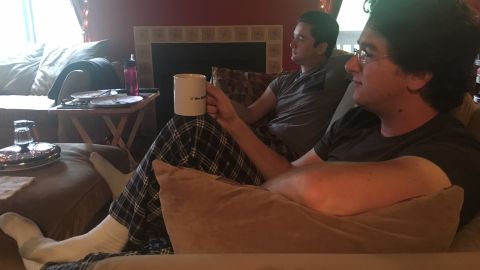 James laughed between bites of chocolate chip pancakes when Sen. Ron Wyden, D-Oregon, told Comey: "I believe the timing of your firing stinks."
"I think (Comey) is being clear, honest," James said. "He's also being self-deprecating. That seems to say 'I'm not perfect'; it humanizes him. Makes him much more believable than Trump."
"I think this is really bad for Trump – that this is getting so much press and attention and he wanted it to go away."
David said Comey was coming off as confident, clear and even presidential.
"This is another example of Trump not knowing what he is doing," David said about Comey's testimony. "Not necessarily being evil, but just being clueless."
Hold the phones
At a Republican Party office in the Atlanta suburb of Sandy Springs, workers making calls on behalf of congressional candidate Karen Handel stopped briefly to watch opening statements.
A staffer, Elliott Echols, said he and others there felt the opening statements vindicated Trump and his assertions that there is no evidence of collusion with Russians in the election.
At one point the TVs were turned off so volunteers could work. At least one checked Internet updates as he made calls.
Watching from the food court in Atlanta's CNN Center, libertarian Steve Noble said he believed Comey "was kind of being manhandled to some degree and being told to do certain things that didn't really meet what the administration wanted."
"And I think that is when they let him go," Noble said. "I think it's a shame that they held on to him (initially). They should have brought in their own person, and put that person through the confirmation process, rather than hang on to him, because he was a controversial figure."
Washington bar: Drinks for every Trump tweet
In the nation's capital, several bars – including Union Pub on Capitol Hill and Partisan in Penn Quarter – hosted special viewing parties, which they promoted on social media throughout the week.
Rob Heim, general manager at Shaw's Tavern, said he thought of the idea of a viewing party while visiting his mom in Florida.
"A commercial came on CNN about the upcoming Comey hearing and my mom said, 'Who would watch that?' Heim told CNN. "And I said, actually a lot of people in DC would."
He quickly put together a Facebook invite, and by Wednesday evening almost 600 people had RSVP'd to say they are going.
Union Pub promised a round of drinks for the house every time President Trump tweeted about Comey. The President abstained – but the free drinks came anyway.
'We always need checks and balances'
On Manhattan's lower east side, Democrat and teacher Robin Hornb, 33, was watching at SideBAR.
"What makes me come to watch this is seeing Trump under pressure and it's satisfying," he said.
Still, he said: "I don't think he's gonna be impeached, things need to be more severe than this."
Back at the Brooklyn coffee shop, Seattle resident Nick Sage took a break from a cross-country trip to watch Comey.
"We always need checks and balances, but we'll see what this really means in the end," he said.
"I think that the founding fathers wanted politics to be a communal activity, and over the past few years we have lost that," Sage said. "This is your modern day equivalent of a town hall. I think our founding fathers would have wanted us to take part this way."
CNN's Saba Hamedy, Joe Sutton and Cassie Spodak, and journalist Ivaylo Vezenkov contributed to this report