(CNN) —
Seven people were killed in a terror attack in central London late Saturday before police shot three suspects dead, the Metropolitan police said.
London Bridge terror attacks
The violence began when a van swerved into throngs of pedestrians on London Bridge.
The suspects are then believed to have jumped out the van and proceeded on foot to nearby Borough Market, a popular nightlife spot, where witnesses said they produced knives and slashed indiscriminately at customers in restaurants and bars.
At least 48 people were taken to hospitals, the London Ambulance Service tweeted.
Key questions remain, including whether the attackers had support or were part of a larger network, and whether the attacks were coordinated.
Here's what we know.
First incident: London Bridge
The van entered the bridge at 9:58 p.m. local time (4:58 pm ET), Metropolitan Police said Sunday.
Witness Mark Roberts said he saw a van speeding across the bridge and then suddenly swerve, bounce off the pavement and hit several pedestrians. He said he heard what sounded like gunfire five to 10 minutes later.
At 10.08 p.m., police officers responded to reports of a vehicle colliding with pedestrians on London Bridge.
Another witness, Brad Myers, said heard a "boom" behind him, which he thinks was the sound of a car hitting the guardrails or other vehicles. He said he saw someone jump into the water to avoid being hit.
The first ambulance team arrived within six minutes, according to the London Ambulance Service.
Second incident: Borough Market
As emergency services rushed to respond, reports came in of multiple stabbings at Borough Market, which was teeming with people on a Saturday night.
Witness Elsbeth Smedley told CNN that a man ran into Elliot's, a cafe, and stabbed two people before running out.
Jack Applebee, a local restaurant owner, said people were running down the street and he heard a female shout, "They're stabbing everyone." About five minutes later, as he and diners took shelter in the restaurant, he heard 10 to 15 gunshots. Police escorted them out 30 minutes later.
Police called both events "terrorist incidents" at 12:25 a.m. Sunday, London time.
Guy's Hospital, near London Bridge, was placed on lockdown "to keep patients, relatives and staff safe," it said in a statement.
The victims
At 4 a.m., police said six people were killed. That number has been increased to seven and could go higher.
Authorities have not released details about where or how the seven victims died.
Some of those hospitalized are in critical condition, London Mayor Sadiq Khan said.
Thirty-six victims are still in hospitals and 21 of them are in critical condition, the National Health Service said Sunday.
One of the dead was a Canadian, said Canadian Prime Minister Justin Trudeau on Sunday.
French President Emmanuel Macron said French citizens were among the victims.
At least one officer received injuries that are not life-threatening, police said.
The assailants
The three assailants were shot dead within eight minutes of police receiving the first emergency call.
They were wearing what looked like explosive vests but later appeared to be fake.
Authorities announced 12 arrests on Sunday.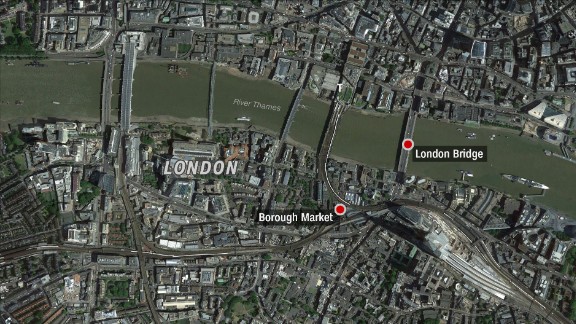 The official response
British Prime Minister Theresa May blamed "Islamist extremism," saying "there is too much tolerance of extremism."
May said Thursday's general election will go ahead as scheduled. But the main parties suspended campaigning Sunday.
The threat level remains at "severe," one step below the highest level, "critical."
Khan, London's mayor, praised the quick police response and asked Londoners to remain calm and vigilant. He said that "Over the next few days, Londoners and visitors will be seeing an increased police presence."
Large areas around London Bridge and Borough Market remain cordoned off.
The UK will observe a minute's silence on Tuesday and flags will remain at half-staff on Whitehall government buildings, May's office announced in a statement.
CNN's Hilary McGann and Duarte Mendonca contributed to this report.