Story highlights
Seven people have died in London terror attack
Police shoot dead three male suspects in Borough Market
At least seven people have been killed and 48 injured in a terror attack in central London, with police shooting three suspected assailants dead.
The attack began late Saturday night, when a white van stuck pedestrians on London Bridge, Metropolitan Police Assistant Commissioner Mark Rowley said in a statement.
The suspects then left the vehicle and "a number of people were stabbed, including an on-duty British Transport Police officer who was responding to the incident at London Bridge," said Rowley. The officer received serious but not life-threatening injuries.
"Armed officers responded very quickly and bravely, confronting three male suspects who were shot and killed in Borough Market," said Rowley. "The suspects had been confronted and shot by the police within eight minutes of the first call. The suspects were wearing what looked like explosive vests but these were later established to be hoaxes."
Eyewitnesses reported panic as the incidents unfolded in the vicinity of a major transport hub and in an area packed with restaurants and bars. The London Ambulance Service said at least 48 people were taken to five hospitals, with many more treated at the scene.
The attacks came days before a general election and two weeks after 22 people were killed when a suicide bomber targeted an Ariana Grande concert in Manchester. It was the third terrorist attack to strike the United Kingdom this year, after a man drove a car into pedestrians on Westminster Bridge in March.
British Prime Minister Theresa May said authorities were dealing with a "terrible incident" and London's Metropolitan Police Service said incidents at London Bridge and nearby Borough Market were being treated as terrorism. The investigation is now being led by the Metropolitan Police Counter Terrorism Command.
London Mayor Sadiq Khan said it was "deliberate and cowardly attack" on Londoners enjoying a Saturday night out.
Latest developments
• Metropolitan Police statement: Seven people have died across two locations, in addition to the three attackers shot dead by police. A reported third incident at Vauxhall, a few miles west, was not connected.
• London Ambulance Service statement: 48 victims have been taken to five hospitals across London. A number of others were treated for less serious injuries at the scene. More than 80 medics have responded to the incident, including ambulance crews, advanced paramedics, specialist response teams and an advanced trauma team from London's air ambulance.
• Vehicle attack on London Bridge: Eyewitnesses said a van drove at speed across London Bridge from the north side, knocking over several pedestrians. London's Metropolitan Police said they first responded to the bridge at 10:08 p.m. (5:08 p.m. ET).
• Stabbings at Borough Market: A man with a knife entered two restaurants at nearby Borough Market, just south of the bridge, stabbing two people in one restaurant and one person in the other, other eyewitnesses told CNN.
• British Prime Minister Theresa May returns to Downing Street: In a statement, she said a "terrible incident" in London was being treated as "potential act of terrorism." She planned to chair a meeting of the Government's Cobra emergency committee Sunday.
• US President Donald Trump reacts: The President was briefed by the national security team, White House Press Secretary Sean Spicer said. Trump tweeted: "Whatever the United States can do to help out in London and the U. K., we will be there - WE ARE WITH YOU. GOD BLESS!"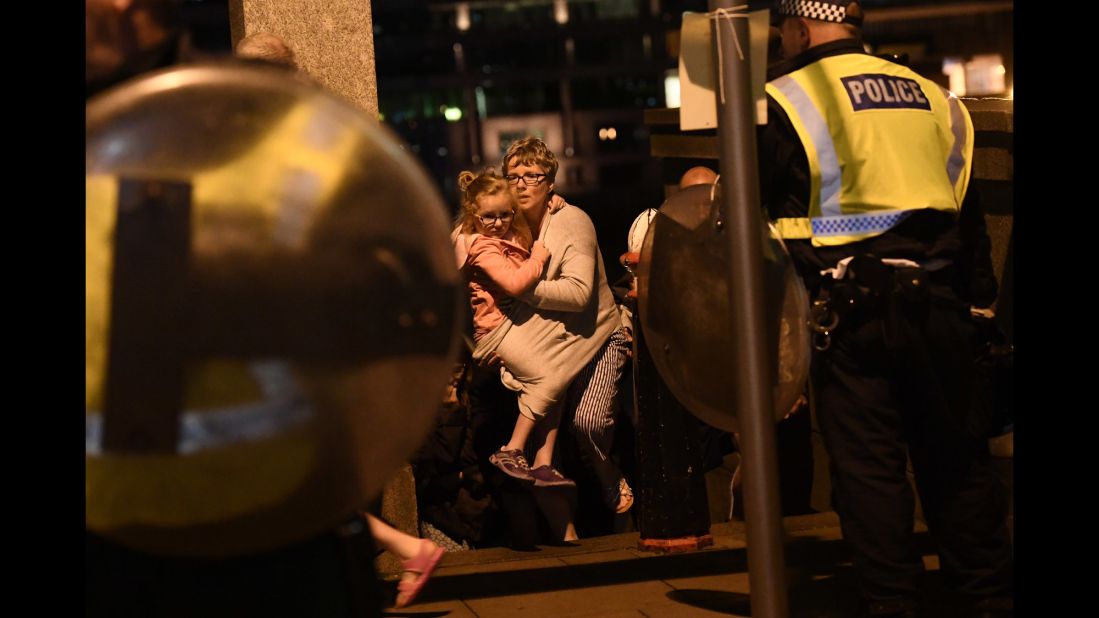 London Bridge terror attack
London Bridge attack
The attack began just after 10 p.m. local time on London Bridge, just north of an area bustling with cafes and bars, and near the London Bridge rail and underground interchange.
Mark Roberts, who was on the bridge at the time of the attack, told CNN a van mowed down pedestrians as it sped south across the bridge, leaving bodies lying in the roadway.
Another witness, Brad Meyers, said he saw someone jump off the bridge into the water in order to escape being hit.
Roberts said the van was traveling south across the River Thames at a high rate of speed and was swerving as it struck several people, knocking one person "about 20 feet into the air."
The van swerved into oncoming lanes before hitting a bus stop and coming to a stop, Roberts said.
"Within my line of sight, there were five or six people on the ground that were not moving," he said. "It looked to me that the van was aiming at the people."
Roberts said he heard what sounded like gunshots about 10 minutes later. He estimated 100 people were on the bridge at the time, fewer than earlier in the night because it was getting late.
"I froze, to be honest," Roberts said. "As I was thinking … which direction should I run, the van swerved across the other side of the bridge from me."
Restaurant terror
The cafe stabbings occurred in Borough Market, a popular market with gourmet food and produce stalls and several restaurants inside.
A witness said they were in the front of Elliot's when a large group of people started running up the street from Borough Market.
"Someone said, 'What is going on?' and one of the people running said, 'There is a man with a knife up there and he is coming this way.' There was complete panic as everyone ran to the back of the restaurant and crouched down trying to hide themselves from view," the witness said.
"A man suddenly appeared in the restaurant with a massive knife – some people in the restaurant believe there may have been another man – but it was so chaotic it was hard to tell," the witness said.
The man with the knife stabbed a waitress, who was hiding behind a partition, in the neck and stabbed a man in the back before running out of the restaurant, the witness said.
Another witness said a masked man entered El Pastor restaurant down the street and slashed a woman in the side with a knife.
Jack Applebee, who owns a restaurant a block away from Elliot's, said he was standing outside when people came running down the street. A girl said, "They're stabbing everyone."
Applebee told his customers to go to the back of the restaurant. He said he started to pull down his shutters and turned around to see three men standing outside, one holding a machete. One wore "this sort of belt," he said.
The men just looked at the people in the restaurant and Applebee said he didn't know what to do. The men went down the street, so Applebee and a colleague pulled down the shutters. Five minutes later they heard gunshots.
They went to the staff room upstairs where they heard more gunshots. About 90 minutes later, police evacuated the restaurant, he said.
Police activity spread throughout the Borough Market area. Officers rushed into the nearby Katzenjammers bar and ordered people to sit on the floor, patron Paul Connell told CNN.
"The police were absolutely brilliant, they came in and explained the situation," he said. " Armed police came in. They told us to remain on the floor but to stay calm. We were eventually led out of the bar and some kind people working in a hotel let us come in to use the bathroom and to give us water."
Official reaction
The US embassy in London tweeted: "Please avoid the area and monitor local news/@metpoliceuk for updates."
The US Department of Homeland Security put out a statement saying, "At this time, we have no information to indicate a specific, credible threat in the United States."
At 11:44 p.m., Metropolitan Police tweeted that officers were also responding to reports of an "incident" in the Vauxhall area, about 2.5 miles southwest of Borough Market, also on the south side of the Thames. Later they said that call was not related to the bridge or cafe incidents.
London Bridge Tube station was closed and London Bridge was closed in both directions.
The Metropolitan Police confirmed there would be "additional police and officers deployed across the capital" in the forthcoming days.
Mayor Sadiq Khan said the incident was still unfolding. "We don't yet know the full details, but this was a deliberate and cowardly attack on innocent Londoners and visitors to our city enjoying their Saturday night. I condemn it in the strongest possible terms. There is no justification whatsoever for such barbaric acts."
England has been on edge since May 22, when a suicide bomber killed 22 people at an Ariana Grande concert at the Manchester Arena.
A benefit concert for victims of that attack was scheduled for Sunday in Manchester. Saturday, she tweeted, "Praying for London."
Saturday's incidents also come more than two months after a man drove an SUV into a crowd on the sidewalk along Westminster Bridge in London, killing at least four people.
After ramming the car into a barrier outside the Houses of Parliament, the driver got out and stabbed a police officer to death. The attacker was gunned down by a police officer.
The assailant, Khalid Masood, 52, of West Midlands, reportedly had a criminal record and may have had connections to violent extremism, British Prime Minister Theresa May said.
CNN's Alex Felton, Carol Jordan, Matt Wells, Antonia Mortensen, Paul P. Murphy and Donie O'Sullivan contributed to this report.