Story highlights
North Korea testing missiles at unprecedented rate
US shows of force just make North Korea more angry
(CNN) —
At this point, the pattern is familiar.
One week, North Korea fires off a ballistic missile, then US B-1 bombers stretch their wings over South Korea. The next, North Korean leader Kim Jong Un oversees another missile test, and two US Navy aircraft carriers show their might in waters off the Korean Peninsula.
This merry-go-round of military flexing in the Pacific has become the norm.
But as the US stacks more and more firepower in North Korea's backyard, Pyongyang marches closer to nuclear capability – and analysts say there is little the world's strongest military can do about it.
And with most estimates putting Kim's unpredictable regime three to five years away from achieving its nuclear ambitions, the US is simply running out of time.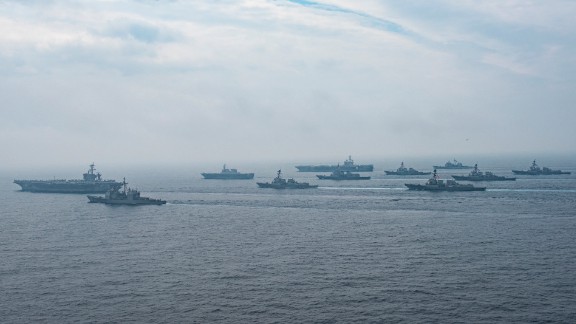 Mass Communication Specialist 2nd Class Z.A. Landers/US Navy
"There is no amount of military pressure alone that will compel Kim Jong Un to volunteer to eliminate his nuclear and missile programs," said Adam Mount, a senior fellow at the Center for American Progress.
After two decades of sticking largely to the same ineffective playbook, the course is unlikely to change without a drastic shift in policy from an outside nation.
"The likely outcome will be similar to prior efforts," predicted Robert Ross, a Boston College professor and China policy expert. "North Korea will call our bluff, the US will draw back from using military force, and North Korea will continue to develop their nuclear program."
China's role
Diplomatic pressure is just as unlikely to cause either North Korea or the US to back down, experts say.
US President Donald Trump has often cited China, North Korea's longtime ally, as a key player in reining in North Korea's quest to have long-range nuclear missiles.
Earlier this year, Beijing called on Pyongyang to suspend its nuclear and missile testing while calling on the US to stop military exercises on and near the Korean Peninsula, which North Korea sees as a threat to its sovereignty.
But since then, the military merry-go-round has spun faster.
North Korea is testing missiles at an unprecedented rate – once a week – while there have been five B-1 bomber flights, just one of US military's shows of force, since April 1.
Economic sanctions, which would need to be backed and enforced by China, don't seem to be the answer, the analysts say.
China is wary of implementing sanctions on Pyongyang that would risk economic collapse in North Korea.
"The irony here is, if China amped up economic pressure on North Korea, it might lead to a collapse – which would mean more refugees even if a military conflict doesn't take place," said Dean Cheng of the Heritage Foundation, a conservative-leaning DC think tank.
it is unlikely China would be compelled to implement any sort of meaningful sanctions that stray from the status-quo when North Korea's missiles do not pose an immediate threat to them, Cheng said.
"China's priority is avoiding war on its border and it won't sacrifice that to help US deal with North Korea's nuclear program," Ross told CNN. "Trump continues to rely on China and may be very frustrated by their inability to deliver."
North Korea shows no sign of budging
Displays of US military power have only succeeded in escalating the situation – making the chances of Pyongyang giving up its missile program, which it sees as a deterrent to a military first strike from the US, very slim, according to Ross.
Statements from Pyongyang seem to bear that out.
"On May 29, the US imperialists committed a grave military provocation by letting a formation of infamous B-1B nuclear strategic bombers fly over south Korea once again to stage a nuclear bomb dropping drill," said a statement from North Korea's state-run media outlet KCNA.
"The gangster-like US imperialists are making all the more desperate in their moves to ignite a nuclear war despite the repeated warnings of the DPRK," it said.
Mount, the Center for American Progress analyst, says the fact that the US hasn't given North Korea any "red lines" it cannot cross means the Kim regime has no reason to stop moving ahead with its nuclear missile program.
"Deterrence requires clear communication to work effectively," Mount said.
The Trump administration "seems to stake its credibility on North Korea refraining from developing an ICBM, without sending a strong signal to deter it from doing so. It's the worst of both worlds," he said.
The countdown is underway
Further complicating the situation is the unpredictable nature of the Kim regime – as well as a shrinking window of time before North Korea is able to develop a ballistic missile capable of delivering a nuclear weapon to the US.