Story highlights
Greensboro church offers shelter to Juana Ortega, originally from Guatemala
Immigration authorities had given Ortega until Wednesday to leave the US
Facing a deadline to be deported Wednesday, an undocumented grandmother has taken sanctuary at a church in Greensboro, North Carolina.
Juana Ortega, 38, came to the United States in 1993 from Guatemala seeking asylum, but her attempts to gain asylum ultimately failed. Undocumented, she has been checking in regularly with Immigration and Customs Enforcement since 2011. ICE continually renewed a stay on her removal order allowing her to remain in the United States.
Last month, Ortega had her first check-in with ICE under the Trump administration. She found out her stay would not be extended, was outfitted with an ankle monitor and told she had until May 31 to the leave the country.
"I'm not a criminal, I'm not harming anyone for them to come to this extreme. They're not giving me the opportunity to sort (through) my situation," the grandmother of two and mother of four told CNN.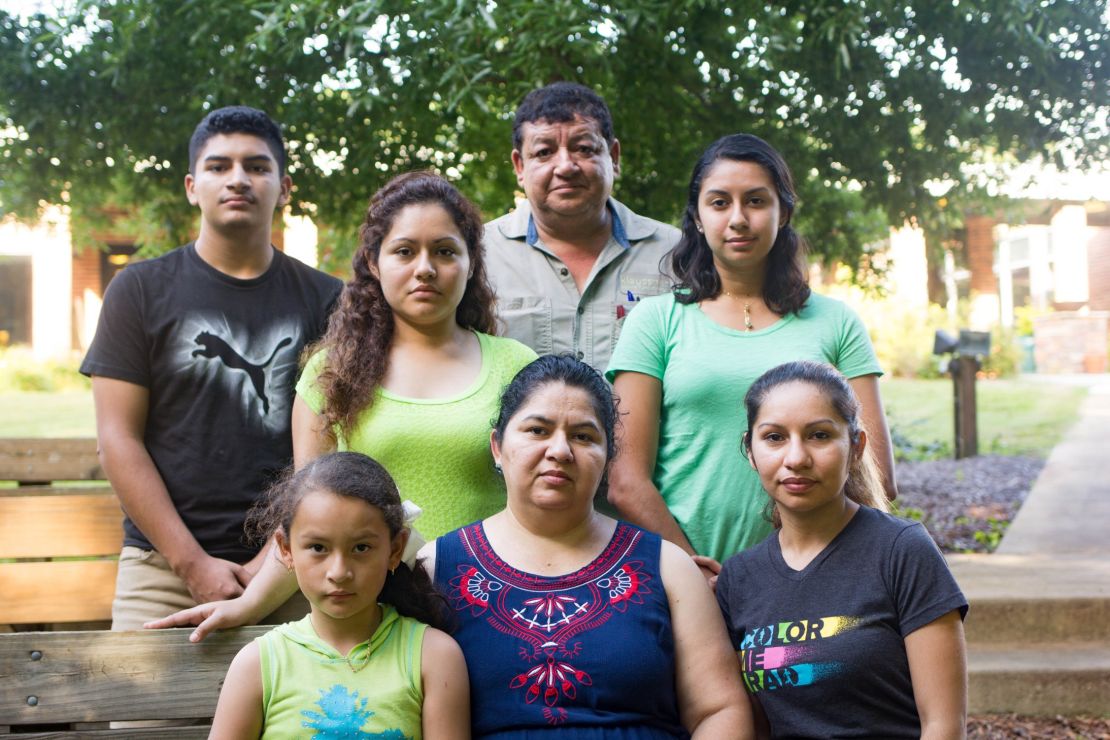 ICE said Wednesday that Ortega had "received all appropriate process before the federal immigration courts and is subject to removal from the United States in accordance with federal law and judicial order."
"As (Homeland Security) Secretary (John) Kelly has made clear, ICE will no longer exempt entire classes or categories of removable aliens from potential enforcement. All those in violation of immigration law may be subject to immigration arrest, detention and, if found removable by final order, removal from the United States," Bryan D. Cox, the Southern region communications director for ICE, said in a statement.
Ortega follows case in Colorado
Ortega, whose youngest child is 15, is the first person in recent memory to seek sanctuary from immigration authorities in North Carolina, according to the American Friends Service Committee, the Quaker group helping people in search of shelter.
Her move into St. Barnabas Episcopal Church in Greensboro comes a few weeks after Jeanette Vizguerra, an undocumented mother of four, left a Denver church when a stay on her deportation was extended to 2019. Vizguerra had been living in the church for three months.
Time magazine named Vizguerra one of its 100 most influential people in April.
ICE said it generally avoids arrests at "sensitive locations" such as houses of worship.
But officials with a warrant can arrest undocumented immigrants regardless of whether they're at a church, synagogue or mosque, Stephen Yale-Loehr, who teaches immigration law at Cornell Law School, told CNN.
ICE said its policy is meant to ensure that people can participate in activities and seek services at places such as churches without hesitation. The policy doesn't say anything about allowing people to stay in such locations full time as a shield against arrest.
Church opens its doors
The Rev. Randall Keeney said the vestry at St. Barnabas voted unanimously to open the church to Ortega.
"Simply put, our basis for ethics and social justice comes to us from our sacred scriptures from the Old and New testaments, that tells us to respect the dignity of all people, calls for us to care for the alien, the foreign, the oppressed, and to welcome them as we would welcome anyone else. That is what is guiding us here," Keeney told CNN.
"Christians, Muslims, Jews – those associated with the Abrahamic texts – have always held the notion of the church or the mosque or the temple protecting those in danger."
Ortega is married to an American citizen, while two of her children are American citizens and two are recipients of Deferred Action for Childhood Arrivals, the policy that the Obama administration implemented.
Ortega's supporters are urging Republican Sen. Thom Tillis of North Carolina to call on ICE to reconsider her case.
A representative for Tillis told CNN that the senator's office had "previously made an inquiry to ICE on Ms. Ortega's behalf; however, this matter is now out of our jurisdiction."
"Sen. Tillis has been an outspoken advocate for a step-by-step approach to secure the border and reform our nation's broken immigration system, which includes addressing the undocumented immigrant population in a fair, compassionate and consistent way."
Complicating factor
Ortega told CNN that her case is complicated by the fact she went to visit an ill daughter in Guatemala in 1999.
She left the United States without permission during an appeal over the denial of her asylum application, and ultimately her appeal was quashed. Ortega's daughter was living with her grandmother in Guatemala at the time. She recovered from her illness and now lives in North Carolina.