Story highlights
Trump has long been a climate science critic
He said he will make a decision on the Paris accord this week
President Donald Trump has said he will decide this week whether his administration will withdraw from the Paris climate agreement, a multi-national climate change accord. Sources have told CNN he plans to withdraw from the deal, a major break from the steps other countries are taking to combat global warming.
He's long been a critic of climate science – and now those words now loom over his decision.
Trump's long-held views on climate change and global warming include – despite scientific evidence to the contrary – suggesting climate change is a hoax that was perpetrated by the Chinese government.
During the 2016 campaign, for example, Trump said he would "rescind all the job-destroying Obama executive actions," including the Paris agreement.
Here is a sampling of Trump's climate change views:
Belief vs. Fact
Trump has long cast himself as someone who doesn't "believe" in global warming, suggesting that the scientific fact is a belief, not a fact.
"I'm not a believer in man-made global warming," he told Hugh Hewitt in 2015. "But the problem we have, and if you look at our energy costs, and all of the things that we're doing to solve a problem that I don't think in any major fashion exists."
The day after his announced his run for president in 2015, Trump told Fox News that he was "not a believer in man-made climate change" and faulted Obama for arguing that the issue is a top problem.
Obama's climate change plans at stake
China
Trump's skepticism about the Paris Climate Accord stems, in part, from his idea that growing countries – namely, China – want the United States to enter into deals in an effort to stymie their growth.
Trump made this clear in 2012 when he flatly blamed global warming on "the Chinese."
"The concept of global warming was created by and for the Chinese in order to make U.S. manufacturing non-competitive," he tweeted.
And he has also said that climate change is a "hoax" carried about by the Chinese.
Trump, in 2010, reportedly told an audience at one of his golf courses that "China and other countries couldn't care less" about climate change.
"It would make us totally noncompetitive in the manufacturing world, and China, Japan and India are laughing at America's stupidity," he said, according to the New York Post.
China, though, signed onto the Paris agreement in 2016 and the President has tried to back away from his criticism of China on global warming and even flatly – and inaccurately – denied that he ever said it.
"And I often joke that this is done for the benefit of China. Obviously, I joke," he said on Fox News in January 2016.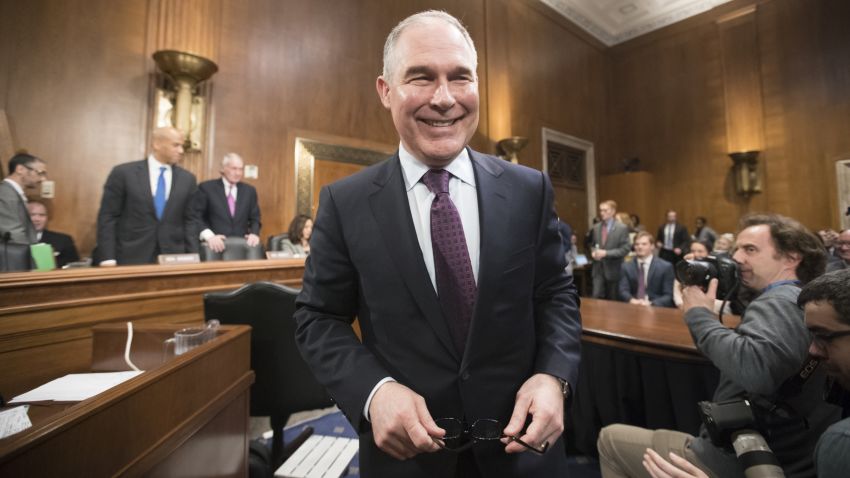 EPA pick breaks with Trump on climate change
Conspiracy
Much of Trump's opposition to fighting climate change has stemmed from conspiracy theories that argue a whole host of people – Democrats, scientists, foreign countries – have fabricated climate science to sell the theory to the American people.
After "Climategate," a controversy regarding stolen emails between climate scientists that were published in 2009, Trump called climate change a "con" during a 2010 appearance on Fox News.
"In Washington, where I'm building a big development, nobody can move because we have 48 inches of snow," he said.
Independent reports cleared the scientists of any wrongdoing, but Trump and other conservative leaders seized on the conspiracy to demean climate science in general.
Trump has held onto these beliefs to years, too.
After winning the 2016 election, he told The New York Times that he would keep an open mind on the Paris agreement but that he still believed scientists were misleading the public, again mentioning "Climategate."
"They say they have science on one side but then they also have those horrible emails that were sent between the scientists," he said.
Thousands march to protest Trump policy
Weather
Trump has long linked extreme weather events – ice storms, cold weather, large snows – as proof that global warming is a "total, and very expensive, hoax."
In 2013, when an ice storm blanketed the Southern United States, he made the same case that the extreme weather proved global warming science wrong.
"Ice storm rolls from Texas to Tennessee - I'm in Los Angeles and it's freezing. Global warming is a total, and very expensive, hoax," he tweeted.
In 2014, he told Fox News that record cold across the country proves climate change is a "hoax" carried about by scientists who are "having a lot of fun."
And on his final season of the NBC's "Celebrity Apprentice," which aired months before he announced his 2016 candidacy, Trump suggested that cold weather in New York proved climate change was wrong.
"Do you believe in global warming," he asked Gilbert Gottfried, who said yes. "And yet you are freezing your ass off."
Of course, scientists argue that one weather event can't be linked directly to global warming, but that weather events will grow stronger and more dramatic because of warming weather.