Story highlights
Cape Town is in its worst drought in 100 years and the situation is likely to be a long-term problem
City residents have been asked to reduce water usage to 100 liters per day
The worst drought in a century is forcing the most stringent water restrictions ever implemented for South Africa's second largest city.
Cape Town has less than 10% of its useable water remaining for its nearly 4 million residents.
The city is implementing Level 4 water restrictions, which ask residents to limit daily usage to 100 liters (26 gallons) per person. The measure is meant to reduce demand and conserve what little water is still available, and means significant sacrifices for residents.
For Cape Town resident Suzanne Buckley, the restrictions mean adapting to a new lifestyle.
"We have buckets in our shower and bathroom sink to save excess water," Buckley said. "The gray water is then used to flush our toilets."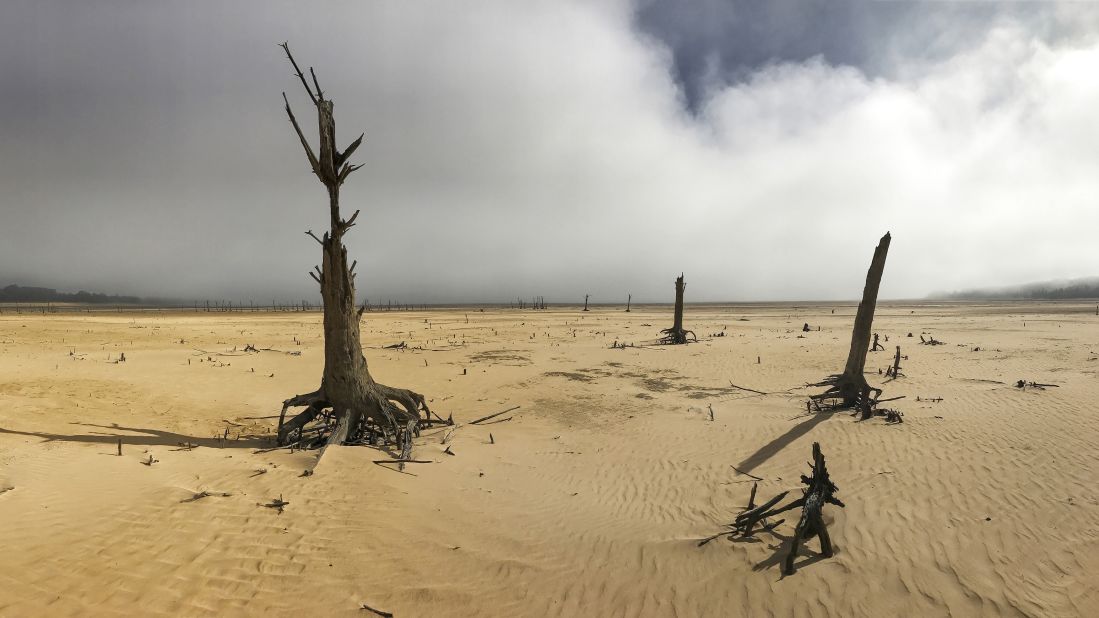 Cape Town faces severe drought
The restrictions are in effect across the city in an aggressive effort to preserve its remaining drinking water, but it may not be enough.
South Africa ranks as the 30th driest country in the world and is considered a water-scarce region. A highly variable climate causes uneven distribution of rainfall, making droughts even more extreme.
Speaking to CNN, Cape Town Executive Mayor Patricia de Lille explained her concerns about the growing water crisis.
"Climate change is a reality and we cannot depend on rainwater alone to fill our dams, but must look at alternative sources like desalination and underground aquifers."
The Western Cape, one of the country's nine provinces and home to Cape Town, experiences its annual rainy season during the winter months (June-September). Capetonians are likely several weeks away from any substantial, drought-relieving rainfall.
Even then, predictions are dire for this winter as a potential El Niño develops off the west coast of South America, according to the Climate Prediction Center. If El Niño does materialize, it would have a negative effect on rainfall across the Western Cape.
Severe water restrictions
The average American uses between 80 and 100 gallons (302-378 liters) of water per day. This includes flushing toilets, taking showers or baths, brushing teeth, running dishwashers and watering lawns.
Imagine restricting daily water use to 25 gallons. Some of the most basic tasks involving water that we take for granted would be eliminated or severely restricted.
For Cape Town resident Kathy Basso, saving water has meant adopting the "if it's yellow let it mellow, if it's brown flush it down campaign," a simple and effective measure that saves nearly 10 liters of water per flush, and has been promoted by city officials.
Hotels across the city are closing their pools and asking patrons to be water conscious during their stay.
The Radisson Blu Hotel Waterfront has placed signs in guest rooms asking guests to "choose showers over baths and to close the tap while brushing teeth."
What's causing the drought?
Several factors are to blame for Cape Town's stressed water supply, including a growing population, ENSO (El Niño Southern Oscillation) and a rapidly changing climate.
A long-term drying trend (also known as desertification) is evident in the decreasing levels of Cape Town's parched reservoirs, which are intended to supply the city's water. The Theewaterskloof Dam, which creates the largest water reservoir supplying the Western Cape, is at 13.7% capacity and shows extreme signs of water depletion.
Winter cold fronts driven by strong westerly winds typically bring replenishing rains to Cape Town. But these rainfalls are become less and less frequent as part of a troubling trend attributed to climate change. An expansive area of high pressure in the Atlantic Ocean frequently acts as a barrier to these weather systems.
According to the Intergovernmental Panel on Climate Change Fifth Assessment Report, long-term climate models indicate a significant drying trend that could reduce annual rainfall by up to 40%.
"The South Atlantic high pressure is a key factor in governing the winter rainfall and shows signs of strengthening," said Bruce Hewitson, director of the Climate Systems Analysis Group at the University of Cape Town, who participated in the IPCC report.
Hewitson went on to explain that while there are many factors that play into the complex climate of western South Africa, there is increasing evidence that rainfall intensity and distribution will change as a result of a warming climate.
The reality is that the current water crisis in Cape Town shouldn't be treated as a short-term occurrence, but rather as a long-term problem. It requires strong governance to sustain the city's limited water resources into the future. "We can only save water while we have it," de Lille said.
Ultimately, though, water conservation begins at home.
CNN Meteorologist's Brandon Miller, Rachel Aissen and Haley Brink contributed to this report.