He was 22 when he entered Irish politics. At 27, he was elected to parliament. At 36, he publicly came out as gay. And now, at 38, Leo Varadkar, the son of an Indian immigrant father and an Irish mother, appears on course to become Ireland's next prime minister.
The young Dubliner, currently serving as Ireland's Minister for Social Protection, announced his campaign to succeed Taoiseach Enda Kenny, prime minister since 2011 and leader of the ruling Fine Gael party since 2002, shortly after Kenny announced he would be stepping down earlier this month.
Varadkar's only opponent is Housing Minister Simon Coveney, who hails from a family of Fine Gael stalwarts. While Coveney appeals to the party's more conservative membership outside of the capital city, many see Varadkar as a fresh face for urban voters while still appealing to the party's rural base.
Varadkar has managed to shore up the support of many of his fellow Fine Gael parliamentary members, whose say counts for 65% of the final vote; the party members and local politicians make up the other 35%. A decision is expected by June 2.
Although Varadkar appears to be a step away from traditional Irish politics, a check of his voting record and of his campaign, promises more of a makeover than an overhaul.
'I'm not a half-Indian politician… or a gay politician'
As Ireland prepared to cast a historic vote that legalized same sex marriage in 2015, Varadkar came out publicly on Irish national radio.
"It's not something that defines me. I'm not a half-Indian politician, or a doctor politician or a gay politician for that matter. It's just part of who I am, it doesn't define me, it is part of my character I suppose," the fiercely private politician said speaking on RTE 1.
Although Varadkar has tried to steer attention away from his sexuality to his politics, for a country that is increasingly trying to focus on a more liberal European identity and shake off the hangover of religious involvement in politics, a coming-out speech like Varadkar's, whatever its tone, is still ground-breaking.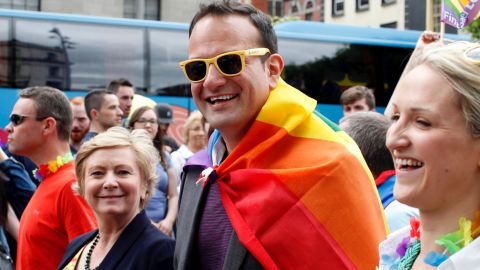 Homosexuality was only decriminalized in Ireland in 1993. In 2015, Ireland passed the Marriage Equality Bill, allowing same-sex couples to marry.
Senator David Norris, 73, the first Irish politician to publicly come out as gay told CNN that he understands why Varadkar wants to focus on policies and not his personal life. Speaking of his own experience, Norris said, "I never made a big deal out of it, because I didn't want to be treated as a 'freak'. I didn't want to be stuck just with issues of sexuality."
"What Varadkar does in bed is irrelevant," Norris said. But he also noted that if Varadkar becomes Ireland's next prime minister or taoiseach, it would signal another stride forward for equality rights in Ireland.
"For people of my generation, there were no role models at all. Now to be able to have a young, able, good-looking gay man as prime minister of the country, it says to young people, 'you can be anything you want, your sexuality doesn't matter,'" he said.
If elected, Varadkar would be one of two openly gay heads of state currently in office – Luxembourg's prime minister Xavier Bettel being the other. In the past, two other world leaders went public with their sexuality: Former Belgian Prime Minister Elio Di Rupo and former Icelandic Prime Minister Jóhanna Sigurõardóttir.
Immigrant roots
Varadkar was born and raised in Dublin to mother, Miriam, a nurse originally from Waterford in Ireland's southeast and father, Ashok, a doctor from Mumbai, India. The couple met while working in the UK.
Despite Varadkar's parents both being immigrants at some point in their lives, Varadkar himself has previously taken a controversial stance on immigration, once suggesting the deportation unemployed immigrants to combat rising unemployment figures.
In 2008 as his party's spokesman on Enterprise, Trade and Employment, he said, "Would there be a case at this stage for giving an offer to foreign nationals the opportunity to receive, say, three or four or six months of benefits, if they then agreed to repatriate to their country of origin and then forego benefits beyond that?"
In his current leadership bid, he has not laid out plans for immigration and is expected to continue to work with current policies, many of which mirror its neighbor in the UK.
Nevertheless, it seems Varadkar has the backing of Ireland's Indian community.
Prashant Shukla, Chief Executive of the Ireland-India Council told CNN, "Traditionally Indians have tried to integrate themselves in their adopted countries very well…and continue making outstanding contributions to their chosen fields around the world…due to their sustained hard work, entrepreneurship, family values, adoptable nature, and deep rooted commitment to democracy.
"Perhaps, the same story is going to be repeated by Leo Varadkar in Ireland. This is a proud moment for his father, Dr. Ashok Varadkar and his mother Miriam, to see their son is contesting for the leadership of Fine Gael and ultimately for Taoiseach. Over 30,000-strong Irish-Indian community is interestingly looking forward to it."
'Taking Ireland Forward'
In his leadership campaign, "Taking Ireland Forward," Varadkar has promised to hold a referendum on abortion in 2018, reform tax laws for the self-employed and repeal a controversial water charge – while refunding those who have already paid. The fiscally conservative politician has also promised to clamp down on welfare fraud, invest heavily in large infrastructure projects and act as a champion for small business.
Dr. Theresa Reidy, lecturer in government at University College Cork says that it's not policy that will secure Varadkar's win, it's his personality. Although his sexuality and youth has set him aside his "demographic descriptions will not significantly influence factors in the political debate."
Reidy also said that Ireland's political system rests on politics, not on its politician's personal lives or their families.
"There's no First Lady role – or anything like it in Irish politics. The personal circumstances of individual politicians have never featured terribly strongly in public debates in Ireland. Families tend to take a backseat role," she said.
"He's a vocal media performer, and is well able as a communicator with capacity to capture the zeitgeist."
But as Taoiseach, Varadkar might be more constrained and have to move away from his maverick minister persona.
As Reidy said: "the consequences are much more significant when you are prime minister."