Story highlights
Some 70,000 people have fled the city since fighting broke out eight days ago
Militants have set fire to churches and other buildings and raised the ISIS flag
The Philippines military has unleashed a series of air strikes in a push to regain full control of a largely Muslim city that was overrun last week by ISIS-affiliated fighters.
More than a hundred residents of Marawi, on the southern island of Mindanao, have died and 70,000 have fled the town of 200,000 since fighters from the Maute Islamist militant group entered the city and clashed with military and police.
"Precision airstrikes are (being) judiciously used to prevent collateral damage and employed at specific targets of resistance to protect our troops and hasten clearing of the city of terrorist elements who continue to resist," military spokesman Brigadier General Restituto Padilla said Tuesday, according to the official Philippine News Agency.
The siege on Marawi unfolded as Muslims worldwide began to mark the holy month of Ramadan. Mindanao has a significant Muslim population, though the Philippines is a predominantly Catholic country.
The Maute militants set fire to churches and other buildings as they entered the city, flying the flag of the so-called Islamic State to which they pledged allegiance last year.
Sporadic gunfire erupted throughout the day as helicopters flew over the city, a witness told CNN.
Families last week packed belongings into cars and sat in long lines of traffic as they sought to escape the ISIS-backed fighters, residents told CNN at the time.
ISIS in Southeast Asia: Philippines battles growing threat
Parts of neighboring Iligan city are on lockdown, with a nighttime curfew, to prevent fighters from moving in, according to a statement posted on the city's official Facebook page.
Fighting ongoing
Reports suggested the Maute fighters were defending Isnilon Hapilon, a longstanding terrorist leader designated by ISIS as the group's emir for Southeast Asia, after he was cornered by Philippines police and military forces.
Militants' ongoing resistance suggested Hapilon, who has a $5 million FBI bounty on his head, was still in the city, the Philippines military said.
More than 80 militants had been killed since fighting began, while 17 soldiers and three police officers had died, Armed Forces of the Philippines spokesman Joar Herrara told CNN.
Philippines President Rodrigo Duterte suggested over the weekend that he would be open to tapping nationalist rebel groups, which recently signed peace deals with the government, as reinforcements in the fight against ISIS.
Duterte declared martial law over the island of Mindanao last week after the crisis began.
"If this martial law lasts and you want to help us fight for the republic, … I will use you as soldiers, with the same pay, privileges, and I will build houses for you," Duterte said in a message to the Moro Islamic Liberation Front and the Moro National Liberation Front.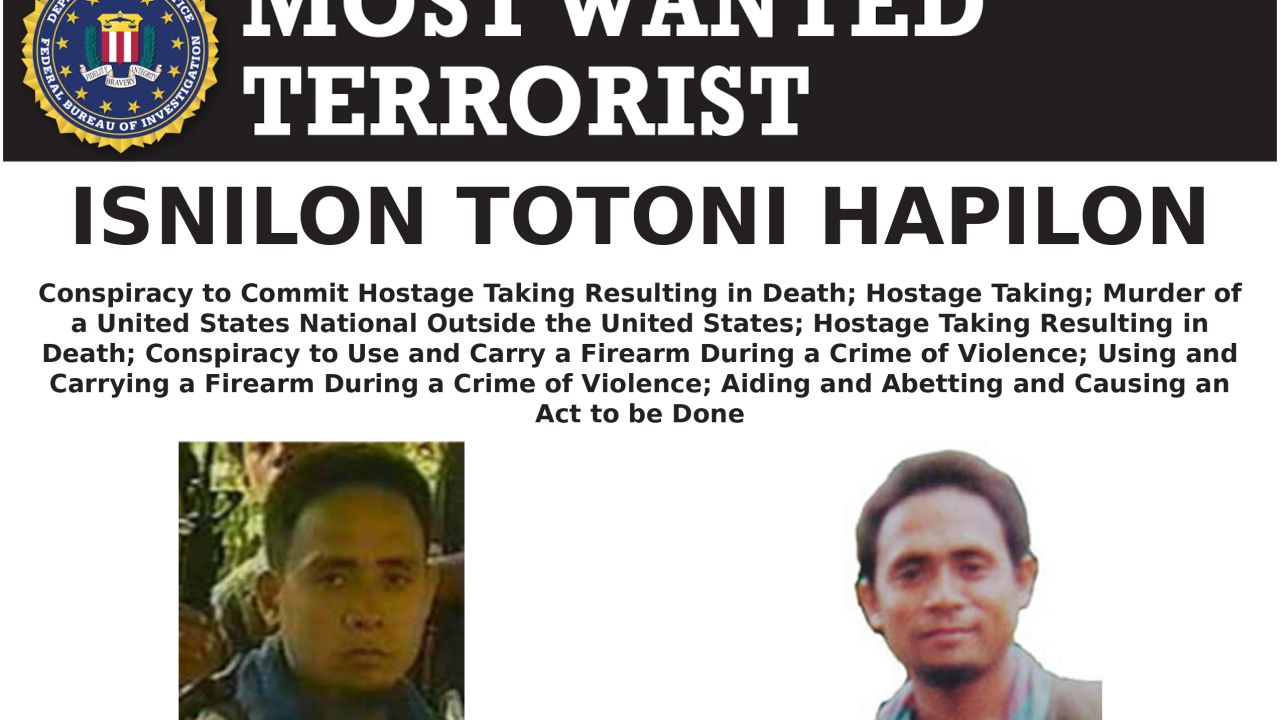 Hostages escape
Militants had executed more than a dozen people, and numerous others had been taken hostage, the Department of National Defense said.
Duterte considers martial law across Philippines
During government airstrikes Monday against Maute group positions, 11 hostages fled a building and swam across a river to reach government troops on the other side, they told CNN Philippines. One man died trying to escape.
The surviving hostages said they had seen one of their companions beheaded in front of them and were warned they would meet the same fate if the government did not meet the group's demands.
Martial law
Duterte has suggested he might extend martial law until the end of the year or impose it nationwide, a possibility that has alarmed critics of the government and survivors of the dictatorship of President Ferdinand Marcos.
The country's constitution permits only a 60-day declaration of martial law; any extension must be approved by lawmakers.
On Tuesday, 15 of 23 senators signed a resolution expressing support for Duterte's existing declaration.
The resolution said the Maute group had committed acts which constitute "the crime of rebellion" and added that imposing martial law on the region was "satisfactory, constitutional and in accordance with the law."
CNN's Yuli Yang contributed reporting.