Story highlights
Noriega was convicted of drug charges in 1991
He was the first foreign head of state to be convicted in a US court
Manuel Noriega, the former Panamanian dictator and convicted drug trafficker who was once one of Central America's most notorious military strongmen, has died, according to a tweet by Panama's President Juan Carlos Varela on his verified Twitter account.
Noriega, 83, had undergone surgery in a Panama City hospital on March 7 to remove a benign brain tumor. He was placed in a medically induced coma after suffering severe brain hemorrhaging during the surgery, his attorney told CNN affiliate TV Panama at the time.
Noriega, once on friendly terms with the United States because of his country's location on the Panama Canal, became a US target as relations deteriorated. The United States invaded Panama in 1989 and Noriega was convicted of drug charges in 1991. He spent almost 20 years in US prisons before extradition to France and, ultimately, back to Panama.
Military man
Noriega was born on February 11, 1934, in Panama City, Panama. Abandoned by his parents at age 5, Noriega was raised by his aunt until he left to pursue a career in the military.
He began his career as a lieutenant in the Panama National Guard and quickly rose in rank. Noriega served as head of military intelligence to Gen. Omar Torrijos, who seized power in a military coup in 1968. Torrijos died in a plane crash in 1981, and Noriega emerged as his successor. In 1983 Noriega took command of the Panamanian Army and installed himself as Panama's leader.
The country's location was critical to the United States because of its location on the Panama Canal, a key strategic and economic waterway between the Atlantic and Pacific oceans. Due to this regional importance, the US had a vested interest in maintaining good relations with the Central American nation.
Despite the incentives to maintain these relations, the 1980s saw a breakdown between the two countries, with Washington cutting off economic and military assistance and freezing Panamanian government assets.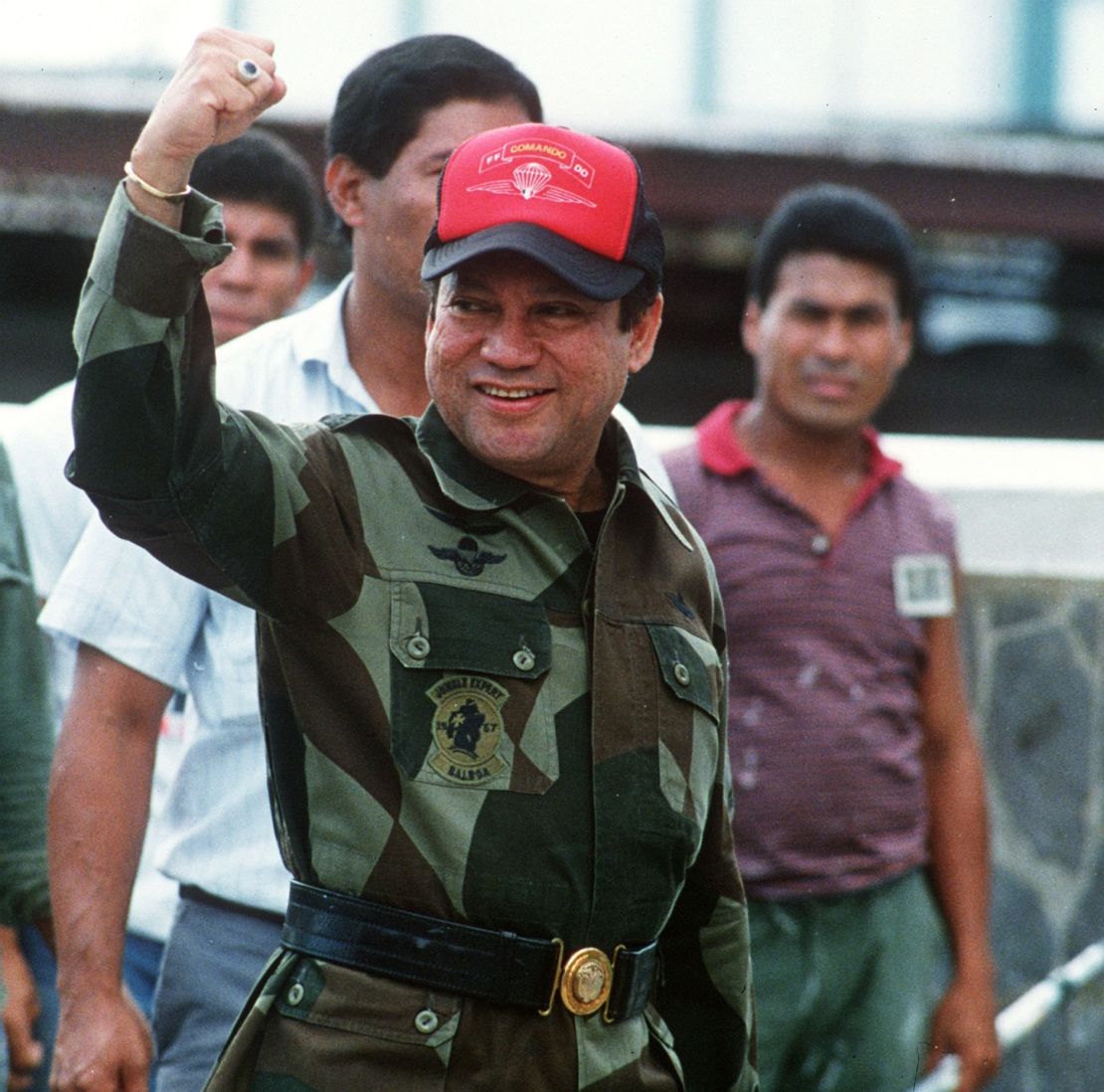 'Trial of the century'
In 1989, Noriega was indicted in the United States on charges of racketeering, laundering drug money and drug trafficking. He was accused of having links to Colombian drug lord Pablo Escobar's notorious Medellin cartel and, in the process, amassing a multimillion-dollar fortune.
Amid growing unrest in Panama, US President George H.W. Bush ordered the invasion of Panama – codenamed "Operation Just Cause" – in December 1989, saying Noriega's rule posed a threat to US lives and property.
With more than 20,000 US troops on Panamanian soil, Noriega took refuge in the Vatican embassy in Panama City for 10 days, eventually surrendering to US Drug Enforcement Administration officials on January 3, 1990 after US troops had surrounded the compound with loudspeakers playing deafening rock music.
Noriega's trial in 1991 was dubbed the drugs "trial of the century" by the US Drug Enforcement Administration and eventually saw him found guilty on eight counts and sentenced to 40 years in jail.
Health crises
Noriega was the first foreign head of state to be convicted in a US court, and the trial also led to revelations that Noriega had been a paid CIA asset for many years.
"It's wrong what people say – that you can buy him," said Ambler Moss, the former US ambassador to Panama. "You can't buy him, but you can sure as hell rent him."
Noriega had since said his relationship with the United States soured when he refused to participate in anti-communist efforts spearheaded by the CIA in Central America during the 1980s The CIA has not commented on Noriega's claims.
"You are a good person so long as you say yes. However, once you say no, then you become an evil guy," Noriega recollected in a 1992 interview with CNN.
Noriega was granted prisoner of war status after his trial, and his sentence was later reduced to 30 years.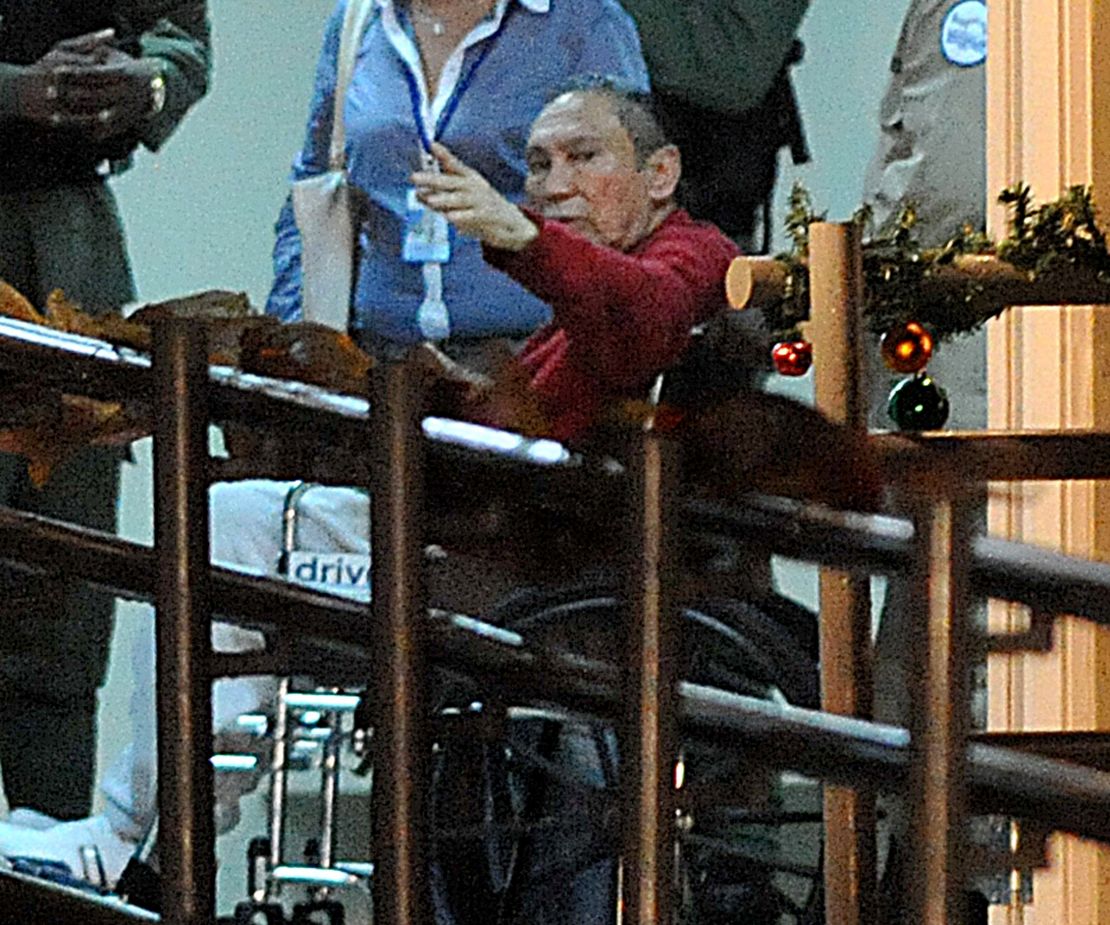 He was due for release on parole in 2007, but he was held pending a decision on a French extradition request – a Paris court had convicted Noriega in absentia in 1999 on charges that he had laundered $2.8 million in drug money by buying property in France.
As part of an extradition deal in April 2010 and signed by then-Secretary of State Hillary Clinton, France agreed to hold a new trial and to uphold Noriega's prisoner of war status.
After his extradition to Panama from France in 2011, Noriega dealt with several health crises, including a possible stroke in 2012.
Noriega apologizes
While serving his sentence in Panama he sued Activision Blizzard, makers of the popular Call of Duty videogame series, after one edition featured a mission to capture him.
His portrayal "as a kidnapper, murderer and enemy of the state" in the game damaged his reputation, he alleged, and argued that he was entitled to a share of the game's profits. A California judge dismissed the suit.
In 2015, he apologized to his country for the offenses of his regime and his own actions that led up to the 1989 US invasion, and his ouster.
Noriega is survived by his wife, Felicidad Sieiro and three daughters Sandra, Thays and Lorena.
Journalist Simon Cooper contributed to this report.