Story highlights
Many Sri Lankans remain stranded and are at risk of crocodile attacks
India has sent three Navy ships with aid
Severe flooding brought on by monsoon rains across southwestern portions of Sri Lanka has resulted in the deaths of at least 169 people, according to the country's Ministry of Disaster Management.
The flooding was brought on by monsoon rains across southwestern portions of the country, according to Sri Lanka's Ministry of Disaster Management.
As many as 112 people are still missing, and the death toll is expected to rise, as authorities battle to rescue those still stranded and warn of the possibility of crocodile attacks.
More than half a million people have been affected. India and other countries have sent aid.
Local Sri Lanka Red Cross volunteers and staff workers have been on the scene to give first aid, help with search and rescue missions, and distribute food, water and supplies.
The Red Cross is providing financial and technical support, said a statement by the International Federation of Red Cross and Red Crescent Societies.
Particularly affected is the district of Matara. Finance Minister Mangala Samaraweera said that there were still pockets where people were marooned, and rescue work was continuing. The nearby Ratnapura district, 63 miles southeast of the capital, Colombo, had the highest death count of any area, with 79 deaths.
'Never seen such floods'
The monsoon rains are the the worst to hit Sri Lanka since 2003. They come after two months of drought, which had grown severe enough to warrant aid from the World Food Programme.
Sri Lankans fleeing the floods say in many cases everything has been lost.
Banakiyanage Gnanawathie, who lives in the badly hit town of Matara, said by phone that her home is uninhabitable.
"I have never seen such floods though I have spent my entire lifetime in Matara. We have lost all our belongings and remain in the clothes we wore. I am still happy we escaped the floods and even the crocodiles," she said.
"It was only the next morning that troops arrived in boats, and took us to safe ground," she added.
She said that they won't be able to return home for days.
"There is only a roof and building. We have lost everything else."
The bout of severe weather has also triggered landslides throughout the country.
The southern coastal city of Galle has seen 223 millimeters (8.78 inches) of rainfall over the past 48 hours, and Ratnapura, further inland, has experienced 453 millimeters (17.8 inches) of rain over the same period.
Police and military rescue teams are moving by boat to rescue those marooned as well as retrieve corpses.
Houses and shops remain submerged in ten to thirty feet of water. The expressway from Colombo to Matara, 100 miles south of the capital, remains flooded in several areas.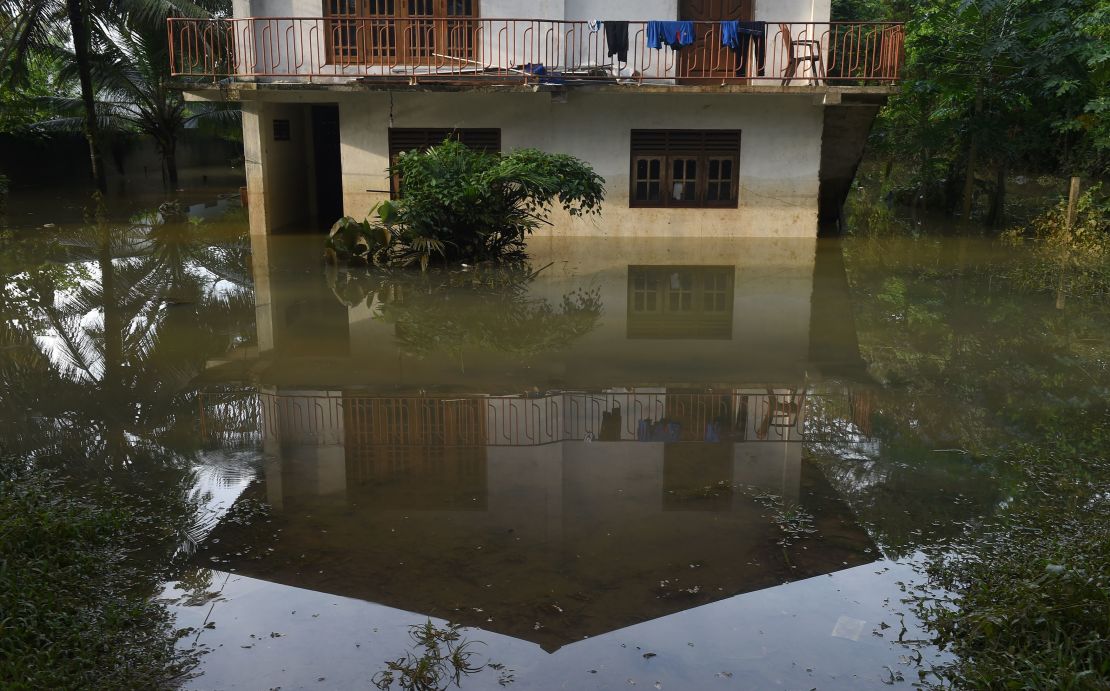 'We could not stand up'
Stonemason Kirindagamage Pathmasiri, another Matara resident, said that the police had urged people to evacuate, but he and his family stayed put as they had nowhere to evacuate to.
"The next day the waters began to rise gradually. Then the flow was so fast that we could not stand up. My wife, four children and I were very frightened. We did not know what would happen to us now. With great difficulty we managed to walk out," he said. They are taking temporary shelter in a school.
He said that his house is now submerged under eight feet of water.
"A bigger shock awaits us when the waters recede and we return home. We have lost all our possessions," he said.
Overseas help
Sri Lanka's Ministry of Foreign Affairs activated its Emergency Response Unit and called on the United Nations' International Search and Rescue Advisory Group, as well as neighboring countries, to help in the recovery effort. The government has deployed 2,000 military personnel to affected areas.
Australia has pledged $500,000 for inflatable boats and outboard motors to assist with search and rescue efforts, the country's embassy in Colombo said Tuesday.
India has dispatched three naval vessels to its southern neighbor to deliver relief aid and disaster expertise.
"Prime Minister Narendra Modi immediately directed provision of all necessary assistance," a statement issued by High Commission of India, Colombo, read.
"He also expressed condolences at the loss of lives and property and said that India stands with her Sri Lankan brothers and sisters in their hour of need."
The navy's official twitter handle posted media of one of the vessels, INS Shardul, docking in Colombo and unloading aid Sunday. It joins the INS Kirch, and a larger vessel, INS Jalashwa, will arrive within the next two days.
"The World Food Program is also providing help," he said.
Last year, India sent two ships and Air Force aircraft to Colombo with relief items during a cyclone.
"We have a problem of limited resources to cope with the situation," Karunanayake said. "Hence we have made many appeals."
CNN's Ryan Prior wrote and reported from Atlanta, and Euan McKirdy from Hong Kong. Iqbal Athas reported from Colombo. CNN's Samantha Beech and Spencer Feingold contributed to this report.