Story highlights
North Korea still faces hurdles, the director of the Defense Intelligence Agency said
The testimony came days after a North Korean ballistic missile test
North Korea will eventually obtain a nuclear weapon capable of hitting the United States if left unchecked, a top US intelligence official said.
"If left on its current trajectory, the regime will ultimately succeed in fielding a nuclear-armed missile capable of threatening the United States homeland," said Lt. Gen. Vincent Stewart, the director of the Defense Intelligence Agency. "While nearly impossible to predict when this capability will be operational, the North Korean regime is committed and is on a pathway where this capability is inevitable."
The only hurdle left, Stewart said in a hearing before the Senate Armed Services Committee on Tuesday, is finding a way for its ballistic missile to re-enter the atmosphere. Perfecting re-entry is "really a matter of enough trial and error to make that work," Stewart said. "They understand the physics, so it's just a matter of design."
Ballistic missiles fly in a parabolic route, exiting and entering the Earth's atmosphere, while cruise missiles fly in a straight line within the atmosphere.
Stewart and Director of National Intelligence Dan Coats spoke days after North Korea tested its second ballistic missile in the span of a week.
North Korea launches second missile in a week
That missile test was considered one of the country's most successful ever, analysts said.
A preliminary US intelligence analysis indicated there was successful re-entry into the atmosphere, a significant leap forward in Pyongyang's missile program, two US officials told CNN.
Though it appears North Korea hasn't developed a working intercontinental ballistic missile (ICBM) capable of reaching the contiguous 48 states of the United States, it has made significant progress on shorter-range ones.
Both Coats and Stewart stressed that Pyongyang further perfects its missile technology with each test.
"They've certainly demonstrated a range of missiles, a range of fuel types, a range of boosters," Stewart said.
Coats and Stewart were both asked if North Korea had the capability to use a nuclear weapon against US allies Japan or South Korea. Both declined to answer.
Much of the hearing was focused on reports that US President Donald Trump asked Coats to publicly deny evidence of cooperation between his campaign and Russia during the 2016 election. Coats said he would not speak publicly about his private conversations with Trump.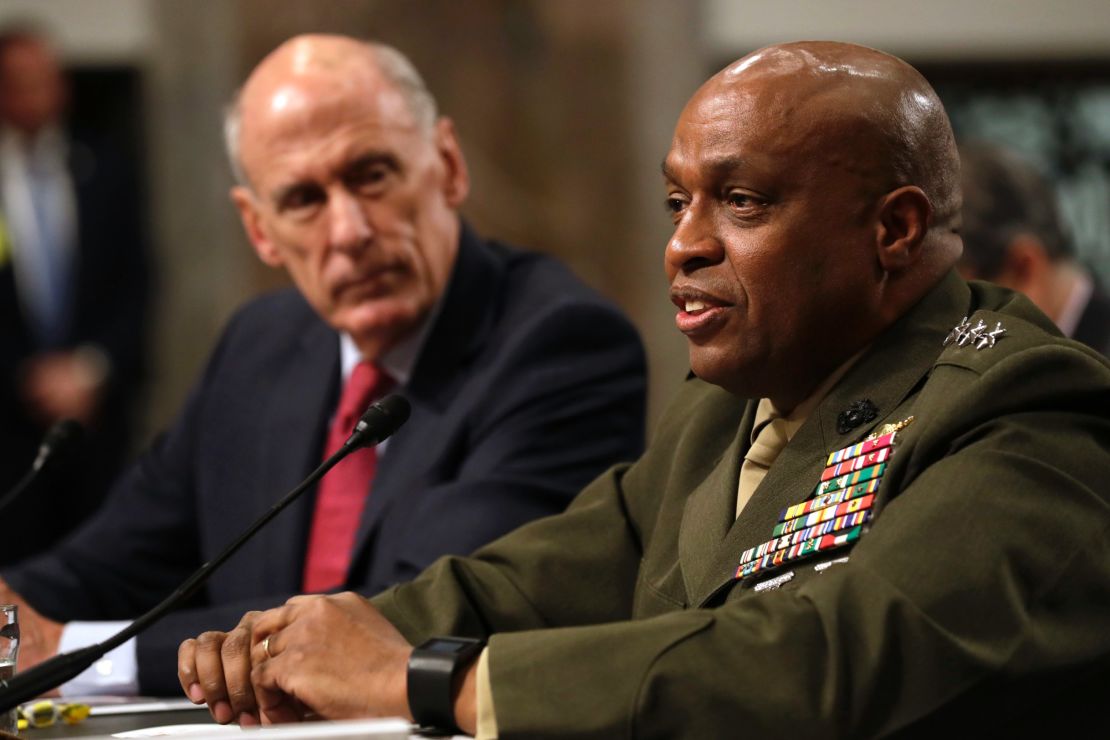 Nuclear capability
The missile tests are half the equation. North Korea must also create a viable nuclear warhead it can fit atop a long-range missile in order to reach its goal of developing a nuclear weapon that could hit the United States.
Many experts believe North Korea already has developed a nuclear weapon, though it's not clear what type of missiles it could be mounted on, says Tong Zhao, a Beijing-based fellow at the Carnegie-Tsinghua Center for Global Policy's Nuclear Policy Program.
How much damage can North Korea's weapons do?
President Donald Trump appeared to bolster that claim in a leaked transcript of an April phone call between him and Philippines President Rodrigo Duterte published by the Intercept and also obtained by the Washington Post and The New York Times.
"(Kim) has got the powder, but he doesn't have the delivery system – their rockets keep crashing," Trump said.
A senior US official briefed on the call independently verified the basics of the conversation to CNN. CNN has reached out to the White House for comment, but has not received a response. The quotes were reportedly part of a Philippine government transcript.
The Philippines Foreign Ministry had no comment on the transcript, but noted there is "criminal and civil liability attached to the hacking, unauthorized disclosure and use of illegally or inadvertently-obtained confidential government documents."
Though there have been reports of the United States using cyber methods to interfere with North Korean missile launches, Trump's response may show he does not appreciate how far along the North Koreans are in perfecting their missile technology, said John Delury, a professor of International Relations at the Yonsei University Graduate School of International Relations.
"He's underestimating their missile program," Delury said. "He's wrong about how they're doing. They're making progress on their rocketry and missile program."
Two subs
During the phone call, Trump also revealed that two US submarines were in the region.
"We have a lot of firepower over there," Trump noted. "We have two submarines, the best in the world. We have two nuclear submarines, not that we want to use them at all."
It was previously reported that only one submarine – the USS Michigan, an Ohio-class guided-missile submarine – had docked in South Korea.
US Naval Forces Korea publicly said the sub's visit was routine, but quietly officials told CNN its presence was meant to send a strong message to Pyongyang.
CNN's Elise Labott, Barbara Starr, Zahra Ullah and journalist Buena Bernal contributed to this report