Story highlights
A fire that collapsed an elevated Atlanta highway prompts states around the US to rethink policies on storing materials under bridges
Maryland official: It's "unimaginable" that plastic tubes like the ones in Atlanta could catch fire and topple a bridge
When an elevated section of Atlanta's Interstate 85 crashed to the ground in a fire this spring, motorists already navigating one of the nation's most congested cities braced for what the city's mayor called a transportation crisis.
The span was rebuilt in six weeks and reopened last weekend, sooner than expected. But the closure inflicted pain. Traffic volume on nearby surface streets more than doubled, drivers endured longer commutes and rebuilding the bridge cost more than $16 million.
Investigations aren't finished, but officials say someone started the fire beneath the highway, apparently fueled in part by construction materials – flexible plastic and fiberglass tubes – that the state had stored on a lot for nearly six years.
It was enough to shock other states into taking a look at themselves and asking: What exactly are we storing under our elevated roads? And could it pose a threat?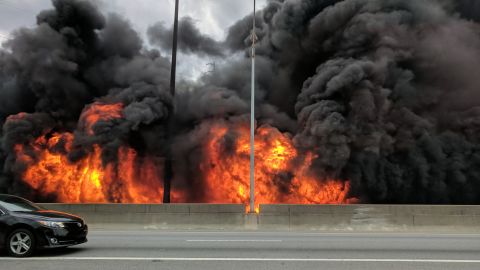 To address these questions, CNN contacted departments of transportation in all 50 states. Of the 44 that responded, more than two-thirds said the Atlanta I-85 collapse prompted them to reinspect their bridges or consider changes to their storage policies.
Some said they didn't allow material under bridges anyway, but practices vary from state to state, and even the definition of "hazardous" may be part of the reckoning.
Before the Atlanta fire, few would have identified these tubes – including the plastic ones, otherwise known as high-density polyethylene, or HDPE – as being dangerous, said Pete Rahn, secretary of Maryland's transportation department.
Until now, Maryland might have allowed contractors or its own workers to store HDPE on state-owned space under bridges during a construction project, Rahn said. Not anymore.
"(It was) unimaginable that plastic conduit could cause damage like this," Rahn said.
Meanwhile a federal investigation into the bridge collapse is ongoing, and the Federal Highway Administration is pushing states to take another look at their practices.
"Until the investigation is completed, this event highlights the need for concern about storing materials under bridges," Thomas D. Everett, associate administrator of the Federal Highway Administration's (FHWA) infrastructure office, wrote to state transportation officials last month.
What happened in Atlanta?
Georgia says it is one of the states reviewing its policies.
The March 30 fire under I-85 in northeast Atlanta shot a 40-foot wall of flame and thick smoke toward the highway bridge above. Police eventually stopped traffic, so no one was injured when the fire weakened the structure and a northbound section collapsed. About 350 feet of I-85 in each direction needed to be replaced.
The fire started in a state-owned lot under I-85 – a lot it can own because states generally control or lease out space under highways.
A witness told police that a man ignited a chair that he'd placed under a shopping cart. The Georgia Department of Transportation (GDOT) says the fire eventually spread to spools of HDPE that it had stored on the open-air lot. The suspect was arrested on suspicion of intentionally setting the fire.
The tubes are getting state and federal attention. They're meant to encase cables, and are used to build "smart" highways that provide information to drivers and control traffic signal lights and tollways.
These tubes were meant for a project – installing cameras and message boards – that a contractor was supposed to do 10 years ago, GDOT Commissioner Russell McMurry said.
But the contractor defaulted in 2008. The project eventually was done by a different contractor, who used different materials. So, GDOT, which already paid for the unused tubes, took control of them, hoping to use them another day.
That day never came. After first storing them elsewhere, the state moved them in 2011 to the lot under I-85, where they remained until the fire, GDOT said.
Flammability and security
Whether such plastic tubes should have been considered too hazardous to store under the bridge will be part of a National Transportation Safety Board investigation.
"A couple points of interest include the integrity of the infrastructure, the flammability of the materials and the issue of storing flammable material under a bridge," NTSB spokesman Keith Holloway said.
The state safety fire commissioner is helping GDOT review its policies on storing materials under bridges and elevated highways, spokesman Glenn Allen said. McMurry said the storage was not believed to have broken any current state policy.
The tubes don't catch fire easily, McMurry says. In a letter to the FHWA, he said the flash point for these particular HDPE tubes is 341 degrees Celsius (645 degrees Fahrenheit).
The flammability of HDPE is relatively low, agreed Tony Radoszewski, president of the Plastics Pipe Institute, a trade group based in Irving, Texas. HDPE would have to be exposed to a high-temperature flame for a considerable amount of time for it to burn, he said.
"Somebody had to start a fire. It doesn't combust by itself – it needs fuel," Radoszewski said. "Someone had to do it. It's not like someone would have dropped a match and it started."
McMurry has said the fire raises questions about whether the materials were stored securely enough. The materials were behind a chain-link fence with a locked gate and a "no trespassing" sign, he said.
"Obviously, what we know now, if we knew then, we would not have the material stored in the fashion that it was stored," he said April 4, responding to a question about how secure the site was. "The gating and the fencing was really to keep the material from being stolen or removed from the area," as opposed to keeping people out, he said.
A check after the fire revealed that no other bridge in Georgia had HDPE stored under it, McMurry said.
'You really shouldn't be putting anything there'
The FHWA prohibits anyone that is leasing space under bridges – say, for a parking lot – from storing flammable materials there. But it doesn't govern what state DOTs can store under the structures, FHWA spokesman Doug Hecox said.
The FHWA generally doesn't want states storing anything under elevated highways, he said.
"Yeah, we don't want you to put flammable stuff there for sure, but you really shouldn't be putting anything there," Hecox said.
"We really want the space unobstructed," not just to prevent fires, but also to make inspectors' jobs easier because stored items could get in their way, Hecox said.
In practice across the country, though, it's complicated.
Leasing out space under highways for parking lots is fairly common, said John German, a retired engineer who was public works director in San Antonio and Austin and serves on the American Public Works Association's transportation committee.
Also common, say German and several DOTs: Storing materials for a short time, say for the length of a construction or maintenance project.
What happened in Atlanta, where the tubes were stored under the highway for some six years, was less common, German said.
States consider changes
A few state DOTs, like those in Alaska and Maine, say they don't store construction materials under bridges, but don't have a written policy. Both said they checked with crews statewide, who responded they found nothing.
South Dakota said it, too, had no formal policy, but doesn't store any materials under bridges and therefore doesn't intend to re-evaluate its practices.
But some other DOTs say they have decided to draft or revamp written policies. And others are considering it.
In Maryland, the state that says it will prohibit HDPE storage under bridges, it's been common for contractors to temporarily store materials for an active project under roadways to keep them out of the weather.
Delaware says it has no formal policy and doesn't have any significant quantities of HDPE under its bridges. But it's now "developing a formal plan to eliminate materials that could cause concerns," DOT spokesman Robert B. King said.
Kansas says some entities store items under structures, but they're "believed to be limited to materials not considered hazardous," DOT spokeswoman Briana Landon said. Still, the state in April was conducting an internal review of what is stored under its structures, she said.
California, where permitted by local codes, allows the storage of a variety of materials, though policy doesn't mention HDPE or fiberglass conduits specifically, DOT spokesman Mark Dinger said. In light of the I-85 incident, the state is reviewing its internal policies and assessing all its storage sites, Dinger said.
So while the I-85 collapse created temporary hassles for Atlanta drivers, it may lead to changes along the country's roadways. As McMurry said last month: "Hopefully, (there will) be lessons learned not only for Georgia, but the nation."
CNN's Nicole Chavez contributed to this report.