Story highlights
Driver tested positive for PCP and told police God made him do it, source says
NEW: Four people at Bellevue hospital are in critical condition, facility says
An 18-year-old woman was killed and at least 22 people injured Thursday when a speeding car plowed into pedestrians in Manhattan's bustling Times Square, city officials said.
Police identified the woman as Alyssa Elsman, a resident of Portage, Michigan.
The driver of the 2009 Honda Accord – Richard Rojas, 26, of the Bronx – tested positive for PCP and told police that God made him do it, a law enforcement source told CNN.
The suspect, who suffered from "psychological issues," told police he expected officers to shoot him, according to the source.
Rojas has been arrested twice in New York – in 2015 and 2008 – for drunken driving, New York Police Commissioner James O'Neill said.
There is no indication the incident, which unfolded just before noon, was an act of terrorism, New York Mayor Bill de Blasio and other officials said. It is being investigated as an accident, a police official said. Charges against the driver are pending.
One of the hospitals treating the injured said four patients were in critical condition Thursday night. Two were in serious condition.
NYC Health + Hospitals Bellevue said it received 13 patients, 10 adults and three teenagers. The serious injuries included pelvic fractures, internal bleeding and head injuries.
Car was 'out of control'
Before striking pedestrians, the car was "out of control," an emergency management official said. Four people were critically injured but are expected to survive, officials said.
The speeding car jumped the sidewalk on the west side of 7th Avenue at 42nd Street and barreled into pedestrians for three blocks before crashing at the northwest corner of 45th Street, police said.
Witnesses described a harrowing scene that started with screeching tires and ended with screams, panic and a fiery crash at one of the world's most visited sites.
"A woman in front on the sidewalk was hit and tossed before then car reached 44th st, continued plowing people down at full speed up to 45th street, where it was stopped after crashing into more people and the light post," posted Instagram user Ed G Val, who from across the street "saw the car speeding north on the west sidewalk of southbound 7th Ave."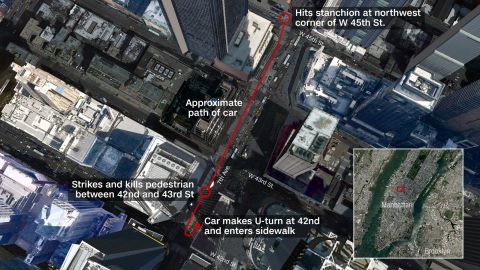 Google Earth/CNN
Harlem resident Tyezhane, 20, who would only give her first name, said she was walking to work at a shoe store when she saw the car on the sidewalk. She bolted across the street.
"There were a lot of people out, enjoying the good day, and then I heard screaming and the car running over bodies," she said. "I didn't know what was going on. At first, I thought someone was intentionally doing it. I was scared for my life."
Social media images show injured people on the street, a car upended at an angle and crowds gathered in the heart of the tourist hub.
'More of a surreal thing'
Elizabeth Long, of Dayton, Ohio, told CNN she was walking to the Hard Rock Cafe when she saw a maroon car heading toward her on the sidewalk. She heard screaming. Fearing the car would hit her, she ran to a nearby building's revolving door.
"I wasn't even all the way in when the car sped by," perhaps 10 feet behind her, said