Story highlights
At least 153 racist incidents reported on US campuses during the 2016-2017 school year, ADL says
Bananas were found hanging from nooses around American University's campus in May
Taylor Dumpson was elated. On May 1, she became student government president at American University – the first African-American woman ever to hold the job.
But less then 24 hours after she officially took office, her joy turned to pain. Dumpson got a message from a friend as she was on her way to campus. Bananas had been found hanging from nooses at three spots on the university's Washington campus, her friend said.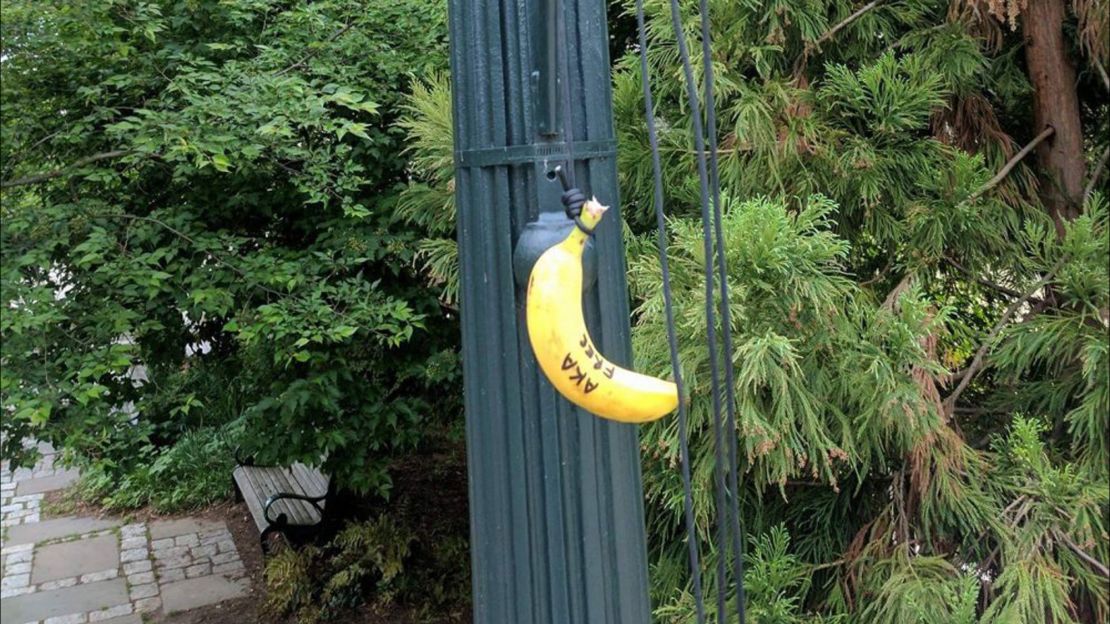 One had the words "Harambe bait" scrawled on it, after the gorilla that was shot and killed at the Cincinnati Zoo for dragging a child who fell into his enclosure.
Another was marked with the initials of the historically black sorority Alpha Kappa Alpha, of which Dumpson is a member.
The discovery shook her to her core. The nooses were a clear reference to lynching, Dumpson said, the bananas a play on the racist trope that African-Americans are monkeys.
"I think the message that they were trying to send is, I shouldn't be in the position I am," she said.
At first, Dumpson said, being targeted left her feeling numb. "It's just overwhelming," she said. "I didn't see this coming. But now I am here. And I haven't had time to just stop … I still have to lead."
What happened at American University isn't an isolated incident. So far over the course of the 2016-2017 school year, there have been at least 153 racist incidents on 108 campuses across 34 states, according to the Anti-Defamation League.
The group, which has been tracking bias-related incidents for the past 50 years, received so few reports of racist incidents on campuses in the 2015 school year that they didn't compile statistics on them. But they received an influx of reports during the 2016 school year, and began treating campus incidents as a discrete category.
Most of the incidents involve the posting of hateful flyers, the group says, like the ones that white supremacist groups have been using to recruit new members on campuses.
White nationalists recruiting students
2016 saw an overall rise in the number of hate groups in the United States – the Southern Poverty Law Center counted 917 of them that year, up from 892 in 2015. The SPLC also documented a surge in incidents of hateful harassment or intimidation throughout the country in the 10 days after the 2016 presidential election in November.
Against this backdrop, white supremacist groups such as Identity Evropa, American Vanguard and American Renaissance have become more brazen about recruiting openly on college campuses, ADL CEO Johnathan Greenblatt said.
"We have seen white supremacists try to recruit on college campuses for years, but what is different today is there has been a velocity and a volume of the efforts that we really have never seen before," he said.
He attributed the change to xenophobic political rhetoric that's "allowed these fringe ideas to move to the mainstream."
"I think what you have seen are extremists who have exploited incidences or moments in the national dialogue and try to insert themselves into that conversation," Greenblatt said.
'Diversity is weakness, diversity is a source of tension'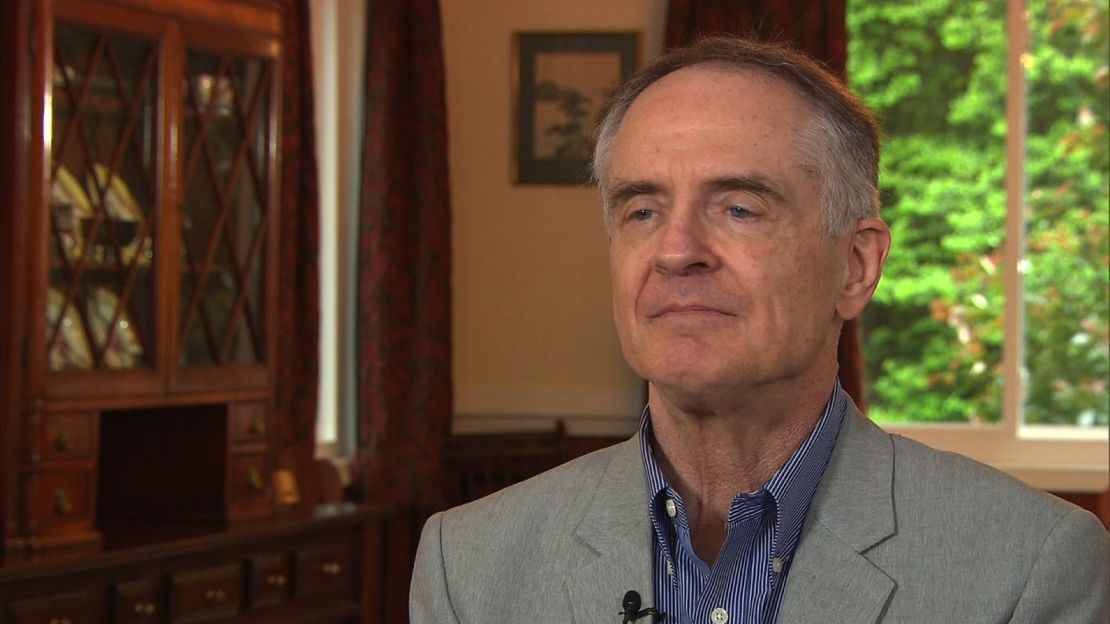 The leader of one of those groups said there's never been a better time to recruit young people.
"The number of young whites who are waking up to racial reality is unprecedented," said Jared Taylor, head of American Renaissance. "It is happening now because it's much easier for a young person to find an alternative point of view. All they need to do is find an Internet site, just a few clicks away, that explains in very clear terms what they might have been feeling in an inchoate way, but has never been expressed clearly for them."
He said that a growing number of young people "are not bamboozled and intimidated by all this nonsense about diversity being strength."
"Diversity is weakness, diversity is a source of tension," he said.
Taylor said he wants to see his ideas proliferate and become mainstream, not by violence and intimidation but through reason.
"I completely reject the term white supremacy," he added. "I simply want the opportunity for my people, people of European origin, to be left alone so that we can pursue our own destiny."
CNN asked him about the banana incident targeting Dumpson. "I consider it rude, I don't condone it, but it's obviously not a hate crime." Taylor said.
A racist incident inspired her run for student office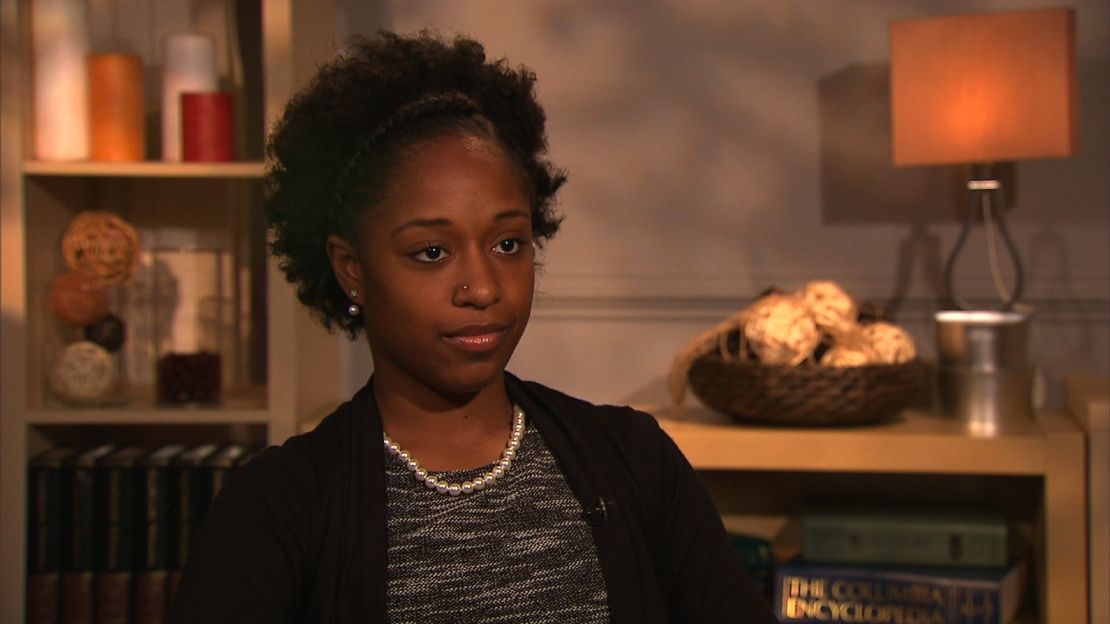 In the three years that Dumpson has attended American University, she says the student body has endured several incidents of racially-motivated hatred.
In her freshman year, hateful messages aimed at black students appeared on Yik Yak, a now-defunct social media app that allowed users within a limited geographical area to communicate with one another.
One of them said, "If you bring the ropes, then I'll bring the fire," Dumpson recalled.
That made her consider leaving campus – but she resisted that feeling and stayed and thrived at American University. Then in September 2016, someone threw a banana at a black student on campus, she said.
This time, it sparked a very different feeling. She decided she would run for office to try and change the culture on campus. "I was in a town hall meeting and three young women came up to me and said, 'Was AU this bad your freshman year?," Dumpson remembered. "I couldn't look them in the eye and tell them no."
When the bananas were discovered hanging from nooses around campus shortly after her election, Dumpson decided to lead a town hall meeting to address the situation.
In response, the Anti-Defamation League says the leader of a known neo-Nazi group called for a campaign of online harassment to be mounted against her online.
It was "the kind of torrent of terror that we have come to expect from this so-called 'alt-right,' this loose confederation of white supremacist racist and anti-Semites online," Greenblatt said.
He, Dumpson and the university couldn't provide further details about the harassment campaign, since the FBI and the US Attorney's Office for the District of Columbia have opened a hate crime investigation. The university has said it condemns discriminatory harassment.
The FBI and university respond
The FBI joined the university's investigation into who hung the bananas from nooses on May 3. On Wednesday, the university announced that the US Attorney's Office would also be joining the investigation.
A suspect was captured on surveillance video, but the camera angles didn't capture the person's face.
After the neo-Nazi leader tried to whip up an online harassment campaign against Dumpson, American University said it "dispatched law enforcement to her home to provide her and her family with additional security and technology protections."
Since the incident, the school's Black Student Alliance has organized demonstrations to support Dumpson and push the university to do more to combat racist incidents. School officials held meetings with 22 leaders of campus African-American student organizations, the university said in a statement.
All the while, Dumpson is still striving to lead, and trying to shake off the heaviness of the hate spewed at her.
"I think back to the Maya Angelou poem, you know, 'Still I Rise," she said. "Just like the dust, I will rise."
"I was elected student government president and that's what I'm going to do, my job," she said.