Story highlights
Officer alleges he was fired from the force for not shooting and killing a suspect during a domestic disturbance call
City manager disputes officer's account
Former police officer Stephen Mader says the incident that cost him his job at the Weirton, West Virginia Police Department lasted less than 12 minutes. When it was over, a 23-year old man was dead.
40 officers patrol this small town in the northern panhandle of the state. Wedged between Ohio and Pennsylvania, it has the distinction of being the only US city that "sits in one state while its borders touch two other states," the town boasts on its website.
Mader, a Marine veteran who served in Afghanistan, is suing this small city where he's lived his entire life. He claims he was fired from the force for not shooting and killing Ronald "R.J." Williams Jr. during a domestic disturbance call in May 2016.
On Wednesday, attorneys for Mader filed a lawsuit against the City of Weirton for wrongful termination. The suit also alleges that city officials "engaged in a pattern of retaliation designed to destroy Mr. Mader's reputation," and violated his constitutional rights of free speech and due process.
The suit was filed on Mader's behalf by the American Civil Liberties Union of West Virginia and attorney Timothy P. O'Brien.
"He didn't appear angry or aggressive… He seemed depressed."
Mader, 26, spoke to CNN in September 2016, three months after he was fired.
"The call came in around 2:50 in the morning," said Mader. "The whole thing was over by 3:02(a.m.)."
Ronald D. "R.J." Williams Jr. was killed by police on May 6, 2016.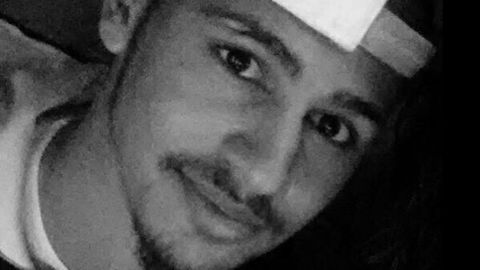 According to Mader, in the early morning hours of that day police dispatch alerted a call from a woman who was frantic and requesting immediate help.
He was less than a mile and a half from the caller's address, Mader said, and the first to arrive on the scene where Williams, 23, was standing outside the house with his hands behind his back.
According to the former officer's lawsuit, Williams' girlfriend had called 911 because he was threatening to hurt himself with a knife.
Mader ordered Williams to show him his hands; when he did, Mader said he saw Williams was holding a silver handgun.
Mader, who drew his own gun, told Williams to drop his and said the visibly "choked up" man told him, "I can't do that. Just shoot me."
Over and over again, Mader said, Williams pleaded for Mader to shoot him.
Mader said he was certain Williams was trying to commit "suicide by cop".
"He didn't appear angry or aggressive," said Mader. "He seemed depressed. As a Marine vet that served in Afghanistan and as an active member of the National Guard, all my training told me he was not a threat to others or me. Because of that I attempted to de-escalate the situation. I was just doing my job."
According to the suit, as Mader was trying to get Williams to drop his gun, two other Weirton Police officers arrived. When Williams raised his gun, one of them "immediately shot Williams in the head, killing him."
Williams' girlfriend had told 911 to tell responders that he had a gun but it wasn't loaded, according to the lawsuit. After Williams was killed, investigators also found that it wasn't loaded. It was unclear from the lawsuit whether 911 dispatchers relayed the girlfriend's message to first responders. The Weirton Police Department has not responded to CNN calls for comment.
'Such restraint should be praised, not penalized'
The Weirton Police Department notified Mader that his employment had been terminated one month after the shooting, on June 7, 2016. The suit says the police department cited "failure to meet probationary standards of an officer" and "apparent difficulties in critical incident reasoning" in their decision to fire him.
"The investigation further revealed that the officer froze on the scene, not communicating with the other officers involved," a statement by the city released in September says.
The lawsuit takes a very different view. "The Weirton Police Department terminated Mr. Mader's employment because he chose not to use deadly force to shoot and kill an African-American man, who was suicidal, and whom Mr. Mader reasonably believed did not pose a risk of death or serious bodily injury," the suit says.
The suit alleges Mader's termination was used to defend and rationalize the deadly force used by the officer who shot Williams.
CNN has left several messages with the Weirton Police Department for comment regarding this allegation, but have not heard back. CNN also attempted to reach out to the officer who shot Williams, but no calls or texts were returned.
A state investigation found the officer's actions were justified.
"Such restraint should be praised not penalized. To tell a police officer – when in doubt – either shoot to kill or get fired, is a choice that no police officer should ever have to make and is a message that is wrong and should never be sent," said his attorney, Timothy O'Brien.
The City of Weirton said they were not able to comment until they had reviewed the lawsuit. CNN obtained the lawsuit online from a public access website that hosts court documents. The City maintains they have not been served, but when they are "…it will be reviewed by legal counsel and then a determination will be made as to whether we'll be making any comments on this particular lawsuit."
But in September, Weirton City manager Travis Blosser told CNN that Mader wasn't fired over how he handled the Williams incident, but because of a "totality of the circumstances."
Namely, Weirton Police Chief Rob Alexander in September pointed to two prior events:
March 2016: Mader allegedly entered a man's vehicle without a warrant to put a ticket on the dash on a rainy day. Police say he acted "in an inappropriate manner by cursing at the subject's wife as well as conducting an illegal search."

April 2016: Mader, along with other officers, failed to report an elderly woman's death as suspicious. Subsequently, the death was ruled a homicide and because of his actions, evidence was moved, "thereby, contaminating the potential crime scene."
Mader acknowledged these incidents to CNN and had his own explanations for each:
March 2016: Mader was writing a second parking ticket for a vehicle, and when the owner came out irate and cursing, he responded using the f-word.

April 2016: EMT and Fire told the officers who responded to the scene that the woman died of natural causes, he said, "so that's what we put down."
'A 23-year-old kid that lost his life'
On Wednesday after the hearing of the lawsuit, Jack Dolance, attorney for Williams' family said they thanked Mader for doing the right thing the night Williams died – trying to save him.
"He took his time and looked at RJ as a person and not a dangerous subject," said Dolance, whose clients are not party to the lawsuit.
But most important, said Dolance, is that Williams' life is honored and doesn't get lost in the controversy.
"There was a 23-year-old kid that lost his life that night," he said.