Story highlights
NEW: Victim's mother: Hernandez was "guilty, and he's going to always be guilty"
Prosecutors will appeal the judge's decision, the district attorney says
Fall River, Massachusetts
CNN
—
Aaron Hernandez died a convicted murderer, but in the eyes of the law, his conviction has been erased.
On Tuesday, a Massachusetts judge vacated Hernandez's murder conviction after the former NFL star's suicide. Minutes later, the Bristol County district attorney said prosecutors will appeal the judge's decision.
Hernandez was serving a life sentence for the June 2013 murder of Odin Lloyd. Hernandez hanged himself in his prison cell April 19, just days after his acquittal on double-murder charges in a separate case.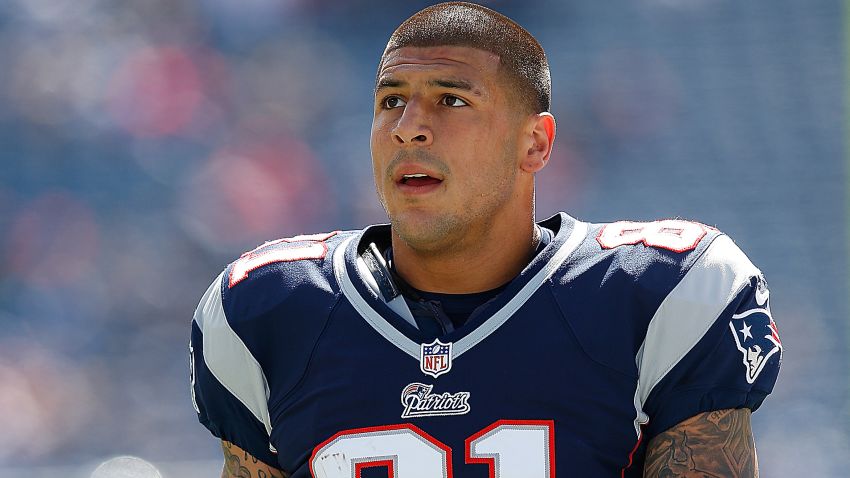 Aaron Hernandez found hanged
Massachusetts courts have generally recognized a legal rule called "abatement ab initio," or abatement, in which convictions are thrown out if a defendant dies before his or her appeal is heard.
The idea of abatement is to ensure the right to appeal for defendants, Suffolk University law professor Rosanna Cavallaro told CNN.
After the judge's ruling, Lloyd's mother spoke to reporters.
"I know everyone is looking for me to be angry, but I'm not," Ursula Ward said. "I know God is fighting this battle for me. He also said be still, and know that I am God. And I am obeying him."
Ward said the judge's decision doesn't change her mind that Hernandez killed her son.
"In our book, he's guilty, and he's going to always be guilty," she said, holding back tears. "But I know one day, I'm going to see my son. And that's the victory that I have (that) I'm going to take with me."
The arguments on both sides
Hernandez attorney John Thompson said the manner of death should not matter – when a person dies while his conviction is under direct appeal, the conviction should be vacated.
But prosecutors argued that abating Hernandez's conviction would "reward the defendant's conscious, deliberate and voluntary act" of killing himself and that the abatement rule has no solid historical or legal basis.
"A defendant, who can cut off his own criminal appeal by suicide and stall civil litigation by a stay of proceedings … has the reins of the entire justice system in his own hands," prosecutors wrote.
In court filings last week, they produced two pieces of evidence they said bolstered their argument.
First, one fellow inmate told authorities that Hernandez had mentioned he heard a rumor about the abatement rule, according to the court documents.
Second, Hernandez's suicide note for his fiancée said "YOU'RE RICH," underlined twice. The issue is relevant because Lloyd's mother has brought a wrongful death suit against Hernandez's estate. And such lawsuits often rely on a criminal conviction as their basis of facts.
Ultimately, Judge Susan Garsh said the court cannot say for certain why Hernandez committed suicide. She described it as a "tragic act that had complex and myriad motives."
After the judge's decision an attorney for Lloyd's mother said the civil wrongful death case will proceed.
"The abatement issue really shouldn't affect our case," attorney Doug Sheff said.
Photo gallery: Athletes charged with murder
A history of abatements
Abatement has generally been recognized in Massachusetts even in high-profile cases of suicide.
John Salvi was convicted of murder in 1996 for opening fire at a Planned Parenthood clinic in Brookline, but his conviction was vacated when he committed suicide in prison before his appeal was heard.
And the death of John J. Geoghan, a priest at the center of the Catholic Church's sexual abuse scandal, also led to the abatement of his conviction.
But Bristol County District Attorney Thomas Quinn criticized the "antiquated" practice of abatement, especially when an inmate commits suicide while his conviction is under appeal.
"By his suicide, the defendant waives his right to appeal," Quinn said Tuesday.
"To allow an archaic rule to erase a jury's verdict flies in the face of common sense and basic fairness."
Quinn said he will appeal the erasing of Hernandez's conviction.
"He should not be able to accomplish in death what he could not have accomplished in life."
Eric Levenson reported from Fall River, Massachusetts, and Holly Yan reported and wrote from Atlanta.