Story highlights
85-year old man dies attempting to reclaim title as the oldest person to climb Everest
Opinions differ on whether climbing the mountain should have an age limit
The death of an 85-year-old man attempting to reclaim his title as the oldest person to climb Mount Everest has reignited concerns over whether an age limit needs to be imposed.
Min Bahadur Sherchan died of a heart attack at base camp on Saturday afternoon, according to the Nepal Mountaineering Association (NMA).
"He was in good health. He used to walk 15 kilometers every day. But I think his age was quite a factor," Ang Tshering Sherpa, president of the NMA, told CNN. "He was too old to climb Mount Everest but he had a very strong will."
There are only two routes to scale the world's tallest peak: one from the Everest North side in Tibet or another from the Everest South side in Nepal. Chinese authorities impose an age limit of 18-60 in Tibet, while in Nepal, climbers must be a minimum of 16 years old but there is no upper age limit.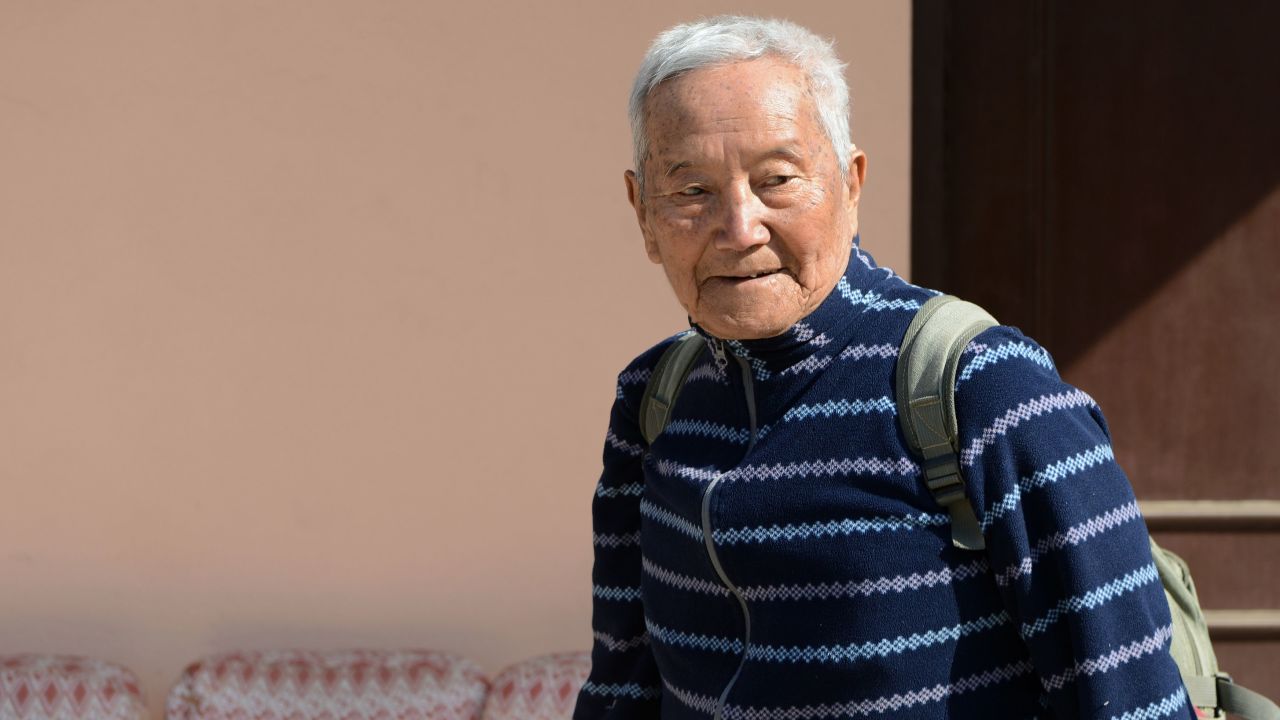 "We've been planning this for a long time, but some people are not happy about it. But now it is necessary to limit it," said Sherpa. "It should be 75, but this is my opinion, not the government's or the NMA's."
Dinesh Bhattarai, director general of the Nepal Tourism Board said a government-imposed age limit is just speculation at this point.
"Setting an age limit is not in our agenda right now," said Bhattarai. "For something to become a law it has to go from internal discourse level to implementation… We are not even at (the) internally discussing phase at the moment."
Despite calls for an upper age limit, figures by crowdsourced data website Adventurestats show there is no correlation between age and an increased fatality rate in climbers over the age of 50.
Out of 11,000 summit attempts between 1922 and 2006, just under 2% of people aged 29 and under died, according to Adventurestats. The rate for climbers ages 30-39 and 40-49 was 1.7% and 1.5%, respectively, while for ages 50-100, the death rate was 1.6%. A total of 282 people died on Everest from 1921 to 2016.
Age is an issue that famed climber Alan Arnette, 60, has commented on.
"The older climbers are proving aging does not mean stopping and the youth are showing that under the right conditions, you can do amazing things at any age," writes Arnette on his blog. By analyzing data from Nepal's Ministry of Tourism, and the Culture and Civil Aviation he also found that the average climber is in his 30s.
"I admire these 'extreme' climbers. They are pushing the envelope of conventional boundaries and I wish them the (best) of luck. But more importantly, to be safe and return home with or without a summit."
A climb for Mother Earth
Before he left for his ascent, Sherchan, a former British Gurkha soldier, told reporters at Kathmandu Airport that the aim of his trek was "to protect the Mother Earth, the well-being of the world's humanity and world peace."
Sherchan was born in the Nepalese district of Myagdi on June 20, 1931. In 2008, at the age of 76, he became the oldest person to scale Everest. He lost his title in 2012 to 80-year-old Yuichiro Miura from Japan.
Sherchan "was planning to climb in 2014 but was forced to cancel because of the avalanche where 16 sherpas were killed," said Sherpa of the NMA. "Then he tried again in 2015 but because of the earthquake, all of the expeditions were postponed. And last year, he was not well prepared so he tried again this year."
The ultimate physical challenge
Mount Everest is the ultimate challenge for mountaineers looking to test their limits. And in recent decades, more and more adventurers have taken on the grueling task.
But with it's icy temperatures never registering above a negative degree of Fahrenheit and an altitude with limited oxygen, it is far from a hospitable environment.
"Everest is a mountain of extremes," Jon Kedrowski, a geographer and climber who tackled Mount Everest in 2012, told CNN last year. "At altitude, the body deteriorates on a certain level."
High-altitude cough and acute mountain sickness are the most common ailments among climbers.
Temperatures are also extreme, on both ends of the spectrum. While climbers are prepared for the cold, there's also the heat to deal with, as daytime temperatures in some parts can hit 90 degrees Fahrenheit (32 degrees Celsius) during climbing season.
Climbers further face the risk of high-altitude pulmonary edema and high-altitude cerebral edema, which is the build up of fluid in the lungs and brain, respectively. This is more likely higher up the mountain, where the body reacts the falling levels of oxygen by creating pressure and excess fluid.
A lack of oxygen to the brain, called hypoxia, can also result in climbers making rash and sometimes fatal decisions.
From 1953 to 2016, 7,646 summits were made by 4,469 different climbers.
"The Death Zone"
Given the dangerous conditions, hundreds still sign up to climb the mountain whose pinnacle is known as "the Death Zone."
Climbing season begins between April and May and as of May 6 2017, 365 patients have been treated, according to Everest ER, a project run by the Nepali and American arms of the Himalayan Rescue Association.
Of those in their care, many have been treated for high altitude cough and upper respiratory complaints, and 21 diagnosed with lower respiratory tract infections or pneumonia. Some have also been treated for frostbite and pulmonary edema,
This year is set to see a record number of climbers with 371 permits already issued for foreigners.
"If you count the sherpas, the number is 800, and with the Base Camp staff, another 200. So this year, we will have 1,000 people above Base Camp," said Sherpa.
Given the dangerous conditions, why climb a mountain whose pinnacle is known as "the Death Zone"?