Story highlights
Extensive rainfall causes severe flooding in the St. Louis area
Larger rivers have yet to crest, the National Weather Service says
Heavy rain pounded the Northeast on Friday afternoon, with streets in New York turned into flood zones and travel hindered across the region.
Some of the city's mass transit was delayed, with entrances to Penn Station temporarily closed, and some motorists had to be rescued from stalled cars, CNN affiliate WABC reported.
Video and photos showed pedestrians trudging across streets in water up to their shins.
"Be safe and stay dry, NYC," the mayor's office tweeted. "There's a flood warning in effect until this afternoon at the earliest."
The chance of rain is about 60% for Saturday, the National Weather Service said, with a tenth to a quarter inch of rain possible.
Aerial photos and other images from the St. Louis region and other parts of the central United States show the devastating impact of the flooding that has caused as many as a dozen deaths and shut down transportation in the area.
Some rivers and streams were receding after days of rain caused widespread flooding in the central United States, but the region wasn't yet out of danger: forecasters said the Missouri and Mississippi rivers would crest Saturday in and around St. Louis.
"The smaller rivers always recede sooner. A small creek would rise fairly quickly, and will come down fairly quickly," said Mark Fuchs of the National Weather Service in St. Louis. "Eventually, that water goes out to the larger river, which is the last thing to rise and the last thing to crest."
Aerial photos and video from the St. Louis region and other areas showed the devastating impact of the flooding that has caused as many as a dozen deaths and shut down transportation in parts of the region.
Brian Emfinger, a reporter for CNN affiliate KATV, took aerial images and video of flooding near Pocahontas, Arkansas, in the northeastern part of the state, where floodwaters overtopped a levee.
Gov. Asa Hutchinson posted aerial photos of a Walmart in Pocahontas surrounded by water and widespread flooding in nearby Lawrence County.
In the past week, flooding has caused seven deaths in Arkansas. Those killed included a 10-year-old who was climbing a fence to avoid the water and was swept away, according to the state's Department of Emergency Management.
Five people have died in Missouri due to or related to the flooding, officials said.
St. Louis area flooding
A large area of eastern Missouri and southern Illinois remained under flood warnings on Thursday morning. The flooding impacted more than 100 highways in the St. Louis region, according to Tom Blair, an official with the Missouri Department of Transportation.
Michael B. Thomas/Getty Images
The Meramec River, which travels through suburbs of St. Louis, rose to a record 46.11 feet after weeks of heavy rainfall.
Michael B. Thomas/Getty Images
In Fenton, Missouri, drone video showed submerged homes with roofs peeking out.
Three hours to the southwest, in Willow Springs, Zeb Cheek and his family lost almost everything.
"We lost our car, our cat, and nearly everything else in the house. And we no longer have a home," he said. "We managed to save my work computer, some clothes, our dog and a few photos."
Cheek and his wife rent their home, but he said he suspects the landlord will have to strip the house to its joists to salvage it.
Zeb Cheek/X-Flight LLC
The area has seen minor flooding before but Cheek, an aerial photographer, said it's never been like this.
"My wife collected some clothes and our kids while I went to warn the neighbors to get out," he told CNN. "In the time it took me to get back, roughly 10 minutes, the water had risen from my ankles to my waist. I was barely 100 feet from my front door and didn't hear my wife calling for me at the top of her lungs."
Escaping the house, however, didn't guarantee the family's safety.
"The waters were roaring … badly," he said. "When we left, the water was coming into our van, and we were nearly trapped."
The Cheek family is staying at a home provided by their church.
Illinois is next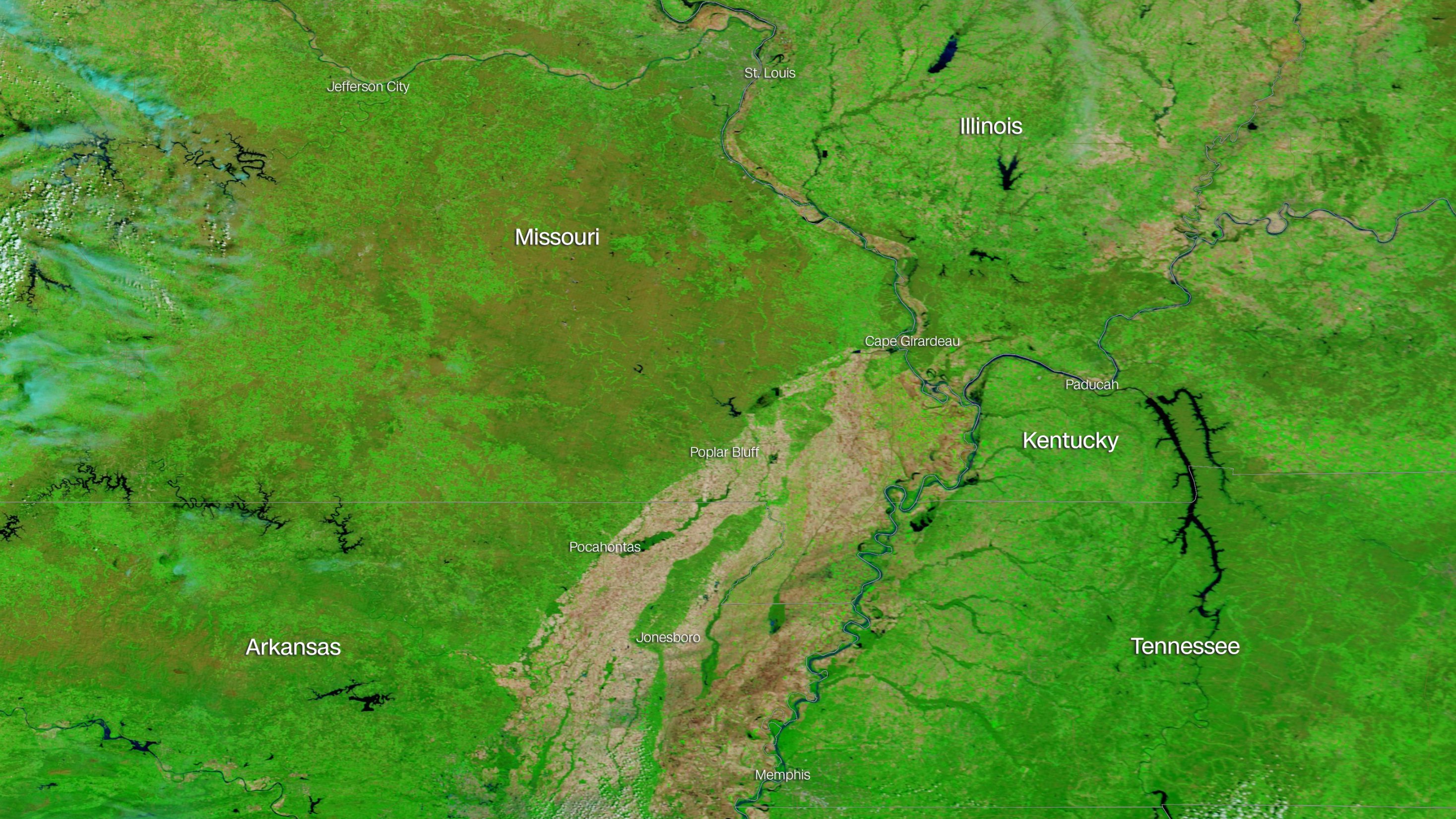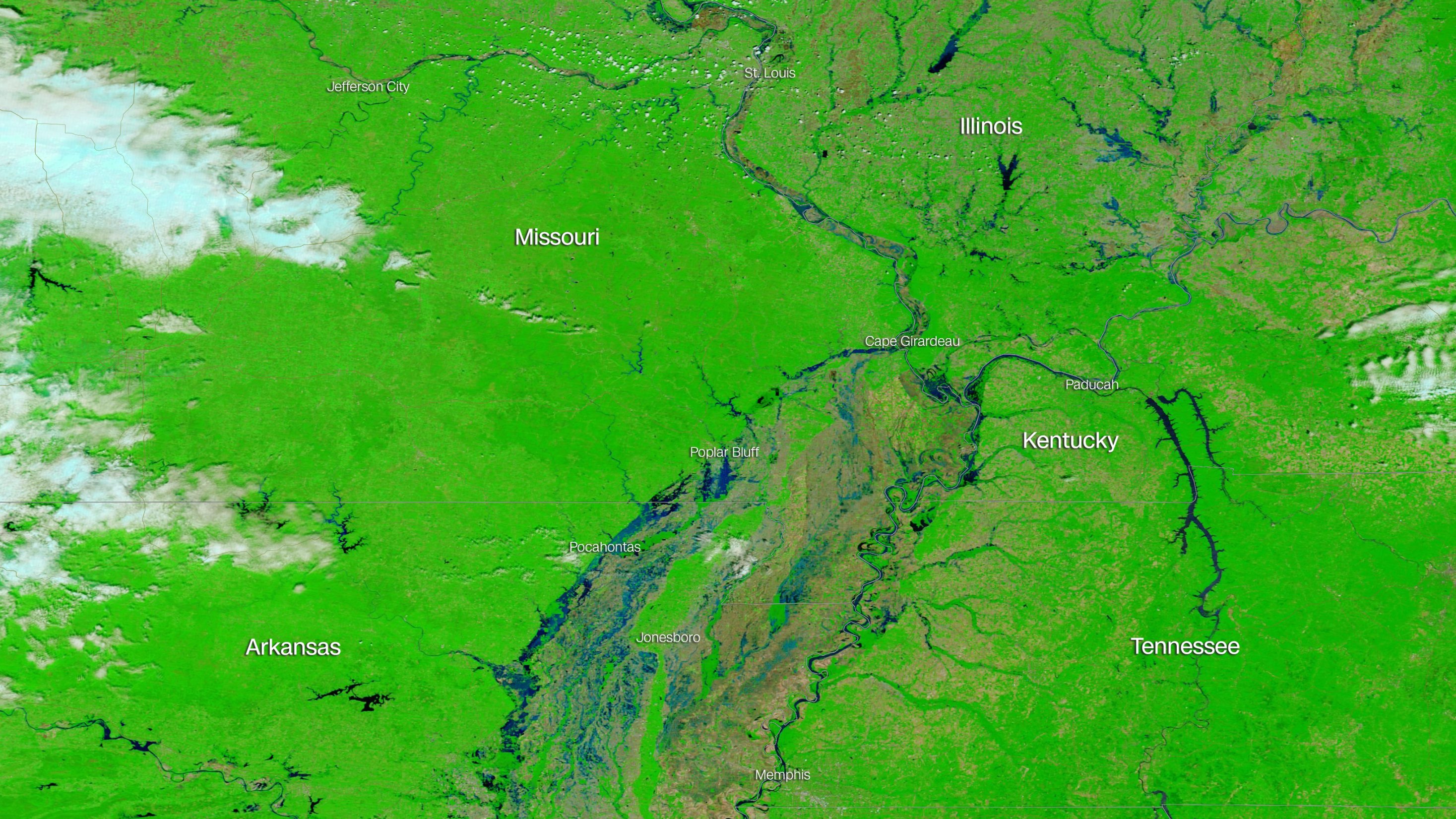 Meanwhile, residents of central and southern Illinois prepped for their own coming floods as rain continued to fall.
The Mississippi River that separates Missouri and Illinois is projected to reach 48.5 feet on Saturday near Cape Girardeau, just below its record high of 48.9 feet.
Forecasters said the time to be worried about moderate to heavy rainfall in those states is between 9 p.m. and 4 a.m., mainly in southern Illinois.
The Illinois Emergency Management Agency enlisted inmate crews from the Department of Corrections to sandbag communities expecting rising floodwaters.
In Villa Grove, toward the eastern part of Illinois, officials said they had prepared boats for possible rescues and police were ready to block off streets in case of flooding, according to CNN affiliate WCIA.
Traci Belshe, who lives in Villa Grove, told WCIA that previous flooding has caused more serious issues.
"We've had people trapped in their homes, having to be boat rescued out while that gas leak is occurring," Belshe said. "I myself have been trapped in this home three different times."
CNN's Samira Said, Janet DiGiacomo, Chuck Johnston, David Williams and Jeanne Bonner contributed to this report.