Story highlights
New statistics unveiled as President Trump invites Philippines President to White House
Polls show Filipinos overwhelmingly are satisfied with the operations of the drug war
(CNN) —
Police in the Philippines defended the country's ongoing and deadly war on drugs Tuesday as they accused the international media of overstating death tolls.
In an elaborately planned, three-hour forum in an upscale Manila hotel, officials said 2,679 suspected drug users and dealers died during legitimate police operations between July 1 and January 30.
An additional 1,847 deaths between July 1 and March 31 are believed to have been drug-related, police said, but not the result of police activity.
Meanwhile, more than 5,000 homicides over those nine months remain "under investigation," with any potential connection to the drug war still to be determined.
The figures are lower than previous official reports. Police in December said 2,086 people were killed in police operations and 3,841 killed in extrajudicial or vigilante-style killings from July 1 to December 12.
The new data release comes amid widespread shock over US President Donald Trump's decision to invite Philippines President Rodrigo Duterte to the White House, with many critics pointing to Duterte's deadly drug war.
CNN has reported extensively on the human cost of the drug war, including in Santo Niño, a neighborhood in metro Manila that has been dubbed the "City of the Dead."
Death toll disputed
"I buried my son in the grave that was meant for me," Ricardo Medina told CNN. His son, Ericardo, was stabbed numerous times and his face wrapped in packing tape, a grisly tactic common among the thousands of alleged vigilante killings that have happened since Duterte took office promising to rid the country of its drug problem by any means necessary.
Estimates of the number of deaths related to the drug war run as high as 8,000, based on figures released by the police and independent counts by human rights groups and media organizations.
Police on Tuesday, however, contested those totals, as well as allegations of widespread extrajudicial or vigilante killings.
Philippines Police Deputy Director General Ramon Apolinario cited "encounters" between drug-related groups as a reason for the deaths, adding that "even our own forces have been victimized."
Media campaign launched
International rights groups have condemned the spate of drug-related killings in the Southeast Asian country of 100 million people.
Even so, the public remains largely in favor of Duterte's campaign. A poll in December found that while 78% of Filipinos feared they or someone they know will be a victim of extrajudicial killings, 85% of respondents were nevertheless satisfied with the ongoing operations in the drug war, according to CNN Philippines.
As of March, 75% of those surveyed said they were satisfied with Duterte's performance.
During Tuesday's forum, police played videos of former drug users, dealers, and the victims of drug-related crimes hailing the benefits of the drug war, with many saying they now feel safer in formerly crime-infested cities.
An accompanying social media campaign calls for the public to "know the real numbers" related to the drug war, with the hashtag #RealNumbersPH. The discussion was quickly dominated by pro-Duterte voices critical of the international media.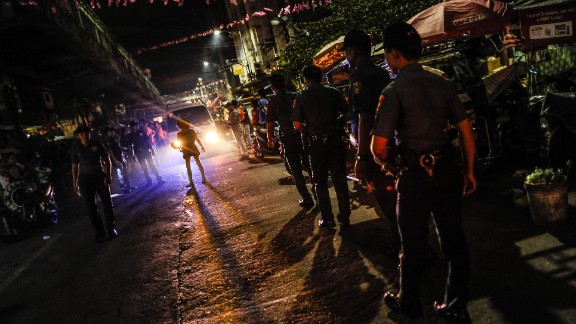 Photos: Philippines drug crackdown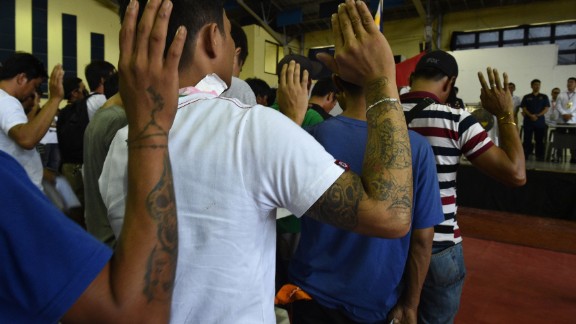 Photos: Philippines drug crackdown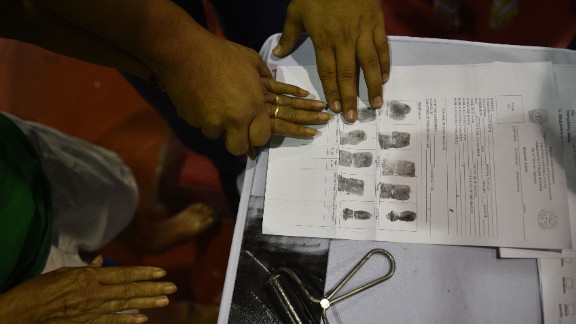 Photos: Philippines drug crackdown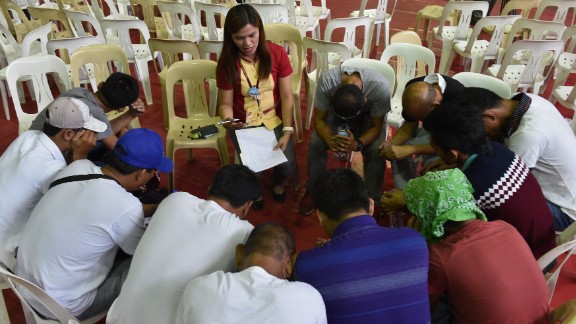 Photos: Philippines drug crackdown
Photos: Philippines drug crackdown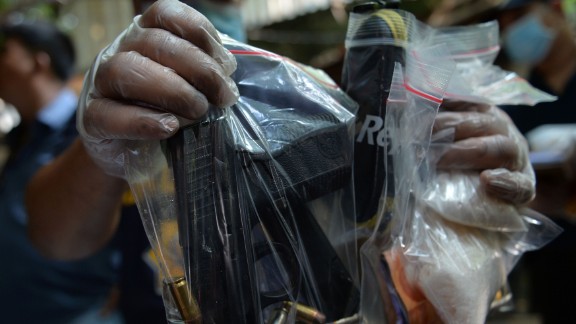 Photos: Philippines drug crackdown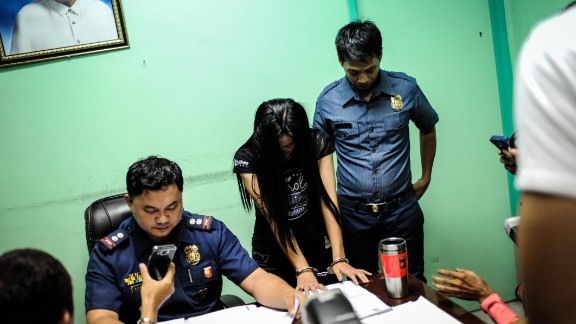 Photos: Philippines drug crackdown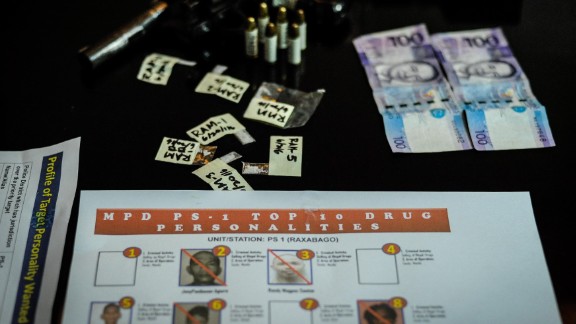 Photos: Philippines drug crackdown
Photos: Philippines drug crackdown
'Secret jail' discovered
As senior police officials defended the drug war in central Manila, a "secret jail cell" housing 12 detainees was discovered this week on the capital's outskirts, according to CNN Philippines.
The chief of local police and a dozen other officers have been suspended pending an investigation, and human rights activists said the case is indicative of ongoing abuses despite the latest statistics.
"Killings by police persist on a daily basis," Josef Benedict, Amnesty International's deputy director for Southeast Asia and the Pacific, told CNN. 
"The recent discovery of a secret detention cell, where drug suspects were being detained without charge, in conditions which may amount to cruel and inhuman treatment, suggests that further violations by police may be occurring, which have not yet been uncovered," he said.
"Killings by unknown armed persons, some of whom have been reported to be police personnel, as well the killing of suspected drug offenders that have already surrendered to police are just some of the serious human rights violations that continue to be reported," Benedict said.
Journalist Buena Bernal reported from Manila. CNN's Zahra Ullah and James Griffiths reported from Hong Kong.