Story highlights
Gun sales spike after mass shootings due to concerns over safety, experts say
Elections and gun control policies may also affect gun sales
Gun control advocates say guns will not make people safer; rights groups disagree
(CNN) —
Nicole Hockley lost her 6-year-old son, Dylan, in the 2012 shootings at Sandy Hook Elementary School in Newtown, Connecticut. On the day of Dylan's memorial, the National Rifle Association issued a statement about the shooting that left 26 dead, mostly children.
"The only thing that stops a bad guy with a gun is a good guy with a gun," said the association's executive vice president, Wayne LaPierre.
Hockley said LaPierre's comments come from the "false rhetoric" that often follows mass shootings.
"How do you recognize who the good guys are?" she asked. "How does arming ourselves with more weaponry make us a safer society?"
The demand for guns jumped in Newtown after the shooting. Assault rifles began selling out across the country amid fears of tighter gun control legislation. Similar spikes in gun sales followed tragedies in Orlando and San Bernardino, and stock in gun companies surged. Now, research in California suggests that the closer people are to a mass tragedy, the greater the impact on gun sales.
Hockley calls this a "knee-jerk reaction" by people who are scared for their safety and who worry that someone will take their guns away. Now a voice for gun violence prevention through her organization, Sandy Hook Promise, Hockley said that the families of mass shooting victims have responded very differently.
"I don't think I've ever had a family who's lost someone (in a mass shooting) … say, 'we need to have more guns available so that we can protect ourselves,' " she said.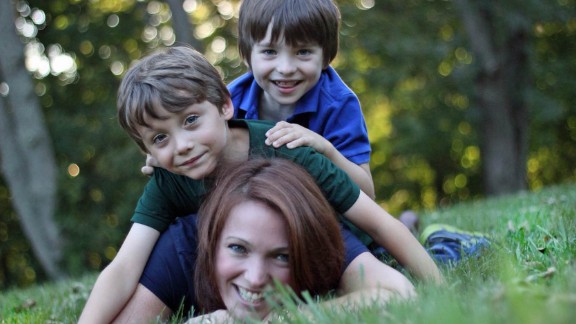 Courtesy Nicole Hockley
'A more violent and disturbing place'
After a mass shooting, "the world seems to suddenly be a more violent and disturbing place than people thought," said public health expert David Studdert, a professor of law and medicine at Stanford University.
Studdert said his latest research supports the notion that this fear is partly behind the spikes in handgun purchases that follow mass shootings.
His newest study, published Monday in the journal Annals of Internal Medicine, tracks handgun sales in California after two mass shootings: the 2012 Newtown massacre and the 2015 shooting in San Bernardino, California. Because California records all lawful handgun purchases and there is no exception for firearms sold at gun shows, he said, the state's data are uniquely comprehensive.
The study showed spikes in handgun purchases after each tragedy: After Newtown, there were 53% more purchases than expected in California. After San Bernardino, there was a 41% increase across the state – but this broke down to an 85% increase among San Bernardino residents, versus a 35% increase elsewhere in the state.
"This, I think, reinforces the idea that safety and security concerns are motivating these purchases," Studdert said.
Larry Pratt, executive director emeritus of Gun Owners of America, believes that these handgun buyers might be "predisposed" to want to defend themselves – and that a mass tragedy might tip the scales.
"When something like that happens and it's vividly covered in the media, then that may prompt them to finally take action," Pratt said.
Studdert's study found that the wave of additional gun buyers in California was made up predominantly of people who were white and Hispanic but not black. It also found a bigger jump in handgun purchases by people who had not previously owned a gun.
"Households that never previously had handguns now do," Studdert said.
Because not all states report gun purchases like California does, researchers have debated whether gun sales and background checks across the country reveal more new gun owners or simply more guns per owner, which Studdert described as a "stockpiling phenomenon."
CNN has estimated that US gun owners – who make up less than 1% of the world's population – own two-thirds of the country's guns and up to one-third of guns worldwide.
The new study did not explicitly ask people's reasons for buying guns, but surveys have shown many people who buy guns do so because it makes them feel safer. The Pew Research Center found in 2013 that half of American gun owners cited protection as their main reason for owning a gun.
"The most unfortunate aspect of this is that these guns are purchased for self-defense but are far more likely to be used against the purchaser or that person's family or friends," said Josh Sugarmann, executive director of the Violence Policy Center, a research and advocacy group that focuses on gun violence.
Researchers have found higher rates of suicide and homicide where there are more guns, though the NRA has refuted this position, citing a low national murder rate in recent years.
The NRA did not immediately respond to a request for comment about the new study, but other gun rights advocates shared their interpretation.
"We've seen drops in the violent crime rate" in the same time concealed carry laws have become more common, Pratt said.
He believes that part of it stems from "crooks encountering armed citizens," though "nobody knows exactly why." He also disagrees with the premise that guns make the public less safe, citing the time it takes for police to arrive after a crime.
"A really good response time … is about four to five minutes," Pratt said. "And a lot of the horrific shootings have taken a lot of lives well within that time."
Though Studdert's study didn't look at the public health consequences of gun sales after mass shootings, he cautioned that we shouldn't forget about the larger picture.