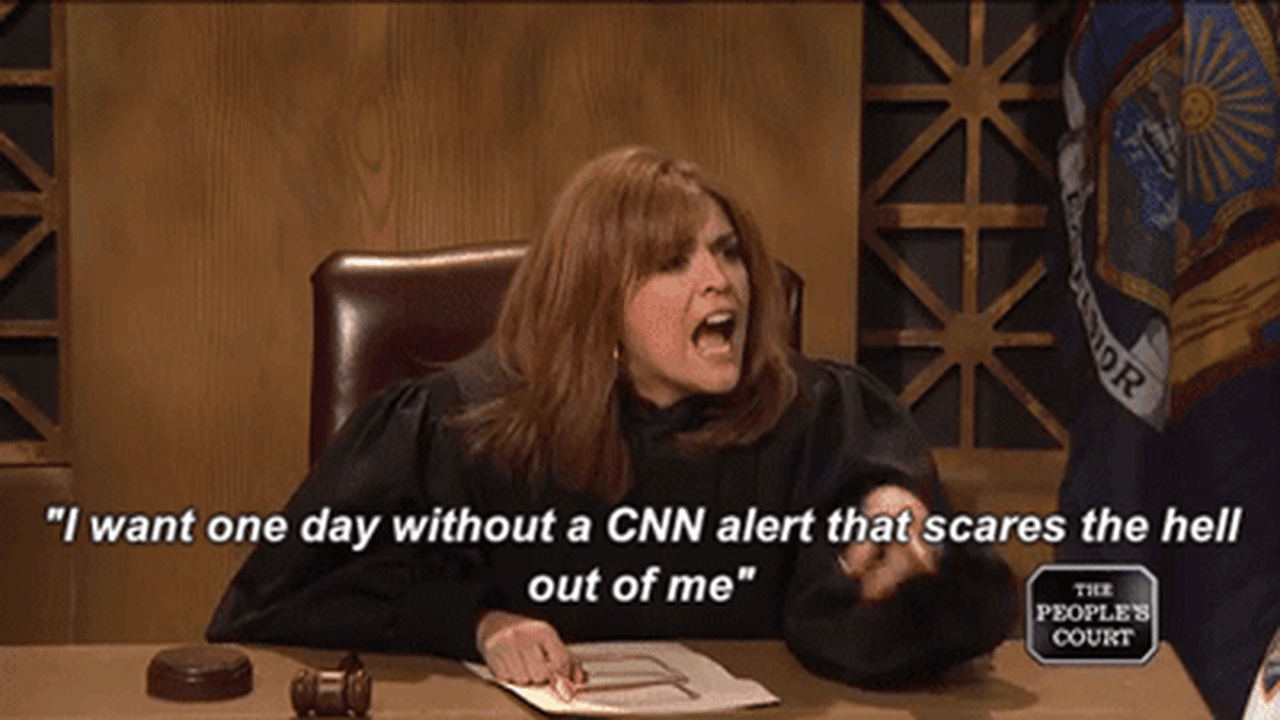 Since Trump was sworn in, CNN has sent nearly 600 alerts related to the new administration — they were even part of a skit on NBC's "Saturday Night Live" in February.
On day 100, we look at all those alerts we sent.
JANUARY 20
Donald Trump is now the 45th President of the United States.
President Trump delivers inaugural address: "From this day forward, it's going to be only America first." Watch live on CNN
Trump signs Cabinet nominations, proclamation for national day of patriotism, and law making Gen. James Mattis eligible for Pentagon chief. Follow live
95 people arrested after protesters smashed windows and damaged cars near Donald Trump's inauguration. 2 police officers were hurt
President Trump leads standing ovation for Clintons at Inauguration Day luncheon: "I have a lot of respect for those two people." Follow parade soon
Senate votes to confirm retired Gen. James Mattis as secretary of defense, the first Cabinet confirmation of Donald Trump's presidency
Defense Secretary James Mattis and Homeland Security Secretary John Kelly have been sworn in to their new Cabinet jobs.
President Donald Trump signed an executive order declaring the official policy of his administration will be "to seek the prompt repeal" of Obamacare
President Trump danced with his wife, Melania, to "My Way" by Frank Sinatra at the Liberty Ball after telling the crowd, "We did it."
JANUARY 21
Women's March brings streets in core of downtown Washington to a standstill. President Trump gets to work, visits CIA. Follow CNN
"I am with you 1,000%," President Trump says at CIA after getting briefing. He blames media for perception of "feud with the intelligence community"
JANUARY 22
Trump says he is scheduled to meet with leaders of Canada and Mexico to begin to renegotiate NAFTA.
JANUARY 23
President Trump's first executive action today will be to withdraw from the Trans-Pacific Partnership trade deal, two sources say.
Sen. Marco Rubio says he'll vote for Donald Trump's secretary of state choice, all but guaranteeing Rex Tillerson will be confirmed as top US diplomat
White House spokesman Sean Spicer to meet press corps for first time since his tirade against accurate coverage of inauguration crowds. Watch CNN
Calls between President Donald Trump's national security adviser, Michael Flynn, and Russian ambassador are under investigation
President resigned from positions in hundreds of entities, Trump Organization document says. Spokesman says sons "are fully in charge of the company"
Senate committee approves Rex Tillerson for secretary of state. Final Senate vote expected next week.
Senate confirms Mike Pompeo to be CIA director.
JANUARY 24
House Speaker Paul Ryan invites President Donald Trump to address a joint session of Congress on February 28.
President signs executive actions to advance approval of Keystone XL and Dakota Access oil pipelines. CNN is tracking all of Trump's campaign promises.
President Trump believes millions of votes for president were cast illegally, press secretary says without providing evidence for the debunked claim
Senate confirms Nikki Haley as the next US ambassador to the United Nations by a 96-4 vote.
President Trump, in a tweet, says he will "send in the Feds" if the city doesn't fix "horrible 'carnage' going on".
President Trump will direct federal resources Wednesday toward building a border wall, a White House official tells CNN.
Clarification: President Trump tweets that he will "send in the feds" to Chicago if the city doesn't fix "horrible 'carnage' going on."
JANUARY 25
Trump calls for "major investigation" into voter fraud after alleging, without evidence, millions of illegal votes.
Dow hits 20,000 for the first time ever. It's up 1,667 points since President Trump's victory in November.
Trump signs two executive actions on building a wall along the US-Mexico border and stripping funding from sanctuary cities.
As President Trump calls for voter fraud probe, a CNN KFile review finds his Treasury pick, Steven Mnuchin, registered to vote in 2 states
Trump says he wants to "fight fire with fire" to stop terrorism, suggesting he's open to bringing back torture because he "absolutely" believes it works.
Mexican President Enrique Peña Nieto said his country "will not pay for any wall," despite the claims US President Donald Trump has made.
JANUARY 26
Mexican President Enrique Peña Nieto cancels meeting with President Donald Trump after renewed tensions over Trump's plan to build a border wall
4 State Dept. management officials were told their services were no longer needed, part of an effort to "clean house," administration officials say
President Trump wants to impose a 20% tax on imports from Mexico to pay for the border wall, the White House says
Trump and Putin are to speak on the phone Saturday in their first conversation since Trump took office, an administration official tells CNN.
JANUARY 27
The U.S. economy slowed in the fourth quarter. For all of 2016, growth was 1.6%, the weakest since 2011.
Trump is expected to sign executive order limiting the flow of refugees into the US and instituting "extreme vetting" of immigrants, an official says.
Mike Pence is first sitting VP to address March for Life: "Life is winning again in America." Trump and UK leader to hold briefing soon. Follow on CNN
President Trump and Mexican President Peña Nieto spoke on the phone, a White House official says.
British prime minister says at joint briefing that President Trump has accepted Queen Elizabeth's invitation for a state dinner. Watch CNN
Trump says James Mattis' opposition to torture overrides his own view; "too early" to lift Russia sanctions; he accepts invitation for UK state visit
President Trump signs executive actions "to keep radical Islamic terrorists out" and for "a great rebuilding of the armed services."
JANUARY 28
2 Iraqis who had visas to enter US sue Trump and US government after arriving in NY and being detained due to travel ban.
Iran to bar US citizens from entering country in response to Trump's travel ban, state media reports.
One of two Iraqi men held at JFK airport released, according to tweet from Rep. Jerrold Nadler.
President Trump signs executive actions on lobbying, a reorganization of the National Security Council and a call for a plan to defeat ISIS
Federal judge grants emergency stay for citizens in transit from seven countries named in Trump's executive order.
JANUARY 29
The Department of Homeland Security says it will comply with judicial orders not to deport detained travelers.
White House discussing the possibility of asking foreign visitors to disclose websites and social media sites they visit, and to share cell phone contacts, sources tell CNN.
Trump defends executive order on extreme vetting, saying he will show compassion to those fleeing oppression while "protecting our own citizens"
JANUARY 30
President Trump says he'll announce his nominee to fill Supreme Court vacancy at 8 p.m. tomorrow.
Former President Obama issues statement critical of President Trump's executive order curbing immigration, says he is "heartened" by protests
Acting attorney general tells Justice Dept. lawyers not to make legal arguments defending Trump's order on immigration and refugees, sources say
Trump tweets reaction to acting attorney general's defiance on travel ban, says Democrats "have nothing to do but obstruct' his Cabinet picks. He adds: "Now have an Obama A.G."
White House says President Trump fired acting Attorney General Sally Yates for "refusing to enforce a legal order" on immigration.
JANUARY 31
Democrats on Senate Finance Committee boycott panel votes on Treasury nominee Steve Mnuchin and Health and Human Services nominee Rep. Tom Price
Finalists to be Trump Supreme Court pick – Neil Gorsuch and Thomas Hardiman – are headed to DC ahead of 8 pm ET announcement, sources say. Watch CNN
Donald Trump reveals choice for US Supreme Court: Neil Gorsuch, 49, is youngest nominee in 25 years to this lifetime position.
Nancy Pelosi calls President Trump's Supreme Court pick Neil Gorsuch "a very hostile appointment" and "outside the mainstream." Watch CNN's town hall
FEBRUARY 1
Senate Republicans took an extraordinary step to move forward with two of Trump's top Cabinet nominees after confronting a boycott from Democrats.
Democrats boycott Scott Pruitt EPA confirmation hearing.
The Senate Judiciary Committee advanced the nomination of Jeff Sessions for attorney general in a party-line vote.
Trump said GOP senators should "go for it" and invoke nuclear option, preventing Democrats from invoking filibuster to block Supreme Court nominee.
Two GOP senators said they would not vote to support President Donald Trump's choice for education secretary, Betsy DeVos.
Michael Flynn, President Donald Trump's national security adviser, said Iran is "on notice," following the country's recent ballistic missile launch
Senate confirms former Exxon Mobil CEO Rex Tillerson to be secretary of state by a vote of 56-43.
President Trump makes unannounced visit to honor slain Navy SEAL.
Rex Tillerson has been sworn in as the Trump administration's secretary of state.
FEBRUARY 2
Iran vows to continue missile activity after President Trump said Tehran was on notice for test firing a ballistic missile on Sunday.
Senate committee to bypass Democrats and advance nomination of EPA nominee Scott Pruitt.
The Treasury Department will allow some companies to do limited business with Russia's Federal Security Service.
The White House is expected to impose additional sanctions on Iranian entities in response to Iran's ballistic missile test on Sunday, sources say.
Uber CEO drops out of Trump's business advisory council in reaction to the immigration executive order.
FEBRUARY 3
Trump will begin dismantling financial regulations enacted after the 2008 economic crisis, hours after his administration's first major economic report.
Senate votes to advance President Trump's education secretary nominee Betsy DeVos to a final confirmation vote, which is expected Monday
President Trump inherits an economy with an unemployment rate of 4.8%. Employers added 227,000 jobs in January, U.S. government says
Trump administration puts new sanctions on Iran, the first concrete action after the White House put Tehran "on notice" for missile test
Trump's Mexico border wall plan faces increasing resistance from his own party, according to CNN interviews with more than a dozen GOP lawmakers
More than 100,000 visas have been revoked since President Trump's executive order on immigration was signed January 27, government lawyers said in court.
The US military, in an embarrassing mix-up, touted video seized in Sunday's raid in Yemen that turned out to be old video already published online.
President Trump has the highest disapproval rating of any new elected president, according to a new CNN-ORC poll
In a victory for President Trump, a federal judge in Boston has declined to renew a restraining order against the administration's travel ban
ATF looking to "beef up" federal presence in Chicago, officials say, just a week after Trump threatened to "send in the feds"
White House says DOJ will file an emergency request to stop a judge's nationwide halt of President Trump's immigration order.
President Trump's nominee for secretary of the Army, Vincent Viola, is withdrawing from consideration, citing business ties.
FEBRUARY 4
Trump blasts federal judge who has temporarily blocked enforcement of travel ban, tweeting that ruling by "so-called judge" is "ridiculous and will be overturned."
Department of Homeland Security said it has suspended all actions to implement President Trump's immigration order.
The Justice Department has filed an appeal to overturn Friday night's ruling that stopped enforcement of President Trump's travel ban
FEBRUARY 5
A federal appeals court denied the US government's initial request to resume President Donald Trump's travel ban.
Americans' first impressions of Supreme Court nominee Neil Gorsuch tilt positive, and plurality say Senate should vote to confirm him, CNN/ORC poll says.
FEBRUARY 6
9th Circuit Court of Appeals to hear challenge to Trump's ban Tuesday
FEBRUARY 7
Vice President Mike Pence casts historic tie-breaking vote to confirm Betsy DeVos as Donald Trump's education secretary.
Federal appeals court now hearing oral arguments to determine whether to lift the injunction on Trump's travel ban.
US Army Corps allows controversial Dakota Access Pipeline to proceed despite protests of Native Americans and environmentalists.
While aides try to manage Trump's expectations about replacing Obamacare, Sens. Ted Cruz and Bernie Sanders debate fate of the law on CNN. Watch live at 9 p.m. ET
Government rations health care, Cruz argues. The US rations it by making it too expensive for some, Sanders answers. Follow the debate on CNN
In a rare rebuke, Sen. Elizabeth Warren was told to take a seat after a clash with Majority Leader Mitch McConnell in Sen. Jeff Sessions' confirmation debate
FEBRUARY 8
Trump to judges: Even a 'bad high school student' would rule in my favor about travel ban.
Sen. Elizabeth Warren on being silenced in the Senate Tuesday: "I don't think voters are asking us to ignore facts."
Supreme Court nominee Neil Gorsuch called President Trump's tweets about the judiciary "demoralizing" and "disheartening," senator says.
Senate votes to confirm Jeff Sessions as the next AG, following heated debate which included barring Elizabeth Warren from speaking in opposition.
FEBRUARY 9
Schumer calls on Trump to withdraw the nomination of Puzder to head the Labor Dept., citing his record as executive and his position on labor issues.
Trump aide Kellyanne Conway was "counseled" after promoting Ivanka Trump's brand in an interview at the White House, WH spokesman Spicer says.
9th Circuit Court of Appeals to issue ruling today on the Trump administration's request to reinstate its travel ban, the court has announced.
President Trump's travel ban will remain blocked, a federal appeals court ruled.
"SEE YOU IN COURT": Trump defiant after appeals court ruled against reinstating his travel ban
Trump agrees to honor the "One China" policy at the request of Chinese President Xi Jinping in their first conversation since Trump's inauguration
FEBRUARY 10
Senate confirms Rep. Tom Price to be the next secretary of the Department of Health and Human Services. The 52 to 47 vote was along party lines.
Kellyanne Conway apologized to Trump after Ivanka clothing line comments, a senior administration official says.
When asked if President Trump is considering a new executive order on immigration, a White House official says, "Nothing's off the table"
Mexico warns its citizens living in US to "take precautions" and stay in touch with consular officials after US deports an undocumented mother
President Donald Trump says his administration will "be doing something very rapidly" regarding US security. "You'll be seeing that sometime next week."
After being blocked from a Washington school, Education Secretary Betsy DeVos said she "will not be deterred" from her agency's mission
CNN Exclusive: US investigators corroborate some aspects of the Russia dossier
Trump won't immediately appeal travel ban block to Supreme Court, source says
FEBRUARY 11
N. Korea test-fires a ballistic missile, S. Korean media report, the first since Trump became US president.
"The United States of America stands behind Japan, its great ally, 100%," President Trump said after reports of a North Korean missile test.
FEBRUARY 13
North Korea's weekend missile launch showed advances, such as using solid rocket fuel, making an imminent launch harder to detect, US officials say.
President Trump has "full confidence" in national security adviser Michael Flynn, according to top adviser Kellyanne Conway.
In new statement, Sean Spicer says President Trump is "evaluating the situation" around security adviser Michael Flynn.
The Senate votes to confirm former Goldman Sachs executive Steven Mnuchin as the next treasury secretary
David Shulkin is confirmed as secretary of the Department of Veterans Affairs in 100 to 0 Senate vote.
Source: DOJ warned Trump administration last month that Michael Flynn was potentially vulnerable to blackmail by Russia.
Michael Flynn has resigned as President Trump's national security adviser, two sources tell CNN.
Keith Kellogg will be the interim national security adviser, multiple sources tell CNN, following the resignation of Michael Flynn on Monday night.
FEBRUARY 14
The Senate's second-ranking Republican and other GOP senators call for probe into connections between Trump and Russia and want Flynn to testify.
Secret Service Director Joseph Clancy announces his retirement, a spokesperson says.
President Trump asked Flynn to resign as national security adviser Monday because he misled Vice President Pence, White House spokesman Sean Spicer said Tuesday.
Government ethics office suggests that disciplinary action be taken against Trump adviser Kellyanne Conway for endorsing Ivanka Trump's products
Majority Leader Mitch McConnell says it's "highly likely" Senate intelligence committee will examine Michael Flynn's talks with Russian ambassador
Russia positions cruise missile in an apparent treaty violation, US senior military official says.
Trump advisers were in constant communication during the campaign with Russians known to US intelligence, multiple officials say.
FEBRUARY 15
Trump tells Israeli PM Netanyahu the US will push for a peace deal with Palestinians and urged his visitor "to hold back" on settlement construction.
Top Senate Republicans urge the White House to withdraw the Andrew Puzder nomination for labor secretary, a senior GOP source says.
Andrew Puzder has withdrawn as President Donald Trump's choice for labor secretary, a source close to Puzder says
The Pentagon might propose sending US conventional ground combat forces into northern Syria for the first time to speed up the fight against ISIS
FEBRUARY 16
President Trump will announce his new labor secretary pick at 12:30 p.m. ET, according to the White House.
President Trump to announce Alexander Acosta for labor secretary, sources say.
President Trump said his White House is not in chaos, but rather a "fine-tuned machine."
FBI not expected to pursue charges against Michael Flynn and believe he was not intentionally misleading them, law enforcement officials say
Retired Vice Adm. Bob Harward has turned down President Donald Trump's offer to be national security adviser, sources say
FEBRUARY 17
Crossroads Media founder Mike Dubke is expected to be named as White House Communications Director, two administration officials tell CNN.
The Senate confirms Scott Pruitt to lead the EPA in a mostly party-line vote.
FEBRUARY 18
The United States will continue to hold Russia to account and offer "unwavering commitment" to NATO, US Vice President Mike Pence tells European leaders
FEBRUARY 20
President Trump announces Lt. General H.R. McMaster as his new national security adviser
FEBRUARY 21
At first, these Republican voters didn't care for Donald Trump, but they backed him in the general election. CNN checks in to see how they feel now.
The Trump administration outlines in memos its plan to crack down on undocumented immigrants
President Donald Trump says the recent spate of threats targeting the Jewish community in the US is "horrible" and "painful"
He already lost one daughter. Now he fears losing another. As Trump's travel ban looms, a father races to reunite his family.
Federal judge blocks Texas from withholding Medicaid money from Planned Parenthood.
FEBRUARY 22
US Supreme Court rules for death row inmate whose own lawyers introduced evidence at trial that he was more likely to be dangerous because he is black
Trump administration withdraws federal protections on transgender bathroom use in public schools.
White House strategist Steve Bannon told Germany the EU was flawed just before Pence's visit to reaffirm US commitment, sources say.
Democrats are days away from choosing a new party leader. Watch the candidates debate on CNN at 10 p.m. ET
"Trump has done a number of things which legitimately raise the question of impeachment," Minn. Rep. Keith Ellison says during DNC chair debate. Watch CNN
FEBRUARY 23
At CPAC, Kellyanne Conway says Trump "went right to the grassroots" and changed the conservative movement. Follow Cruz, DeVos, Bannon and more on CNN
Trump lawyer Michael Cohen pushed pro-Russia peace deal, Ukrainian lawmaker says. Cohen denies the claim
White House adviser Steve Bannon is making a rare public appearance, saying Trump will stay true to his campaign rhetoric as President.
President Trump describes move to deport undocumented immigrants as a "military operation"; press secretary says he meant the level of precision
White House effort to justify travel ban causes growing concern for some intelligence officials.
Faith leaders prepare network of homes in California to hide undocumented immigrants
CNN Exclusive: FBI refused White House request to knock down recent Trump-Russia stories
FEBRUARY 24
Trump's appearance at CPAC marks a milestone in his transformation of the Republican Party. Watch him speak live on TV, mobile or any screen with CNN
Trump credits CPAC for his political success, says media shouldn't be allowed to use unnamed sources, vows massive budget request for military
After President Trump calls some media the "enemy of the people" during speech today, White House bars CNN and other news outlets from press briefing
FEBRUARY 25
DNC elects former Labor Secretary Tom Perez as its new chairman over Minn. Rep. Keith Ellison in a 235-200 vote.
Trump won't attend White House Correspondents' Dinner, he says via tweet.
FEBRUARY 26
White House press secretary Sean Spicer asked to review staff's cell phones in effort to discourage leaks, sources say.
President Trump's nominee for Navy secretary, Philip Bilden, withdraws name from consideration, citing financial holdings in statement.
Bill Owens, the father of the Navy SEAL killed in a raid in Yemen, slams Trump and calls for an investigation into his son's death.
FEBRUARY 27
Trump's budget proposal would increase defense and security spending by $54 billion and cut about the same from non-defense programs, White House says
More than 120 retired generals signed a letter pushing back on the White House's proposal to slash State Department funding.
Senate confirms billionaire Wilbur Ross as commerce secretary in 72-27 vote.
FEBRUARY 28
After the shooting death of an Indian man in Olathe, Kansas, millions of Indians are asking if America is still home to the American dream.
Justice Department asks court to dismiss claim of discrimination in Texas voter ID case.
President Trump believes the nation is now in a position where it can pass immigration legislation, a senior administration official said Tuesday.
Jewish centers and schools in US and Canada this year have received 100 bomb threats, says JCC Association of North America.
The White House has condemned the shooting of 2 Indian men in Kansas over the weekend, saying it appears to be "an act of racially motivated hatred"
"The time is right for an immigration bill as long as there is compromise on both sides," Trump says hours before speech to Congress airing live on CNN
Authorities believe many threatening calls to Jewish centers originated overseas. Trump will address the threats in his speech tonight, official says
Trump's new travel ban will exempt legal permanent residents and existing visa holders, sources tell CNN. Trump's address to Congress airs on CNN soon
Excerpts from Trump's big speech to Congress: "The time for small thinking is over. The time for trivial fights is behind us." Follow it now with CNN
Trump opens speech to Congress by condemning threats on Jewish centers, vandalism at cemeteries and the shooting of two immigrants in Kansas. Watch CNN
Republicans cheer and Dems stay silent as Trump vows to soon begin construction of a "great, great wall" along the border with Mexico. Follow on CNN
Trump tells Congress anti-terror raid in Yemen was "highly successful." He honors widow of Navy SEAL killed, and she gets a prolonged standing ovation
MARCH 1
78% of people who watched President Trump's speech had a positive reaction, according to a CNN/ORC poll of viewers, who leaned Republican
Dow soars 200 points and tops 21,000 for the 1st time ever following Trump's speech. Nasdaq jumps 0.9%.
Senate votes to confirm Montana Rep. Ryan Zinke to lead the Department of the Interior.
The White House, in letter obtained by CNNMoney, says Kellyanne Conway acted "without nefarious motive" when she plugged Ivanka Trump products.
Former Utah Gov. Jon Huntsman is in talks to serve as US ambassador to Russia, a senior administration official says.
Three of Trump's top advisers urged that Iraq be removed from administration's list of banned countries in new executive order.
Dow soars 303 points the day after Trump's speech to Congress to close above 21,000 for the first time ever
Sens. McCain and Graham, Republicans who have spoken out against some of President Trump's policies, make their case in a town hall at 9 ET on CNN
Sen. John McCain says at a CNN town hall that he's been told that Iraq will be excluded from President Trump's new order on immigration. Watch it now
Sen. Graham at town hall: If FBI finds illegal Russia-Trump campaign ties, AG Sessions should recuse himself from deciding whether to prosecute. Watch
Attorney General Jeff Sessions met last year with Russian ambassador, the Justice Department says, but he didn't disclose it during his confirmation
"I never met with any Russian officials to discuss issues of the campaign," Attorney General Jeff Sessions said in a statement.
MARCH 2
2 Republicans call on AG Jeff Sessions to recuse himself on Russia inquires for testimony that Sen. Al Franken calls "misleading at best."
Senate Minority Leader Chuck Schumer says AG Jeff Sessions should resign and wants special prosecutor to look into alleged Trump-Russia ties.
House Minority Leader Nancy Pelosi says attorney general Jeff Sessions "lied under oath" and repeats call for him to resign.
House Speaker Paul Ryan says Attorney General Jeff Sessions should recuse himself from Russia inquiries if he becomes subject of probe.
White House learned Wednesday through press reports Jeff Sessions had contact with Russia envoy during campaign, senior administration official says.
Sen. Susan Collins joins other Republicans calling for Attorney General Sessions to recuse himself from probe of possible Trump campaign-Russia links
Trump tells reporters he has "total confidence" in Attorney General Jeff Sessions and he shouldn't recuse himself from Russia investigation.
Trump's Cabinet takes shape. Senate confirms Rick Perry as energy secretary and Ben Carson as HUD secretary.
US is working to locate hundreds of al Qaeda contacts included in intelligence retrieved during last month's raid in Yemen, several US officials say
Attorney General Jeff Sessions will hold a news conference at 4 p.m., the Justice Department says. Watch it on CNN
Attorney General Jeff Sessions recuses himself from any current and future investigations into Russia ties to Trump campaign
Trump on Sessions: "He did not say anything wrong. He could have stated his response more accurately."
MARCH 3
Federal Reserve Chair Janet Yellen signals a rate hike may be appropriate if economy stays on track for next few weeks
VP Pence used personal email account for state business as governor of Indiana; today says "there's no comparison" to his emails and Hillary Clinton's
Suspected chemical attack sickens 12 in the war-torn Iraqi city of Mosul, ICRC says.
MARCH 4
Trump, with no proof, claims Obama tapped his phones; former US official says "this did not happen"
Trump should prove his claims of wiretapping, GOP Sen. Sasse says; Sen. Graham vows to "get to the bottom" of the accusation.
Trump extremely frustrated with his senior staff for allowing firestorm around AG Sessions to steal his thunder in the wake of his address to Congress, sources say.
MARCH 5
White House asks Congress to investigate whether Obama administration abused investigative powers
The FBI asked the Justice Department to refute President Trump's claim that Obama ordered the wiretapping of his phone, sources say
MARCH 6
CNN/ORC poll: Most Americans say a special prosecutor should investigate contacts between Russians and Trump campaign associates
Iraq was removed from Trump's revised travel ban after lobbying from top Iraqi officials, senior US official says.
The birth of a conspiracy theory: How President Trump's wiretap claim got started
Supreme Court sends key transgender bathroom case back to lower court. Decision comes in wake of Trump administration policy change
President Donald Trump signs new executive order banning immigrants from six Muslim-majority countries, dropping Iraq from the previous order
Putin spokesman tells CNN that "hysteria in official Washington and in the American media" is harming relations between US and Russia
FBI Director James Comey was "incredulous" after Trump's tweets claiming that Obama had ordered the wiretapping of his phones, source says.
Jeff Sessions defends confirmation hearing testimony, saying his answer on whether anyone affiliated with Trump's team had contact with Russia during the campaign was "correct."
House Republicans introduce bill to repeal Obamacare's individual mandate. The bill aims to keep coverage for people with pre-existing conditions
The US is considering separating undocumented children from their parents at the border, Homeland Security secretary John Kelly confirms
MARCH 7
CNN/ORC poll: Americans split on revoking Obamacare's mandate that people get health insurance coverage or pay penalty.
GOP Obamacare replacement bill likely to leave some lower-income people uninsured, experts say. More may lose out in the proposed plan, but there are winners, too.
Dems repeat their call for an independent special investigation into Trump campaign's Russia ties as hearing for deputy attorney general opens.
A new wave of bomb threats against Jewish centers in 7 states has prompted all 100 US senators to ask the federal government for increased security
The CIA knows how to hack TVs and phones, and the agency's cyberweapons have been stolen, a WikiLeaks document dump alleges.
Sen. Al Franken on AG Jeff Sessions: "It's hard to come to any other conclusion than he just perjured himself," Franken tells CNN. Watch now
The first public hearing on Russia's meddling in US elections will be March 20, House Intelligence Committee Chairman Devin Nunes says.
Hawaii plans to file a lawsuit on Wednesday against President Donald Trump's new travel ban, court filings show.
MARCH 8
Obama was irked and exasperated in response to Trump's uncorroborated wiretapping accusation, sources say
The Obamacare replacement bill is under fire from both sides of the aisle. Lawmakers will start the amendment process during House committee "markups." Follow live updates.
Feds launch criminal probe of WikiLeaks document dump detailing alleged CIA hacking, US officials say.
The public sides with Trump on more infrastructure spending, but opposes his calls to increase military expenditures, a CNN/ORC poll finds.
CNN/ORC Poll: First lady Melania Trump's approval ratings are way up
13 women, including four key Women's March organizers, have been taken into custody after a rally outside Trump International Hotel, the NYPD says
Jon Huntsman, former Utah governor and ambassador to China under President Obama, tapped as US ambassador to Russia, senior US officials say
US Marines have arrived in northern Syria with artillery to support US-backed local forces fighting there, two US officials say.
China has granted preliminary approval for 34 Trump-related trademarks in businesses ranging from mining to restaurants, hotels and golf courses
Illegal Southwest border crossings were down 40% last month, a possible sign that President Trump's hard line on immigration is acting as a deterrent
MARCH 9
After an 18-hour session, the House Ways and Means Committee approves the Republicans' health care plan.
You can't stop talking politics! In a new CNN/ORC poll, 56% say they talk politics "very often," up 11 points since 2013
After more than 27 hours of debate, the House Energy and Commerce Committee voted to approve the Republican Obamacare repeal plan
Washington state will ask a federal judge to block President Donald Trump's new travel ban, joining Hawaii as the second state to challenge the ban
FBI Director James Comey is meeting with "Gang of Eight" members of Congress over classified intelligence relating to Russia's meddling with the 2016 election.
FBI investigation continues into "odd" computer link between Russian bank and Trump organization
MARCH 10
In Trump's first full month, the economy added a robust 235,000 jobs in February and unemployment ticked down to 4.7%
Top Democrat on House Intelligence Committee, Adam Schiff, tells CNN he hasn't seen any evidence to substantiate Trump's wiretapping claims
A super-secret division inside the FBI faces the daunting task of determining how the Russian government sought to manipulate the US presidential election
Daniela Vargas, 22, an Argentinian native detained after criticizing ICE raids in Jackson, Mississippi, is expected to be released, her attorney says
WH spokesman Sean Spicer says some federal employees are trying to advance former President Obama's agenda; denies CIA is working to root them out
"This could not have been handled any worse": Anger mounts over DOJ's firing of 46 US attorneys without warning.
Alleged text messages point to possible influence that Paul Manafort had with Ukraine's President in 2014, a human rights attorney says
From Slovenia to the White House, watch "Melania Trump: The Making of a First Lady" now on CNN.
MARCH 11
Man with backpack arrested near south entrance to White House while President Trump was in the residence, officials said.
President Trump, speaking at NRA convention, says the "eight-year assault" on Second Amendment rights had come to a "crashing end" with his electionHigh-profile US attorney Preet Bharara doesn't plan to resign as requested and will make Trump fire him, sources say
President Trump says suspect in White House intrusion was "troubled" and Secret Service did "a fantastic job" capturing him.
Preet Bharara, among 46 US attorneys asked to quit but who declined to submit a letter of resignation, has tweeted that he's been fired
Trump, through an aide, tried to call US Attorney Preet Bharara ahead of his dismissal, a source says, but per protocols restricting such contact, Bharara refused to talk to the president.
MARCH 12
Longtime Trump associate Roger Stone says his "brief exchange" of direct messages with Guccifer 2.0 – who claims responsibility for hacking the DNC – was innocuous.
MARCH 13
President Trump tentatively planning to host Chinese President Xi Jinping for a summit next month at Mar-a-Lago, senior administration official says
Iowa Republican Rep. Steve King tells CNN he meant what he said when he tweeted: "We can't restore our civilization with somebody else's babies."
US military says it will send attack drones to South Korea. Announcement comes after North Korea's recent launch of 4 missiles into Sea of Japan.
Kellyanne Conway denies suggesting there was wider surveillance of Trump during campaign, telling CNN her recent comments were taken out of context.
Spicer walks back Trump's claims, saying Trump didn't mean previous administration tapped his phones when he tweeted that it did. The deadline for the DOJ to produce evidence is today.
14 million more Americans would go without health insurance next year under GOP's plan to scale back Obamacare, according to non-partisan CBO score.
Senate confirms Trump nominee Seema Verma for administrator of the Centers for Medicare and Medicaid Services
DOJ asks House Intelligence Committee for additional time to collect evidence on Trump wiretapping claims, spokesperson says
MARCH 14
White House budget chief tells CNN the Congressional Budget Office is "terrible" at predicting how many will be covered under health insurance laws
White House press secretary Sean Spicer says GOP health care plan currently debated is the best, and possibly only, chance to repeal Obamacare.
Rattled by CBO report, moderate Republicans turn against GOP health care bill
Trump grants Pentagon additional authority to carry out counterterrorism raids in Yemen, US official says
Comey promises to say by Wednesday whether FBI is investigating ties between Russia and Trump campaign, senator on investigating committee says.
The White House says Trump paid $38 million in income tax in 2005 after earning more than $150 million
MARCH 15
Sen. Lindsey Graham says he doesn't know if he'll hear today from FBI Director Comey about probe into alleged ties between Russia and Trump campaign.
House Intel chairmen say they have not seen evidence that then-President Obama wiretapped Trump. FBI Director Comey will testify March 20
One of two Russian agents indicted by DOJ for massive hack of Yahoo is in custody in Russia and accused of spying for the US.
Watch CNN as President Trump delivers remarks live at an event in Michigan.
Federal Reserve raises key interest rate by 0.25 percentage point, also signals that more rate increases are expected later this year.
The Trump administration says it will review fuel economy rules. That's good news for automakers and a mixed blessing for consumers
Trump officials acknowledge the House health care bill is in serious jeopardy. Paul Ryan tells CNN's Jake Tapper what may be in store. Watch CNN
"A goofy question": Paul Ryan refuses to say whether he thinks the GOP health care plan would pass the House if the vote were held today
Secretary of State Rex Tillerson to warn China that US is prepared to increase sanctions against Chinese firms that do business with North Korea
Federal judge in Hawaii blocks Trump's new travel ban just hours before it was set to go into effect
"This is, in the opinion of many, an unprecedented judicial overreach," Trump says after a federal judge blocks the new travel ban.
HHS Secretary Tom Price is defending the GOP health care bill amid critics left and right. Watch as he takes questions at a CNN town hall starting at 9 p.m. ET.
CBO only looked at a third of the plan for their analysis, HHS Sec. Tom Price says during CNN town hall. "They do a pretty good job with numbers – coverage is not their strong suit." Watch CNN
MARCH 16
Federal judge in Maryland temporarily blocks 90-day ban on immigration for citizens of six countries in President Trump's executive order.
President Trump's $1.1T budget would hike defense spending $54B and make deep cuts to several departments including State, HUD and EPA
Republican health care bill clears budget committee despite three conservatives voting against it
Trump's former national security adviser, Michael Flynn, was paid more than $33,750 by Russia TV for a speech he gave in 2015, top Democrat says
"We see no indications that Trump Tower was the subject of surveillance" by the US government, leaders of the Senate Intelligence Committee say
Trump stands by wiretapping accusations, Spicer says, despite Intel Committee's statement saying they've seen no evidence.
Watch the heated exchange as Sean Spicer defends Trump's wiretapping accusations to CNN's Jim Acosta: "He didn't mean specifically wiretapping."
MARCH 17
US military disputes claims that airstrikes Thursday killed dozens of Syrian civilians, says strikes targeted al Qaeda militants.
US would consider military action against North Korea if provoked, Secretary of State Rex Tillerson says.