Story highlights
Soggy city of Astoria has endured a record 167 rainy days since October
Forecast was so boring, meteorologist began to write it in the form of a poem
(CNN) —
When you think of cloudy weather, Seattle likely comes to mind. This winter has been particularly gloomy – not only in Seattle – but much of the Pacific Northwest. The winter blues have extended into spring, with glimpses of sunshine few and far between.
Astoria, Oregon, broke its record for days with measurable rain. Since October 1, the coastal city has had 167 days of measurable rain, according to the Portland office of the National Weather Service. That is 80% of the days over the last 6 months.
NWS meteorologist Matthew Cullen said that breaks a record going back to 1892.
"It's been a lot I can tell you that much," said Cullen.
Portland got nearly as soaked, also setting a record with 147 measurable rain days in the same period.
Cullen says it's been a few days since he's seen the sun.
"We had one day on Friday last week. There are a couple of dry days coming up in the May forecast."
Not to be out done, Seattle has only had eight clear sky days since October 1. That leaves 200 days with more than 30% cloud cover. Of those days 145 had measurable rain, totaling 44.67 inches. That sets a record as the wettest October through April period and edges ever closer to breaking the wettest-year record set just last year with 49.17 inches. And there are still five more months for additional rainfall.
One NWS meteorologist in Seattle clearly had enough of the continuous gloom, and turned to poetry when writing his forecast discussion earlier this month. A forecast discussion is a piece of technical writing in which meteorologists in the NWS break down the details of the forecast. It's generally for other forecasters and users of weather information.
"Here I sit looking model to model,
seeking a solution that won`t make me hit the bottle.
Though I must admit perpetual sogginess makes forecasting a breeze.
Debating whether or not Seattle is under a curse,
I decided to type this discussion in verse.
So if this weather poem does not please,
do remember I studied science and not humanities."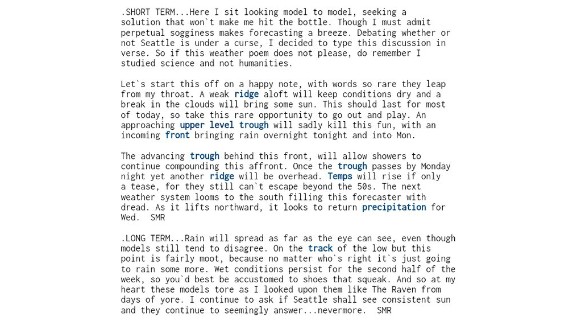 NWS/Seattle
The forecaster – who signs himself SMR – continues his forecast in verse and even wrote a follow up forecast due to "so positive a reaction I was not expecting, to the poem I wrote while on weather reflecting."
There may be a glimmer of hope for those seeking the sun. A break between storms makes way for a partly sunny Friday.
The longer range forecast holds even more promise. A ridge will build into the region next week with hopes of more sunshine and warmer temperatures.
The Climate Prediction Center's outlook for early May shows below average rainfall across the Northwest, hopefully giving rainboots and umbrellas a much-needed break.
CNN meteorologists Pedram Javaheri and Michael Guy contributed to this report