Story highlights
Trump entered office rejecting traditional foreign policy positions
The US can no longer afford to be the world's policeman, Trump declared during the campaign
The 45th president entered office raging against a post-WWII order built by the United States, pledging instead that he would put "America First.
The US, President Donald Trump said during his campaign, could no longer afford to be the world's policeman. On the stump he also dismissed core alliances in Europe and Asia, raged at trade pacts, derided international organizations such as the UN and trash-talked allies (Mexico) and competitors (China) alike.
Trump voters clash over his shifting views
But since his inauguration, Trump has steadily reversed course on those fronts and a host of others.
The populist president has now embraced NATO, reaffirmed relationships with allies, reinforced international norms against chemical weapons use by bombing Syria and has sent more US troops to help rein in global conflicts.
Almost 100 days after Trump entered the White House dismissing the international system, Trump seems to be assuming a US president's traditional foreign policy role: being that system's biggest defender.
"It's a total 180," said James Jeffrey, a former US ambassador to Iraq and Turkey. "And to a certain degree, it's right."
Rhetoric hits reality
Analysts in Washington and overseas say a number of factors are at work, including the reality of dealing with global events, appeals from foreign leaders and the rise of experienced foreign policy mavens to Cabinet positions.
But some caution that the President, with no foreign policy experience, hundreds of unfilled national security staff positions and a reliance on equally inexperienced family members, is a reactive and tactical leader who still lacks a strategic vision – preferring to disseminate his thoughts in 140-character bursts.
They also point to the fact that many of the problems shadowing Trump's presidency in these first few months are tied to potentially compromising connections his circle has with global entities.
The FBI is investigating whether there was any coordination between the Trump campaign and Moscow while Russia was allegedly hacking Democratic organizations to benefit the Republican candidate during 2016. Trump's first national security adviser, retired Gen. Michael Flynn, had to step down after a controversial call with the Russian ambassador, while his work as a foreign agent during the transition has drawn scrutiny. Meanwhile, the Trump family still maintains myriad international business holdings.
Heather Conley, director of the Europe Program at the Center for Strategic and International Studies, said these ties should check the optimism of any observers who think Trump is adopting a reassuringly standard approach to foreign policy.
"We're comforting ourselves that this is normal and we should resist that view," she said.
Learning curve
Every president goes through a learning curve and Trump is no exception.
"There's no school for president," said Aaron David Miller, a former Middle East peace negotiator for the State Department now at the Wilson Center. "The issue for me is, is he learning? That's the key question."
Photos: Trump up close: Photos from the first 100 days
Photos: Trump up close: Photos from the first 100 days
Photos: Trump up close: Photos from the first 100 days
Photos: Trump up close: Photos from the first 100 days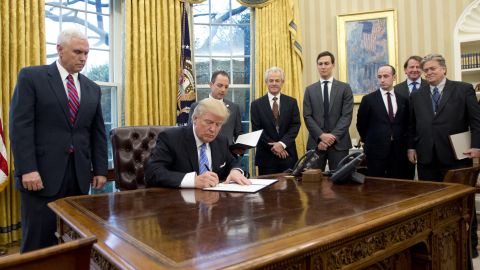 Photos: Trump up close: Photos from the first 100 days
Photos: Trump up close: Photos from the first 100 days
Photos: Trump up close: Photos from the first 100 days
Photos: Trump up close: Photos from the first 100 days
Photos: Trump up close: Photos from the first 100 days