Story highlights
Three Michigan medical professionals were indicted
Attorney for doctor says client "being persecuted because of their religious beliefs"
Two Michigan doctors and a medical office manager were indicted this week by a Detroit grand jury in the first federal female genital mutilation case in the United States.
Detroit emergency room physician Dr. Jumana Nagarwala, internal medicine physician Dr. Fakhruddin Attar and his wife, Farida Attar, face one count of conspiracy to commit female genital mutilation, two counts of female genital mutilation and one count of conspiracy to obstruct an official proceeding.
Doctors Nagarwala, 44, and Attar, 53, also face one count of conspiracy to transport a minor with intent to engage in criminal sexual activity – a charge that carries a potential sentence of up to life in prison.
Both doctors also face one count each of making a false statement to a federal officer.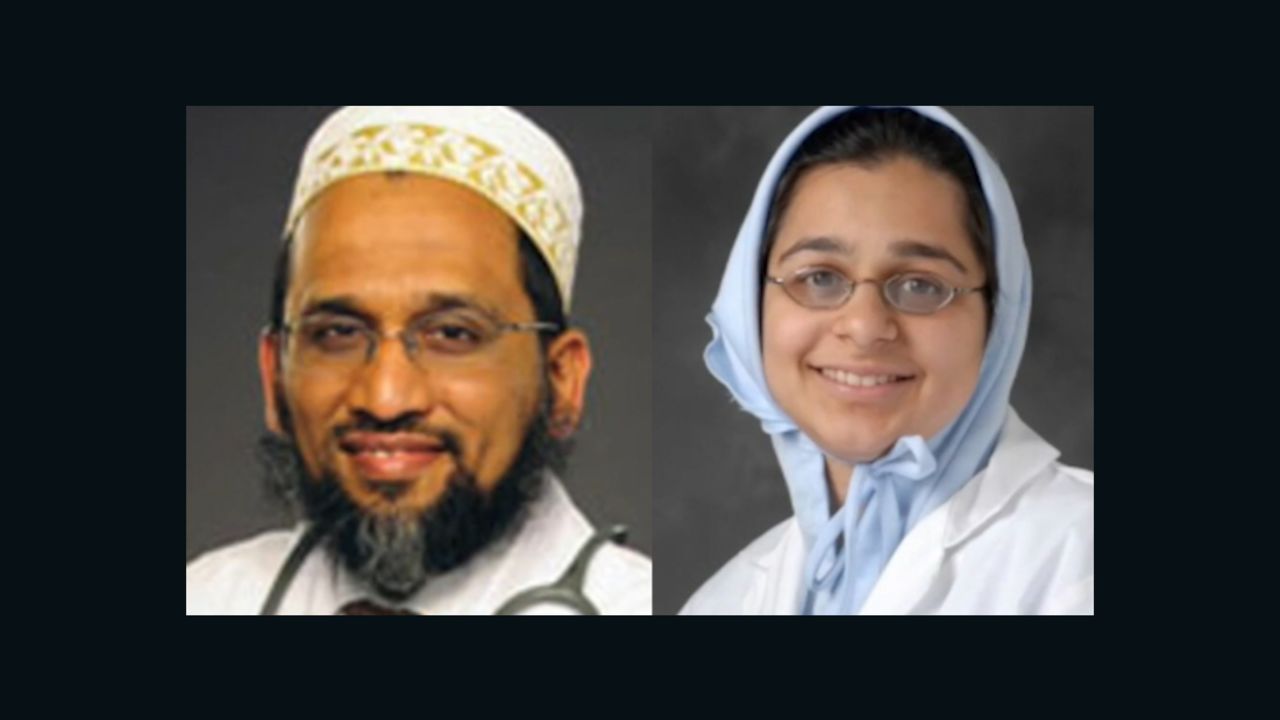 "Female Genital Mutilation has serious implications for the health and well-being of girls and women," said Daniel Lemisch, acting US Attorney for the Eastern District of Michigan.
"This brutal practice is conducted on girls for one reason, to control them as women. FGM will not be tolerated in the United States," the prosecutor said in a statement. "The federal government is continuing this investigation to ensure those responsible are brought to justice."
Nagarwala pleaded not guilty during an arraignment Thursday in a Detroit federal court.
The Attars have not entered pleas, but their attorneys argue they are not guilty of all charges.
According to the indictment and a criminal complaint filed against Nagarwala, the investigation into Nagarwala and the Attars dates back to October of 2016. The FBI had received information that the banned procedure was being performed at the Attar's medical office in Livonia, Michigan, west of Detroit. Court documents do not indicate the source of the information.
Investigators saw two 7-year-old girls and their mothers arrive at the Burhani Medical Clinic, which Attar owns, after having traveled from Minnesota. Attar, his wife and Nagarwala were already inside.
Investigators said interviews with the girls and medical exams conducted after the visit to the clinic, revealed both girls had been victims of female genital mutilation – a painful surgical procedure to remove part of the clitoris or clitoral hood to suppress female sexuality.
Both girls, their parents and the three defendants are members of the Dawoodi Bohra Islamic sect, according to the criminal complaint.
Indictment: Conspiracy dates back to 2005
According to the indictment:
– The three defendants had conspired to perform the procedure on girls under 18 years of age since 2005.
– Attar allowed Nagarwala to perform the procedure at his clinic after it was closed for the day. He was present at the clinic during the procedure, while his wife, Farida, assisted Nagarwala in the examination room.
– Attar and Nagarwala agreed to make false statements to law enforcement regarding whether the procedure took place.
– The three defendants told others not to speak about the procedure and to lie to federal investigators about the procedure.
– Attar and Nagarwala took steps to delete evidence.
– Nagarwala told investigators she had never been present or had knowledge that this procedure was being performed on children.
– Attar told investigators this procedure had not taken place at his clinic.
Attorney: Procedure is 'religious practice'
Following Nagarwala's arraignment, attorney Shannon Smith told reporters her client was "absolutely" being persecuted because of her religion.
Nagarwala will remain in jail awaiting trial, after a federal judge deemed her a flight risk and a threat to the community.
During a detention hearing on April 17, Smith, told a judge the procedure did not involve cutting and was religious in nature, according to court documents.
Smith argued the procedure is practiced by the Dawoodi Bohra and that the clinic was used to keep procedures sterile. Smith said her client removed a mucus membrane from the girls' genital area using a "scraper" as part of a religious practice.
"The amount of mucus would look to be about the amount of a sesame seed. It would be placed on a piece of gauze. The gauze would be just pinched together; given to the family to be buried. That's the religious procedure that was used," Smith said during the detention hearing, according to court documents.
Nagarwala's employer, the Henry Ford Health System, told CNN in a statement the emergency room doctor had been terminated from her job.
She had worked there for 16 years, according to hospital spokeswoman Brenda Craig.
Second detention hearing on May 3
The Attars were scheduled to be in court Wednesday for a detention hearing, but after the indictment was released that hearing was postponed until May 3.
Dr. Attar's attorney Mary Chartier, who spoke to reporters after Wednesday's initial appearance, said her client is "not aware of any crimes committed at his clinic" and that "what happened at the clinic was not FGM."
"He was aware that Dr. Nagarwala used the clinic. He offered that to her and let her do that," Chartier said. Chartier said that Attar was never present in the examination room and that he never "met these girls."
Chartier said that at the heart of her client's defense is a misunderstanding over his religious practice. When asked to clarify what that practice was, she did not respond.
"I do believe that the government does not fully understand the religious practices of Dr. Attar and Dr. Attar's religion, and I think that's why we are in this courthouse today, and what we'll be fighting over for the next few months," Chartier said.
"They have a religious belief to practice their religion. And they are Muslims and they're being under attack because of it. I believe that they are being persecuted because of their religious beliefs and I do not make that allegation lightly," Chartier said.
Farida Attar's attorney, Matt Newburg, did not speak to reporters following the hearing. Over the weekend, he told CNN his "client has not admitted guilt." He said she has not entered a plea, "but we look forward to defending the case against her."
In court, the Attars sat next to each other both wearing orange prison jumpsuits and religious head coverings. While being escorted back to jail, they waved to a supporter in the gallery and smiled.
A crime or a religious practice?
Leaders of the Dawoodi Bohra sect's Michigan mosque released a statement Friday saying they are offering assistance to investigators, according to the Detroit News.
"Any violation of US law is counter to instructions to our community members," the statement said.
"It is an important rule of the Dawoodi Bohras that we respect the laws of the land, wherever we live," the statement continued. "This is precisely what we have done for several generations in America. We remind our members regularly of their obligations."
CNN's calls to the sect's headquarters and the mosques attended by the parents and the defendants were not returned.
A 2012 US Centers for Disease Control and Prevention report found that roughly 513,000 women and girls in the United States were at risk of undergoing female genital mutilation, which was more than three times an earlier estimate based on 1990 data. The World Health Organization considers the procedure a violation of human rights of girls and women.
No charges have been filed against the parents of the girls.
The FBI has a tip line for victims of female genital mutilation, or anyone who might suspect such activity. They can call 800-CALL-FBI (225-5324) or submit a tip via FBI.GOV/FGM.