Story highlights
Sharapova's 15-month ban ends Wednesday
Five-time slam winner faces Roberta Vinci in first match
Wild card entry has sparked controversy
(CNN) —
Maria Sharapova is coming back to tennis after a 15-month doping ban, attracting global media attention yet splitting opinion on the women's tennis Tour.
The 30-year-old Russian will make a highly-anticipated return to the WTA Tour when she plays Italy's Roberta Vinci at the Porsche Grand Prix in Stuttgart, Germany on Wednesday after receiving a wild card from tournament organizers.
Sharapova, who was the world's most marketable female athlete for 11 years with total on- and off-court earnings approaching $300 million, has also been given a wild card by tournament organizers in Rome and Madrid.
"I don't agree about the wild card here and about the wild card in Rome and the other tournaments," former US Open finalist Roberta Vinci said earlier this week.
"She made her mistakes for sure, but she paid and I think she can return to play – but without any wild cards," said Vinci, who trails Sharapova 0-2 in career meetings.
READ: Maria Sharapova targeting 2020 Tokyo Olympics, agent says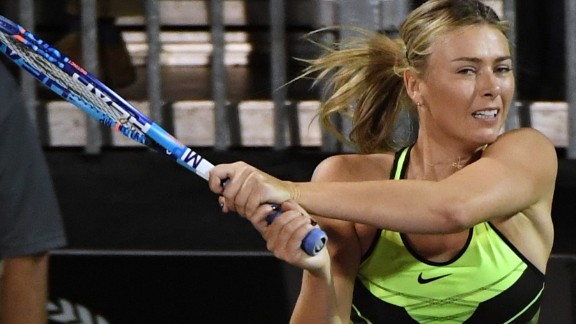 'Little bit strange'
Sharapova, who is sponsored by German car manufacturer Porsche, had been training off-site all week in Stuttgart because she wasn't allowed to practice at the tournament venue until her ban expired on April 26.
She last played an official match on January 25, 2016, when she lost to Serena Williams in the Australian Open quarterfinals.
Reigning US Open champion and world No. 2 Angelique Kerber of Germany wondered why Stuttgart tournament organizers hadn't given the wild card to a German player.
"It's a German tournament, and we (have) so many good German players, so this is also a little bit strange," she said last month in Indian Wells.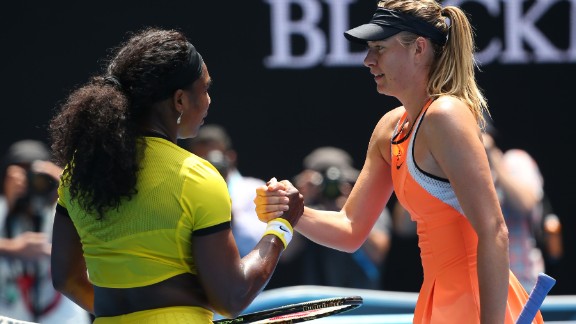 Meldonium
Sharapova, a former world No. 1 and five-time grand slam winner, announced she had tested positive for meldonium in March 2016, saying she failed to realize the heart drug she had taken for over a decade for various health issues had been added to the prohibited list of the World Anti-Doping Agency from January 1, 2016.
Although Sharapova was initially given a provisional two-year ban by the International Tennis Federation, it was reduced on appeal by the Court of Arbitration of Sport in October, which said the five-time major winner bore no "significant fault" and didn't intend to cheat.
READ: Is Maria Sharapova's brand damaged goods?
READ: Maria Sharapova's ban cut to 15 months on appeal
Global interest
Because Sharapova has no ranking, she is in need of wild cards to play events, including the French Open which starts May 28. Roland Garros organizers will announce their decision in the week of May 15.
Sharapova is a two-time champion at Roland Garros and with defending champion Serena Williams now on maternity leave it will be interesting what tournament organizers will do as the Russian has always been one of the biggest draws on the women's Tour.
Such is the interest in her return, more than 200 journalists from all the world have asked the Stuttgart event for a media credential. The tournament only has room for about 90.
Poland's Agnieszka Radwanska, a former world No. 2 who could play Sharapova in the next round in Stuttgart, said the Russian should not be given a wild card by the French Tennis Federation.
"This kind of entry into the tournament should be available only for players who were dropped in the ranking due to injury, illness or other random accident," Radwanska told Polish newspaper Przeglad Sportowy last week.
"Not for those suspended for doping. Maria should rebuild her career in a different way, beginning with smaller events," said Radwanska, who trails Sharapova 13-2 in career meetings.
"She wouldn't have a chance for (a wild card) from my hands (if I was a tournament director)."
Support
Although men's world No.1 Andy Murray and former women's world No. 1 Caroline Wozniacki also spoke out against handing wild cards to players who are coming back from a doping ban, there has also been support for Sharapova.
Seven-time major winner Venus Williams told reporters last month in Charleston: "I feel like I have perspective in life, and sometimes things happen. I just think one single thing in life doesn't define you."
Visit cnn.com/tennis for more news and videos
Victoria Azarenka, a former world No. 1 who will be coming back from maternity leave in August, told Omnisport that Sharapova's return was "good for tennis."
Azarenka added: "She has such a huge fan base and obviously that's going to bring more attraction to see how she will do, so I think it's good for tennis, good entertainment."
Sharapova's compatriots have also been overwhelmingly supportive of their Fed Cup team mate.
"If we talk about cheaters, people who cheat, you would say: 'Why would cheaters get a wildcard?,' but then if there is some mistake, you know, it's a little bit of a different story," two-time major winner Svetlana Kuznetsova said in Indian Wells.