Story highlights
First of four monuments honoring Confederate history removed in New Orleans
The city is removing the statues despite security threats
In the dark of night, workers wearing masks and tactical vests arrived Monday at New Orleans' Battle of Liberty Place monument to take it down.
Police snipers were positioned on nearby rooftops, according to The Times-Picayune newspaper. Company names on trucks and equipment were covered with cardboard and black tape to protect contractors involved in the controversial operation.
It was the first of four scheduled relocations of Confederate memorials in New Orleans after years of heated public debate and legal battles. City officials have attempted to move the monuments since 2015 amid opposition from pro-monument groups and threats against workers. A federal judge in Louisiana affirmed the city's right to move them in March and the city secured private funding to do so.
Because of threats and security risks, the city will not publicly disclose details for the next three removals. Mayor Mitch Landrieu's office said the statues will go to storage while the city looks for a suitable venue to display them, such as a museum.
Mayor: This isn't political
The decision to move the statues followed a lengthy public process that determined they "failed to appropriately reflect the values of diversity and inclusion that make New Orleans strong today," the city said.
The statues were built after the Civil War as part of the "Lost Cause" narrative advanced by Southern whites to justify the South's loss.
The removal came as some Southern states celebrated Confederate Memorial Day, although Louisiana is not among them. State government offices in those states will be closed in observance of the holiday.
The relocations follow debate in recent years in the South about what to do with Confederate symbols, especially after the killings of nine black parishioners in a Charleston, South Carolina, church by a self-described white supremacist in 2015. Counterefforts to honor Southern heritage and preserve symbols of the Confederacy have also sprung up.
New Orleans votes to remove Confederate monuments
Landrieu said the removal of the monuments should not be seen as a political move or retaliation against a specific group.
"This is about showing the whole world that we as a city and as a people are able to acknowledge, understand, reconcile – and most importantly – choose a better future," Landrieu said in a statement.
"We can remember these divisive chapters in our history in a museum or other facility where they can be put in context – and that's where these statues belong," the mayor said.
The Battle of Liberty Place monument
The Battle of Liberty Place monument was erected in 1891 to mark a deadly fight between members of the "Crescent City White League," a group opposed to the city's biracial police force and state militia after the Civil War, and officers from that police force.
A few hours before sunrise Monday, workers began dismantling the obelisk piece by piece as supporters and opponents gathered nearby amid a strong police presence. The workers were surrounded by police barricades, a security measure taken after contractors received threats.
The statue was put up "to honor the killing of police officers by white supremacists," Landrieu said in a news conference Monday, according to CNN affiliate WDSU.
"Of the four that we will move, this statue is perhaps the most blatant affront to the values that make America and New Orleans strong today. I believe more strongly today than ever that in New Orleans, we should truly remember all of our history, not some of it. And that means we will no longer allow the Confederacy to literally be put on a pedestal in the heart of our city."
Lamborghini set ablaze after Confederate monument fight
The event incited cheers and applause from some people in the crowd while others engaged in heated discussions.
"This should be a celebration but instead this is done clandestinely. They got the workers who are taking it down dressed in black jackets, helmets and their faces are covered, to us that's cowardice," one person there told CNN affiliate WVUE-TV.
Robert E. Lee statue
Another monument slated for removal honors Confederate Gen. Robert E. Lee. The statue, almost 17-feet tall and standing on a 68-foot pedestal, weighs more than 3 tons. It was built in 1884 after 14 years of fundraisers and negotiations, the University of New Orleans says.
The group behind its construction was founded about a month after the general's death in 1870 by prominent locals and Civil War veterans.
Last year, the monument was one of several sites vandalized by anti-Trump protesters.
Jefferson Davis statue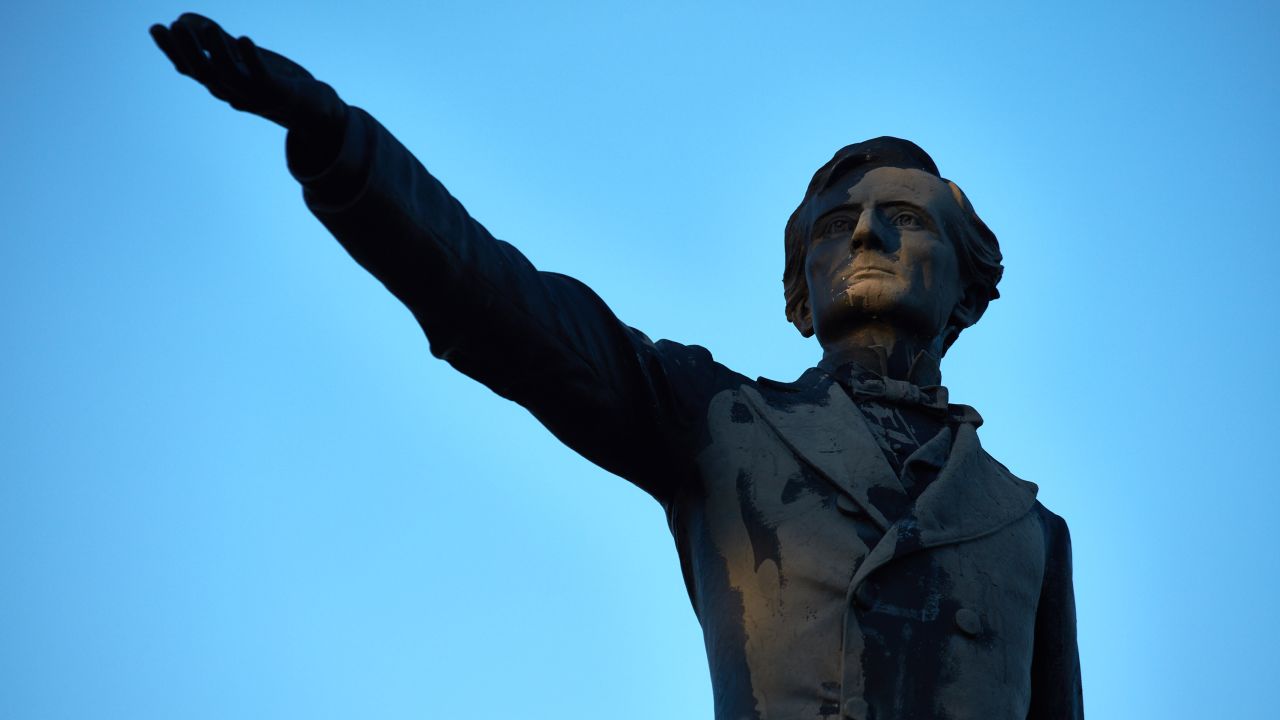 The Jefferson Davis monument honors the president of the Confederate States of America, who died in New Orleans in 1889.
The 6-foot-tall bronze statue stands atop a roughly 12-foot tall column, on a street also named after Davis.
In 2004, the words "slave owner" were painted on the base of the monument.
P.G.T. Beauregard equestrian statue
A 15-foot tall statue of Pierre Gustave Toutant Beauregard will be relocated as well. Beauregard was a prominent general during the Civil War and the last survivor of the top Confederate leaders. He died in New Orleans in 1893.
The statue stands in a roundabout at the entrance of City Park and the New Orleans Museum of Art.
In 2015, the words "Black Lives Matter" were spray-painted on both sides of the monument's column, CNN affiliate WDAM-TV reported.
This story has been updated to reflect the correct dimensions of the Robert E. Lee and Jefferson Davis statues.
CNN's Alanne Orjoux contributed to this report.