Story highlights
NEW: Le Pen taking leave of absence as National Front leader
French President Hollande says he will vote for Macron
(CNN) —
France's defeated political establishment has begun to rally against far-right leader Marine Le Pen as she goes head-to-head against political novice Emmanuel Macron in the final race for the French presidency.
As Le Pen continued to celebrate the highest-ever voting tally for her National Front party, French President François Hollande joined candidates knocked out in the first round in endorsing Macron, who ended his insurgent campaign with a result that confounded expectations.
Macron, a pro-European centrist, took first place with 24.01% of the first round voting, while the anti-immigrant, anti-EU Le Pen came second on 21.30%, according to final results released Monday by the French Interior Ministry.
Opinion: You don't have to be populist to be popular
Both go through to a runoff on May 7 after emerging top of a fractured field of 11 candidates in the first round.
The result amounted to a comprehensive rejection of traditional politics in France. It is the first time since the establishment of the fifth French Republic in 1958 that no candidate from the two main political parties of the left and right has made it into the second round of the presidential vote.
Macron goes through to the second round as the clear frontrunner, with most voters expected to switch to him from mainstream defeated candidates. Le Pen, meanwhile, faces an uphill struggle.
The French stock markets rose on Monday morning, and the euro jumped to its highest level since November against the dollar as investors bet against the chances of Le Pen winning.
There was relief in Europe, too: Michel Barnier, the European Union's chief Brexit negotiator, described Macron as a "patriot."
The chief of staff for German Chancellor Angela Merkel said the result showed France and Europe could "win together" and added: "The center is stronger than the populists think."
Hollande – whose ratings have been in the doldrums for several years now – said on Monday he would vote for Macron.
"(Macron) will allow all the French to come together, to rally around in this most precarious difficult moment of the history of France."
He added that voting for Macron would signify unity in the country and an acceptance of France's place in the world and its role in Europe. A vote for Le Pen would be a "risk," he said.
François Fillon, the mainstream Republican candidate whose campaign foundered amid corruption allegations, emerged swiftly from his defeat with words of support for Macron.
"I promise you, extremism can only bring unhappiness and division to France," he said, describing the National Front as a party of "violence" and "intolerance."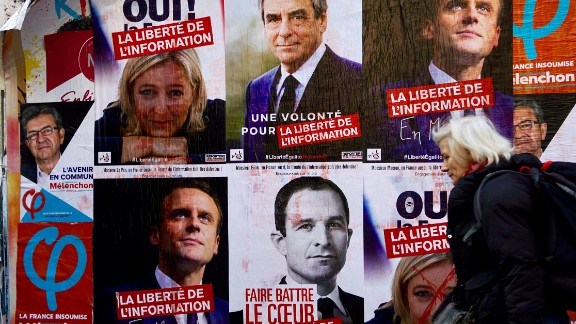 "We have to choose what is preferable for our country, and I am not going to rejoice. Abstention is not in my genes, especially when an extremist party is close to power," he said. "There is no other choice but to vote against the far right."
He argued that Le Pen's economic and social programs would bankrupt the country, particularly if France dropped the euro as its currency, as the far-right leader has threatened.
The Socialist Party's candidate, Benoit Hamon, also warned against a Le Pen victory. "I appeal to you in the strongest terms to beat the National Front by voting for Emmanuel Macron, even though he is not part of the Left," Hamon wrote on Twitter.
Hamon secured just 6.4% of the vote, a disastrous showing for the Socialist Party, whose candidate Hollande won the presidency in 2012 but whose popularity has sunk during his term.
French Prime Minister Bernard Cazeneuve tweeted his support for Macron, calling on voters to back him in the second round "to combat the National Front's disastrous project to take France backwards and to divide the French people."
But far-left candidate Jean-Luc Melenchon has refused to say who he would back, criticizing both candidates for having "no stance on the environment or the future of civilization, and who both challenge the welfare and social accord of the country."
France: Open or closed?
French voters made it clear Sunday that they were ready for change – neither candidate hails from the establishment parties that have dominated the country for decades.
In the next two weeks, Macron will build on his pro-European, centrist message while Le Pen made it clear she would intensify the nationalist, anti-Islamist rhetoric that propelled her into the second round.
Sunday's first round contest was held under tight security after a terror attack in Paris Thursday night disrupted the final day of campaigning Friday. And the Paris attacks in November 2015, in which 130 people were killed, saw Hollande's popularity plunge into the doldrums.
Le Pen, 48, told supporters her first move as president would be to impose a temporary ban on legal immigration to France. She has also vowed to take France out of the EU.
"The French people must seize this opportunity, because the enormous challenge of this election is the wild globalization that puts our civilization at risk," Le Pen said at Henin-Beaumont, a National Front stronghold in northern France.
"Either we continue to disintegrate without any borders, without any controls, unfair international competition, mass immigration and the free circulation of terrorists, or you choose France with borders," she added.
Le Pen said on Twitter Monday she is taking a leave of absence as leader of the National Front party to focus on the election campaign.
"I am nothing other than a candidate for the French presidency," she said.
Now playing
00:43
Macron fires back at Trump in UNGA speech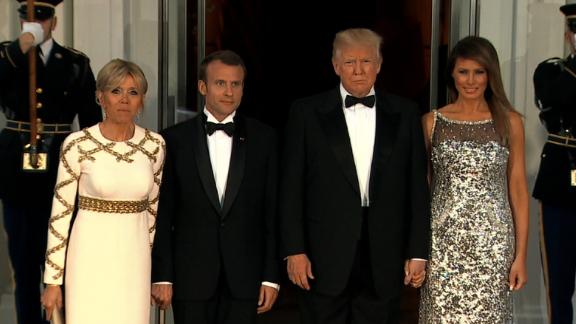 Now playing
01:42
Trumps welcome Macrons to first state dinner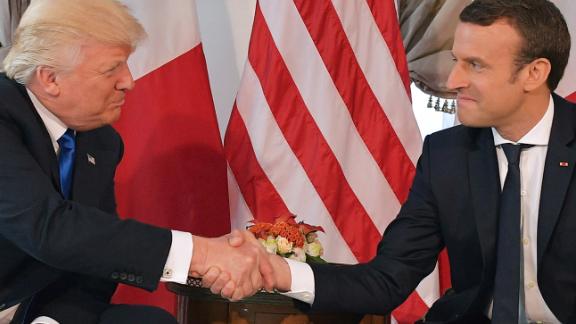 Now playing
00:46
Macron: Trump handshake was moment of truth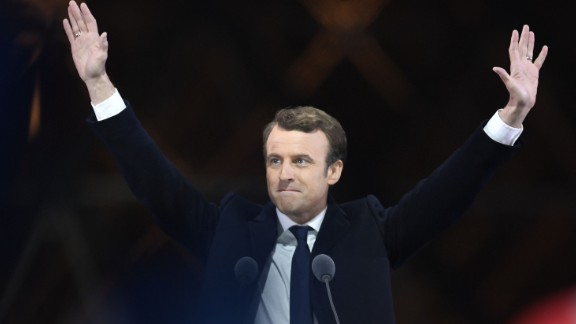 Now playing
01:32
What to know about Emmanuel Macron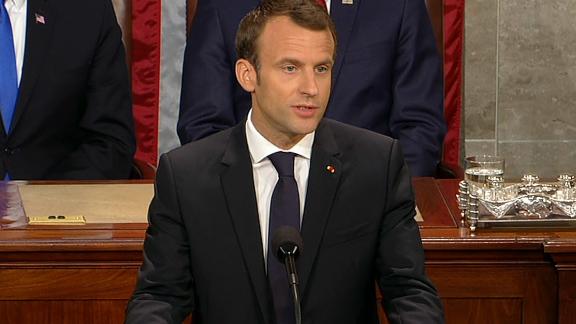 Now playing
02:49
Macron warns US Congress: There's no Planet B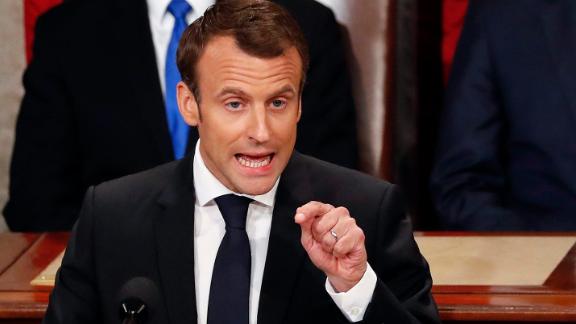 Now playing
01:12
Macron: No democracy without truth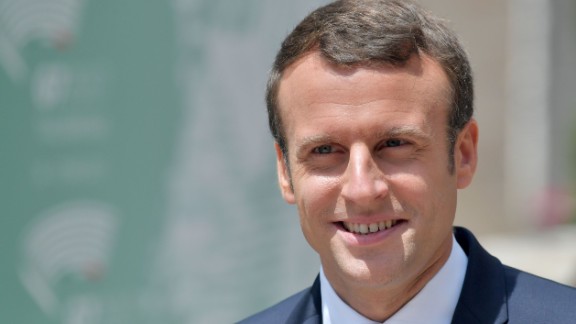 Now playing
01:01
Macron to US: Make our planet great again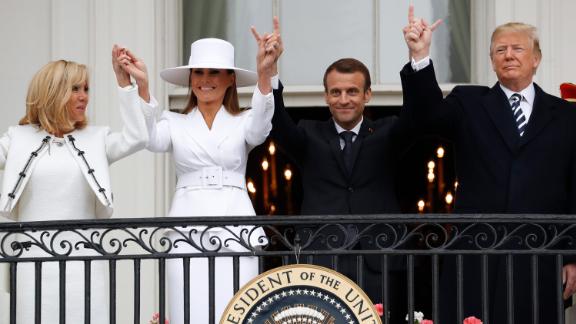 Now playing
02:15
Cillizza's thoughts on picture of Trumps, Macrons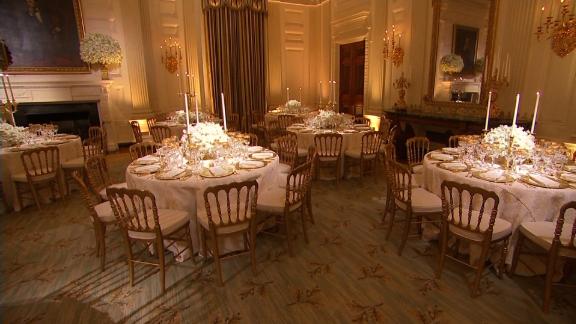 Now playing
01:08
Melania plans Trump's first state dinner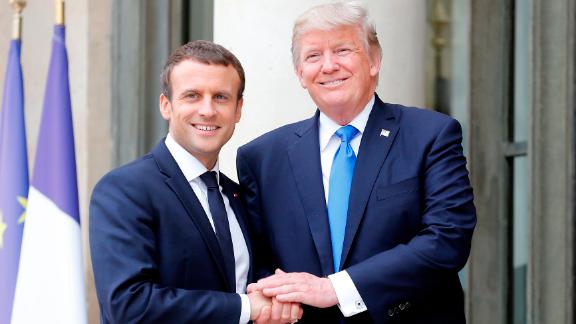 Now playing
01:51
How the Macron-Trump bromance evolved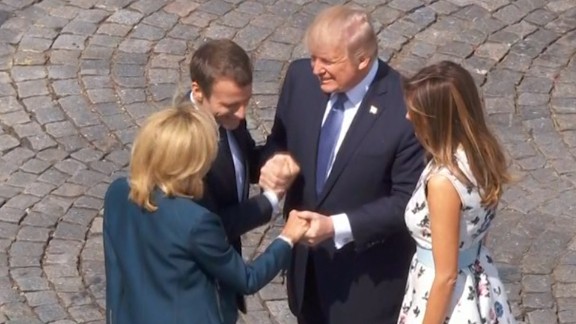 Now playing
00:38
Trump's never-ending handshake with Macron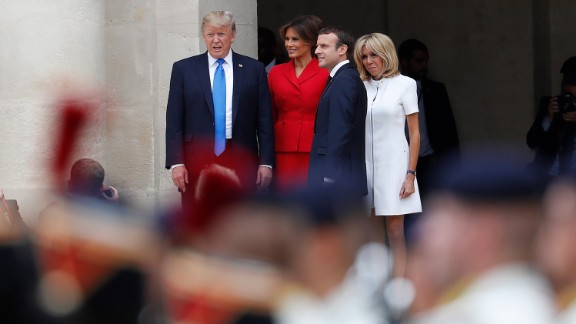 Now playing
00:48
Trump comments on Macron's wife's appearance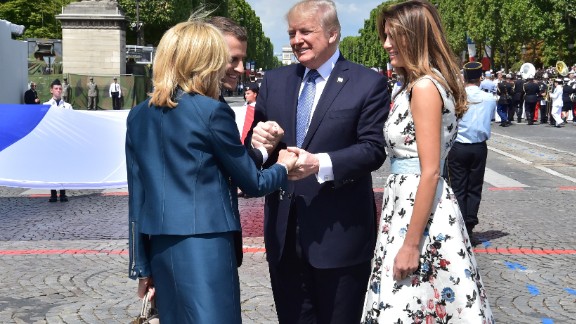 Now playing
01:15
Trump and Macron at Bastille Day (2017)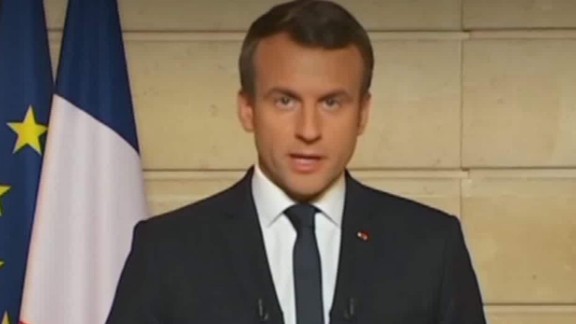 Now playing
01:54
Macron takes a stand against Trump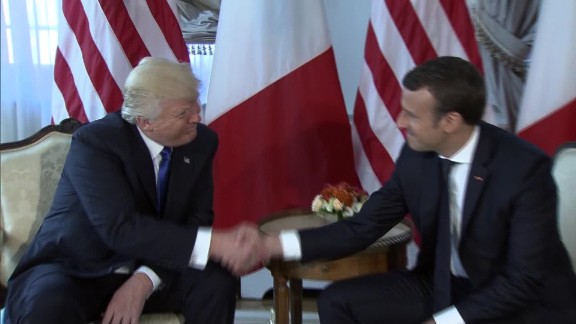 Now playing
00:28
Watch Trump and Macron's extended handshake
Macron, 39, has warned against nationalism and has attracted support from the left and right for his more moderate stance, promising to boost the economy and improve security.