Story highlights
ISIS swiftly said the attack was carried out by one of its "fighters"
The far-right candidate, Marine Le Pen, is demanding the closure of all Islamist mosques
A deadly attack on a police bus in the heart of Paris has dramatically changed the course of the French presidential election campaign.
The three main candidates canceled campaign events and instead made televised statements in which they competed to talk tough on security and vowed a crackdown on ISIS.
One police officer died after a gunman wielding a machine gun leapt out of a car and opened fire on the Champs-Elysees, Paris's most famous boulevard, as candidates were engaging in their final TV debate.
The far-right candidate, Marine Le Pen, demanded the closure of all Islamist mosques. Prime Minister Bernard Cazeneuve accused her of trying to capitalize on the attack.
ISIS swiftly claimed the attack was carried out by one of its "fighters." The assailant – Karim Cheurfi, a 39-year-old French national with a long and violent criminal record – was shot dead as he tried to make his escape. Prosecutors said a note defending ISIS fell out of his pocket, although there was no previous evidence of radicalization. He was also carrying the addresses of police stations.
French authorities, including the domestic security service, began a counterterrorism investigation into Cheurfi last month after learning of his increasing determination to establish communication with an ISIS fighter in Syria and Iraq, a source close to the investigation told CNN Friday.
Election in turmoil
Center-right candidate François Fillon, Le Pen and independent centrist Emmanuel Macron canceled planned campaign events after the shooting. Under French election rules, Friday was due to be the final day of campaigning before Sunday's first round of voting.
It was unclear whether the attack would tip the balance of the vote in favor of Le Pen, who has vowed to take a tough line on "Islamic terrorism."
At a televised news conference Friday, Le Pen called for the closure of all "Islamist" mosques in France, the expulsion of hate preachers and the reinstatement of French borders.
People on the French security services' watch list for radicalization should also be expelled from France and have their French citizenship revoked, she said.
How the Paris shooting could shape the French election
Cazeneuve said Le Pen seeks to exploit fear "for exclusively political ends."
"The candidate of the Front National, like every drama, seeks to profit from and to control the situation to divide," the Prime Minister said in a televised address.
Fillon said that if elected, his foreign policy priority would be the destruction of ISIS. He also called for the creation of 10,000 more police posts.
"In times such as these we have to demonstrate that France is united," he said. "We also have to be clear that we are in a state of emergency. We are at war. This fight for freedom and for the security of the French people must be the priority of the next five-year term."
Cazeneuve, however, questioned Fillon's position on security, saying that when he previously served as Prime Minister he had cut thousands of security force jobs.
Macron appealed to voters not to succumb to fear. "Do not give in to fear, do not give in to division, do not give in to intimidation," he said. "The choice that you have to make on Sunday must be a choice for the future."
Macron said he would hire an additional 10,000 police officers in the next five years and that he would create a task force under the French Presidency to fight ISIS.
Leftist candidate Jean-Luc Melenchon urged the French people to "remain cool-headed" and "to not subject ourselves to hate, vengeance and resentment."
Photos: Champs-Elysées shooting
Photos: Champs-Elysées shooting
Photos: Champs-Elysées shooting
Photos: Champs-Elysées shooting
Photos: Champs-Elysées shooting
Photos: Champs-Elysées shooting
Photos: Champs-Elysées shooting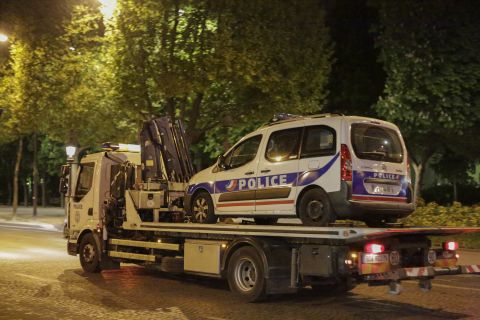 Photos: Champs-Elysées shooting
Photos: Champs-Elysées shooting
Photos: Champs-Elysées shooting
Photos: Champs-Elysées shooting
Terror investigation
On its media channel, Amaq, ISIS claimed that the attack was carried out by "Abu Yousuf al-Baljiki (the Belgian) and he is one of the Islamic State's fighters."
Belgian Interior Ministry spokesman Olivier Van Raemdonck told CNN the attacker was not Belgian and that there did not appear to be a Belgian connection to the incident.
It is not clear to whom ISIS was referring in its claim.
A man who turned himself in to Antwerp police was Youssef El Osri. The man's lawyer, Nabil Riffi, told CNN his client was "very shocked" at being linked to the Paris shooting and that he had been working at a gas station in Antwerp at the time it occurred.
Security in Paris has been stepped up in recent days, but the presence of 50,000 police officers on the streets was not enough to prevent the latest assault, which was being investigated by anti-terror officials.
French President François Hollande convened a meeting of the country's defense council Friday.
Paris Police identified the dead officer as Xavier Jugele. He was 37, Paris Prosecutor François Molins said.
One of the wounded officers was critically injured but is improving, Molins said. Also wounded was a female tourist.
Molins said the attacker had a long criminal record. He spent 11 years in jail after shooting two police officers in 2001. While in custody, he shot and injured a prison officer after grabbing his gun. He was jailed again in 2013 for lesser offenses and released on probation two years later.
Molins said Cheurfi was investigated by counterterror officials in late Febrary because of alleged threats he made to kill police officers. He was briefly placed under house arrest and investigators discovered knives and masks in his home but no evidence linking him to terror groups, Molins said.
Despite his long criminal record, Cheurfi was never placed under what is known as a "Fiche S" surveillance file, Molins told reporters. Molins did not clarify if Cheurfi had been on other surveillance lists in France excluding the "Fiche S" file. Cheurfi never showed any sign of radicalization during his previous detention, Molins said.
Molins said investigators were trying to determine whether the attacker had accomplices.
Three members of his family were arrested in the Paris suburb of Chelles early Friday morning.
Earlier this week French authorities arrested two men in Marseille who were allegedly planning an attack in a run-up to the election.
World leaders react
Speaking in Indonesia Friday, US Vice President Mike Pence said the attack was just the latest reminder "that terrorism can strike anywhere at any time."
US President Donald Trump, at a news conference in Washington, said: "What can you say? It never ends."
German Chancellor Angela Merkel said her sympathy "goes out to the victims and their families," according to her spokesman Steffen Seibert.
In a statement, the UK government said it "strongly condemns the appalling terrorist attack in Paris."
France has been in a state of emergency since the 2015 Paris attacks, which left 130 people dead. Parliament voted in December to extend the extraordinary provisions to ensure the protection of upcoming presidential and general elections.
Correction: This story has been updated to clarify the extent to which French intelligence authorities were monitoring Karim Cheurfi before the attack.
CNN's Saskya Vandoorne reported from Paris, while Laura Smith-Spark wrote from London and Ray Sanchez from New York. CNN's Paul Cruickshank, Jim Bittermann, James Griffiths, Ralph Ellis, Marilia Brocchetto, Pierre-Elliot Buet, Lindsay Isaac, Julia Jones, Hamdi Alkhshali, Vasco Cotovio and Deborah Bloom contributed to this report.