(CNN) —
Former Alaska Gov. Sarah Palin as well as rock stars Kid Rock and Ted Nugent were at the White House on Wednesday night, dining with President Trump and snapping a few pics in the Oval Office. "Asked why I invited Kid Rock and Ted Nugent I joked, 'Because Jesus was booked,'" Palin wrote on her website.
This photo was taken of the quartet: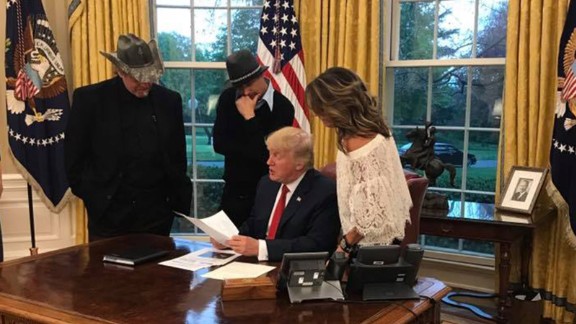 Sarah Palin/Facebook
It is, in a word, amazing. I spent a fair amount of time studying it – cue Twitter outrage; "Don't you have anything better to do?????" – and I have a few thoughts.
Donald Trump: The President is, of course, talking. What is he talking about? Something on those papers he is holding up. I zoomed in until my eyes blurred to try to figure out what the papers on his desk say. No dice. Maybe you have better eyesight than me? Here's the close-up: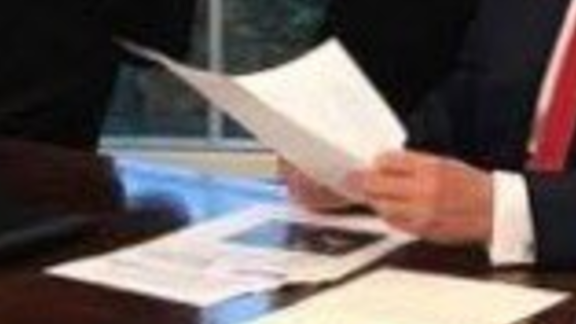 The look on the president's face says something like "See, now, isn't this interesting" to me. Or maybe, "Then I figured out…"
Kid Rock: Robert James Ritchie – and, no, I didn't know Kid Rock's real name without looking it up – makes this whole photo for me. He's the unquestioned star. First of all, the hat: A+. And then "The Thinker" pose: A+++++. Whatever is on those papers Trump is showing RJR, he finds it totally fascinating. In fact, I wish one day I could find something in life as interesting as Kid Rock finds what the President is saying.
Ted Nugent: First off, I sort of respect the fact that The Nuge didn't abandon his trademark camo cowboy hat even though he was going to the White House. You do you, Ted. When it comes to the rest, Nugent is the anithesis of Kid Rock. Whereas K. Rock is all attentiveness, Nugent looks more dutiful than anything else. "OK, this guy is the president. He's talking about something. I am looking and acting interested."
Sarah Palin: The angle from which this photo was taken makes Palin's facial expression unknowable. Which makes me sad. But, given how good the rest of the photo is, I won't get greedy.