Story highlights
Oprah Winfrey stars in the HBO movie 'The Immortal Life of Henrietta Lacks,' which premieres on April 22
Winfrey said she almost didn't take on the role of Deborah Lacks because she felt 'intimidated'
(CNN) —
Believe it or not, Oprah Winfrey gets nervous.
"I didn't want to take on this role," Winfrey told CNN at New York premiere of her new HBO film "The Immortal Life of Henrietta Lacks." "I was intimidated by it. I was nervous. I just didn't know if I could do it."
Based on a 2010 best-selling book, "Henrietta Lacks" tells the story of a woman being treated for cancer, whose cells were taken without consent in 1951 and used in research for decades – unbeknownst to her family. Winfrey stars as Henrietta's daughter Deborah Lacks.
"I heard Deborah [Lacks] on tape, that Rebecca Skloot, the author of the book had, saying she wanted me to [play her]," Winfrey said. "So, I really did it to honor her, to serve that notion of her completing the circle for finding her mother, telling the story in the book and then getting it out into the world."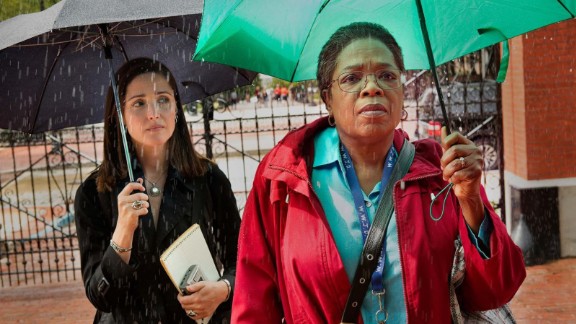 Lacks' cells, coined HeLa, revolutionized medical research and lead to breakthroughs in the fight against polio and AIDS, among other diseases. Lacks died of cervical cancer six months after her cells with taken, without knowing the impact she left behind.
As for Winfrey's legacy?
"Maya Angelou told me, years ago, when I said to her 'Oh Maya, my legacy is going to be all this work I did with the school, and the girls at the school [Oprah Winfrey Leadership Academy for Girls in South Africa], and Maya said, 'You have no idea what your legacy would be, because your legacy is every life you've touched. It's every story you've ever told, everybody whoever heard that story and was affected by that story. It's every person you ever spoke to with a kind word or negative word. Your legacy is every life you've touched,'" Winfrey recalled.
"So, I agree with Maya. I have no idea what my legacy would be."
In today's uncertain times, Winfrey said she finds peace by turning off noise and tuning into quiet.
"There are times I literally just turn the news off and I just use my app, so I can pick and choose what I want to have integrated into my own spirit. I spend time alone. I spend time under the oaks. I spend time walking my dogs. I spend time, so that the noise of the world doesn't drown out the peace in here [gesturing to her heart]."
"The Immortal Life of Henrietta Lacks" premieres on HBO, also owned by Time Warner, on April 22.