After a drama-filled campaign, is the French presidential election about to experience another big twist?
With just over a week to go before the first round of voting, support for 65-year-old far-left candidate Jean-Luc Mélenchon appears to be growing, according to the latest polls.
The momentum of Marine Le Pen and Emmanuel Macron – the two candidates widely tipped to make it through to the second round run-off on May 7 – appears to have slowed.
But, buoyed by a star performance in the latest debate, Mélenchon is riding a wave, which could yet crash through the French political establishment, leaving his opponents swirling in his wake.
Who is Jean-Luc Mélenchon?
Mélenchon has been on the French political scene for years, perfecting his lyrical speaking manner while espousing uncompromisingly left-wing views.
His candidacy is no surprise, but the trajectory of his ratings certainly is; few would have expected him to be in contention at this stage, especially in a year where so many had predicted Le Pen, Macron and Fillon to dominate the campaign.
The main catalyst for Mélenchon's rapid ascent appears to have been his performances in the presidential television debates.
Mélenchon's combination of wit, easy conversational style and plain-speaking made him a hit with audiences.
He offers an alternative to Le Pen and Macron, and could take votes off either of the frontrunners.
"The pollsters have told us that perhaps one out of every two voters doesn't know who they're going to vote for yet," Mélenchon's campaign director Manuel Bompard told CNN.
"We are not looking to take voters from other candidates but Mélenchon is looking to speak to everybody, especially those who haven't decided yet," he said. "We are looking towards people who don't trust the political system or the election. We expect them to come back to the ballot."
Read more: Scandal, intrigue: Understanding the French election
Who could he take votes from?
Back in 2012, when the Socialist party was united, and the populist wave had yet to hit Europe, Mélenchon was very much a fringe candidate – but the landscape has changed radically since then.
Now he's the left's best shot at beating the far-right in the second round – and he also offers something the French electorate are craving: change.
That desire could create a situation which would have been unthinkable at the start of the election cycle – a two-way fight between the far-right and the far-left.
He could take a lot of votes from Socialist candidate Benoit Hamon – but also from those who are fed up of the status quo and looking to register a protest vote.
A Le Pen vs. Mélenchon vote would leave many French voters with an almost impossible choice – and the country facing a hugely uncertain future.
Read more: Macron marches on as Le Pen loses out
What's his appeal?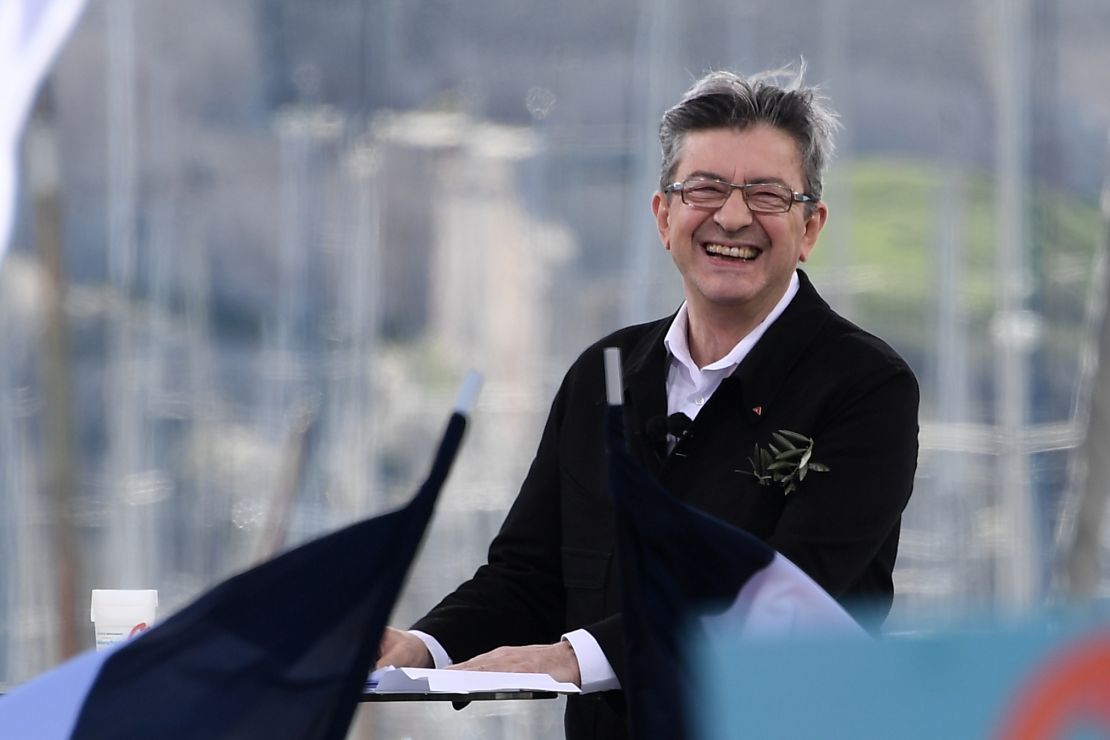 The French electorate love the idea of a "father of the nation." It's one of the key characteristics they look for in a president.
Mélenchon has an avuncular, approachable style and a fierce way with words.
His prose, firebrand politics and down-to-earth, no nonsense manner make him a formidable candidate.
He is popular with younger voters and has even inspired a computer game, Fiscal Combat, which sees his avatar tackle oligarchs and tax cheats, and shake their wallets empty of cash.
The veteran politician is big on social media, and has a popular YouTube channel.
Even those in France who don't share his views love watching his "take no prisoners" approach in a debate.
"Mélenchon has the ability to be in control while speaking about so many different subjects," campaign manager Bompard said.
"He knows how to reassure the public and offer that stability to the public. He knows how to behave and be very clear in his message."
Read more: Le Pen sparks outrage over Holocaust comments
How will he do on voting day?
Mélenchon is likely to be held back by his radical left-wing agenda – there are simply too many voters on the right and even in the center to whom he will never appeal.
His polarizing persona is almost the exact opposite of frontrunner Macron, who is working to gather votes from the center out.
People either love him or fear him, and that means there's little chance of him becoming the sort of candidate around whom people from all sides will coalesce, even in the second round.
Which is why the idea of a Le Pen vs. Mélenchon runoff remains a worrying prospect for many voters – both candidates likely to struggle in widening their appeal.
The populist wave is likely to help Mélenchon do better than he did in 2012, but catching up with Le Pen or Macron is a tough task.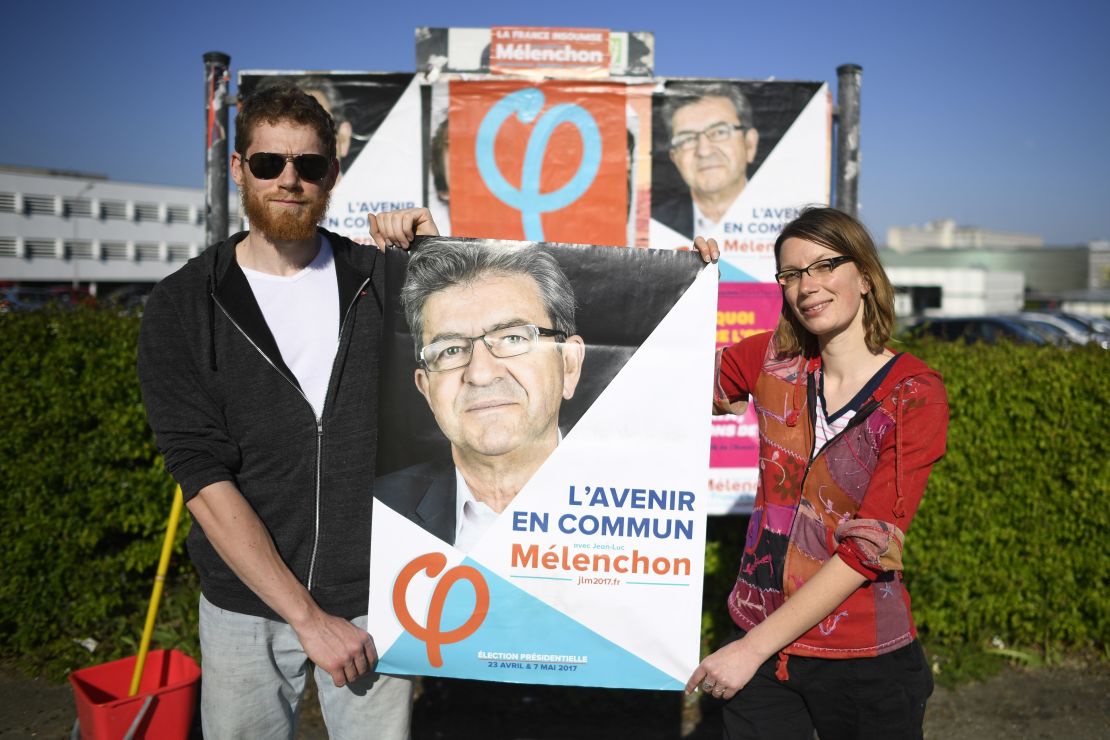 "It's a tricky one, simply because it happens each time, and each time the providential third man fails at the first hurdle," French political expert Agnes Poirier told CNN.
"Last time, Mélenchon was also rising steadily in the polls in the run up to the elections simply because he's a great orator, simple, straightforward, funny, and has flair and a certain panache.
"However, I doubt he'll get through ahead of Macron and Fillon," Poirier added. "But, as they say, after Brexit and Trump, who knows?"
Read more: Why Europe is happy gambling with politics
The Republican Party will be left reeling if Mélenchon beats Fillon into third place, which is a possibility.
And while a top two finish may seem unlikely, there could yet be a further twist: An alliance between Mélenchon and Hamon.
For now, any link has been ruled out, but if that were to change and Hamon withdrew in favor of his rival, then this puzzling election would become even more impossible-to-call.
Maud le Rest and Margaux Deygas in Paris contributed to this report.