Story highlights
Putin says relations with US have 'worsened' under Trump administration
Washington accuses Moscow of a confusion campaign over chemical attack
(CNN) —
US Secretary of State Rex Tillerson said Wednesday that relations with Moscow are at a low point after meetings in Russia that seemed to do little to bridge a deepening diplomatic divide over a chemical attack in Syria.
Relations are "at a low point, there is a low level of trust between our two countries," Tillerson said at a news conference with his Russian counterpart, Foreign Minister Sergey Lavrov.
Tillerson and Lavrov spoke to the press after meeting with Russian President Vladimir Putin in Moscow in an extended display of US-Russian disagreements over the chemical attack that left more than 80 dead; the role of Syrian President Bashar al-Assad in the country's future; US actions in the Middle East; and Russian involvement in the US election.
The unvarnished airing of differences made for one of the more bare-knuckled and blunt diplomatic encounters in recent years and points to a less accommodating and more confrontational approach to Russia than the Trump administration initially said it would embrace.
READ: How Syria is shuffling Trump-era politics
The US has tried to use the attack to try to drive a wedge between Moscow and Damascus, saying that Russia must choose between Syria – and being on the wrong side of history – or turn toward the international community in getting rid of Assad. Tillerson offered his Russian counterparts a bridge, tempering the open tensions by urging that Washington and Moscow find ways to cooperate.
Tillerson said that he and Lavrov discussed Assad at length and that he made clear that the Trump administration has come around to the view that the Syrian President cannot stay in power.
"Our view is that the reign of the Assad family is coming to an end and they have brought that on themselves with their conduct," the top US diplomat said.
Common ground?
Still, the two diplomats hinted that they could find common ground on this issue. Tillerson said that the US wouldn't dictate how Assad's departure takes place, saying, "We leave that to the process going forward," and added that it's important his departure "is done in an orderly way" and that it will "take a pace of its own."
Lavrov, meanwhile, said that Russia is "not staking everything on a personality … we are simply insisting that everybody sits around the table and talks about it."
Lavrov also announced that Putin has agreed to reinstate a military "deconfliction" channel to ensure there are no unintended clashes in the skies above Syria. And Tillerson said that the two sides had agreed to establish a working group that would address smaller frictions and aim to make progress on larger differences.
The news conference came after Lavrov issued a warning to Tillerson Wednesday against any further US strikes on the Syrian regime. Russia is Syria's most powerful ally.
The two top diplomats had sat down together earlier in the day to work through the fallout of last week's chemical attack in northwestern Syria, which plunged the old Cold War enemies to a new low.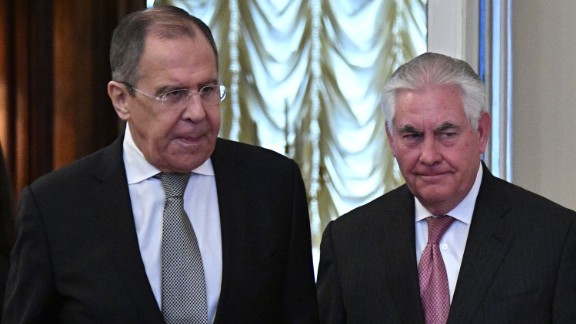 ALEXANDER NEMENOV/AFP/Getty Images
Russia has rejected the US conclusion that Damascus was responsible for last week's chemical attack, which killed 89 people and prompted the US to carry out its first strike against the Syrian regime in the six-year conflict, taking out aircraft and infrastructure at a Syrian military air base.
Differences over attack
"The facts we have are conclusive" that the attack was planned and carried by Syrian government forces, Tillerson said, adding that the US was "quite confident of that" and describing it as "just the latest in a series of uses of chemical weapons by the Assad regime."
Lavrov countered, "It is perfectly obvious the subject is one we diverge on." He floated an alternate theory that "some of these stockpiles are being controlled by extremists," and added, "Russia is insisting on an objective investigation" and will protest if it does not take place.
The White House on Tuesday accused Russia and Syria of carrying out a confusion campaign over who was responsible for the chemical attack.