Story highlights
FBI agents interviewed Tamerlan Tsarnaev two years before Boston Marathon attack
At the time, the FBI cleared Tsarnaev of any connection to terrorist activity
(CNN) —
Almost two years before carrying out the deadly Boston Marathon bombings, Tamerlan Tsarnaev told FBI agents he had never picked a fight.
Tsarnaev had been in fights, yes, both in the ring as a boxer and in his personal life, he told the FBI. But he had fought to protect others, including kids being bullied, he said.
"Tamerlan doesn't like to fight for the sake of violence," says an FBI report from the 2011 interview between Tsarnaev and FBI agents. The two-page report was made public for the first time late last week.
Tamerlan Tsarnaev FBI 2011 report
In April 2013, Tsarnaev and his younger brother, Dzhokhar Tsarnaev, set off two bombs near the finish line of the Boston Marathon, killing three people and injuring more than 260 people. The two later killed an MIT police officer and sparked a manhunt that shut down the city for days.
Tamerlan Tsarnaev died amid an explosive firefight in nearby Watertown after he was run over by an SUV driven by his brother. Dzhokhar Tsarnaev was arrested and convicted of carrying out the bombings, and he was sentenced to death in 2015.
A week after the bombings, the FBI acknowledged that agents had interviewed Tamerlan Tsarnaev in 2011 after the Russian government asked them to inspect his potential ties to Islamic extremism.
The FBI said it had looked at government databases, phone communications and online radical sites, and had interviewed Tsarnaev and his family in 2011 as part of that inspection. The agency said its inspection did not find any terrorism activity and cleared him that summer.
In 2013 after the bombings, several politicians criticized the FBI's handling of the earlier investigation. Sen. Lindsey Graham, for one, said the "ball was dropped" in the investigation.
But details on what agents learned during that interview had not been made public until now.
'Tamerlan has respect for all religions'
The FBI report, dated April 22, 2011, summarizes the interview with Tsarnaev but does not provide direct quotes from him.
The report starts with Tsarnaev describing mysterious unidentified men who claimed to be members of the FBI. Tsarnaev told agents that four "young, handsome men in suits" had identified themselves as FBI agents to a family member and said they wanted to speak to Tsarnaev.
The men said they would be back the next day but did not return and did not provide contact information, and Tsarnaev said he didn't know why anyone would be looking for him, according to the FBI report.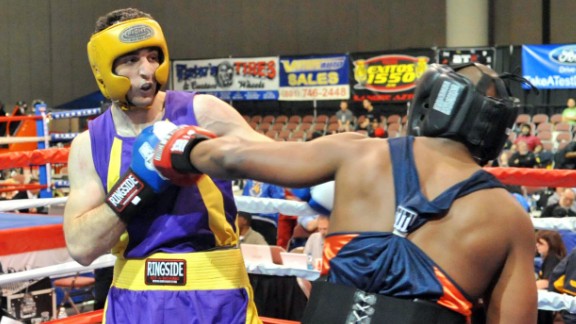 Glenn DePriest/Getty Images/FILE
Elsewhere in the interview, Tsarnaev discussed his boxing career and said he hoped to box for the US Olympic team but did not yet have American citizenship.
The FBI report notes that Tsarnaev had been photographed training in 2009, and that a quote attributed to Tsarnaev, who was born in Kyrgyzstan, said, "I don't have one American friend."
That was a misquote, Tsarnaev told FBI agents in 2011, and most of his friends were Americans. The photographer did not speak good English, Tsarnaev told FBI agents. Tsarnaev said he attended a mosque in Cambridge, Massachusetts, once a week but didn't have many Muslim friends.
"Tamerlan doesn't think there could be any Islamic radicals in Cambridge," the FBI report reads.
In addition, the report said that "Tamerlan has respect for all religions and feels that any religion makes your life better." Tsarnaev also said he did not look at websites with extremist Islamic material.