Editor's Note: David M. Perry is professor of history at Dominican University in Illinois. He writes regularly at his blog: How Did We Get Into This Mess? Follow him on Twitter. The opinions expressed in this commentary are his.
Story highlights
David M. Perry: The murders of a teacher and student are already fading from the headlines
But we should not forget what happened to Karen Smith and Jonathan Martinez
Only four victims.
In San Bernardino, California, this week, an armed man burst into a classroom with a gun and began firing. As the news of another mass shooting in a school rolled over the country, visions of Sandy Hook Elementary School, where so many died, flooded into my mind. When I heard only four people had been shot, I relaxed a little.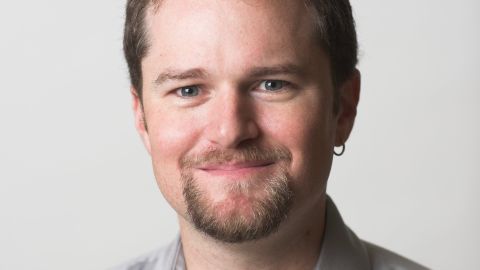 There's something wrong about being relieved by a small number of people being killed. It's a sign that the constant barrage of murder stories have begun to harden one's empathy. It's a defense mechanism and it worked for me at first, helping me get through my day. Later my horror returned, accompanied by guilt at my previous relief, as we learned the killing had taken place in a special education classroom.
My son is a 10-year-old boy with Down syndrome. He spends part of every school day in a special education classroom. He panics at loud sounds, placing his hands over his ears, crying, or just saying "no." It was too easy to imagine him there in San Bernardino. The new detail made the violence suddenly visceral.
The murder of teacher Karen Smith and 8-year-old Jonathan Martinez, one of her students, shines a spotlight on at least four of the major correlating factors that increase the risk that a person will suffer violence: disability, domestic abuse, race, and guns.
As we think about each one, we need to keep our empathy. We can't ever let ourselves get comfortable with this kind of slaughter. Then empathy must drive us to act by raising awareness about domestic violence and violence against people with disabilities. But most of all, as Karen Smith and Jonathan Martinez are laid to rest, we must first imagine, then act to create, an America in which there are fewer and fewer guns.
I knew this story would fade – but it shouldn't
Karen Smith had become a special education teacher later in life, after raising four children to adulthood. Friends remember her as driven by passion for the work. She had recently married Cedric Anderson, but then they separated after only a few months. He came to her classroom to kill her. When he shot, he also hit two students who were, police say, behind their teacher.
Disability is not causal here, but there's a correlation between disability and exposure to violence. Disabled individuals are – according to the Bureau of Justice Statistics – more than twice as likely to experience violence than non-disabled individuals. I remember thinking of that statistic, thinking of my son, while waiting on news about a massacre at a government center that provides services to adults and children with developmental disabilities.
In 2015, Syed Farook and Tashfeen Malik killed 14 people at a holiday party in San Bernardino, mostly Farook's co-workers. But one of the victims, like Karen Smith, had dedicated his life to building a more inclusive society for disabled individuals. Daniel Kaufman ran the coffee shop at the center where Farook and Malik struck. He trained developmentally disabled people to work and was, according to friends, filled with "boundless enthusiasm and joy."
Because Farook and Malik were linked to "terrorism," their acts generated widespread national news coverage for weeks.
Once it became clear that in the most recent killing so few people had died and that the crime was related to domestic violence, I knew that interest in it would fade.
It shouldn't. Domestic violence is the leading correlating factor with mass murder. According to Everytown for Gun Safety's analysis of FBI data, from 2009 to 2016, 54% of all mass shootings involved someone shooting "a current or former intimate partner or family member." Of that 54%, more than 40% of the victims were children.
Race matters, too. Black women suffer disproportionately high rates of domestic violence, a fact that can be linked to many other intersecting problems, including lack of access to resources and distrust of authorities who should provide protection.
Race, disability, domestic violence – and especially, guns. Whenever a gun is present in a domestic violence situation, the chance of a homicide increases by 500%. It's not clear yet where Anderson got his firearm, but he had a history of violence. Everytown's researchers emphasize the need to pass and enforce laws that keep firearms out of the hands of domestic abusers. California has such a law, but it depends on someone filing a protective order – unless there's a conviction.
Any single incident like this, especially when lives are lost, will reveal many factors, individual and structural, that came together to spark a violent act. We follow the tangled threads of causality and correlation that mean the most to us. For me, it's my experience with my son and my memory of reacting to the 2015 San Bernardino killings.
Get our free weekly newsletter
Sign up for CNN Opinion's newsletter.
Already, two days later, this latest act of violence is fading from the headlines. Don't forget Karen Smith and Jonathan Martinez. Stay empathetic. We are at our worst when we fear the rare – terrorism – more than the daily carnage of domestic violence, disabled victims – and far too many American guns.