Story highlights
Jill Filipovic: Melania's photo, like the whole of Team Trump, is style over substance
Ivanka is this ugly administration's other pretty face, and she has a White House office
Editor's Note: Jill Filipovic is a journalist based in New York and Nairobi and the author of the forthcoming book, "The H-Spot: The Feminist Pursuit of Happiness." Follow her on Twitter. The opinions expressed in this commentary are solely those of the author.
Melania Trump's official first lady portrait has set the internet abuzz, and it's just perfect: a soft-focus photo that looks good enough to be in a glossy magazine, illustrating an official biography that's more about gushing than good works. The photo, like the whole of Team Trump, is style over substance. It couldn't be more fitting.
Her stepdaughter, Ivanka, is this ugly administration's other pretty face, and she has an office in the White House. While Ivanka talks a big game – and wrote a book – about helping women succeed, her father has put astoundingly few of them in his Cabinet and has already made moves to curtail women's freedoms overseas.
Ivanka says she shares her opinions about women's empowerment with her father privately and that it's not her role to speak out in public. "I don't know what it means to be complicit," she recently said. What it means is helping her father out while he strips rights from the most vulnerable.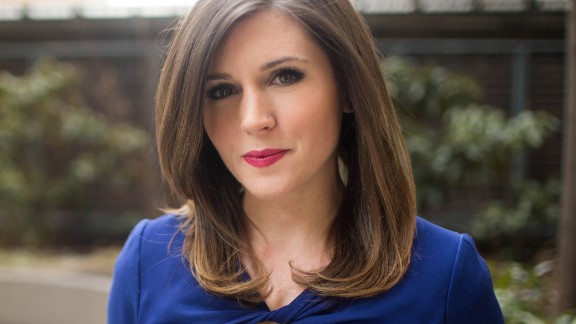 Courtesy of Jill Filipovic
That's what Melania is doing, too.
President Trump's administration has had a tough go of it so far. Despite billing himself as a world-class dealmaker and his own party holding a majority in both houses of Congress, Trump was unable to broker a health care deal with Republicans, and his first attempt to enact a key campaign promise flamed out spectacularly. Reality show skills, it turns out, aren't necessarily transferable to real life.
Melania, at least, is skilled at posing for photos. But there's not a lot behind the attractive facade. Her biography is heavy on the adjectives and describes her "indefatigable" and "dedicated" devotion to an array of causes. Unlike other recent first ladies, though, she has embraced no deep focus – like Laura Bush's efforts for literacy or Michelle Obama's to combat child obesity. As first lady, Melania says she wants to focus on cyberbullying – a worthwhile cause, and she should start at home with her own Twitter bully of a husband.
All of this comes through in the photo itself, which looks more like a glamour shot than a portrait, especially when you compare it with those of her immediate predecessors, each of whom appears in sharper relief and against more widely visible background. All first ladies are charged with serving their husband's image, but most of them also realize they're serving the country, and their photos and biographies reflect that. Melania looks like she's reliving her model days, not taking on a new duty as a national role model.
Speaking of which, there is what – according to some observers – looks like heavy photoshopping (far more than the gentle airbrushing that usually accompanies such photos). This also helps to make Melania's photo a perfect visual summation of an administration seated in deception, and a president who rode a wave of fake news, conspiracy theories, and a hoodwinked voter base right into the White House.
Melania's role, this photo tells us, is to be quiet and beautiful in the background, a silent sphinx putting a pretty face on an ugly administration. She is only the second first lady born outside of the United States, the bio that accompanies her smiling photo says. The first was Louisa Adams – wife of President John Quincy Adams.
Meanwhile, her husband uses his position of power to demonize immigrants – and try to take funding from programs for the poor and throw it at a border wall that he promises Mexico will reimburse us for. Melania's enormous diamond ring is prominently displayed in the photo, a piece of jewelry worth millions, shining brightly while her husband puts forward a budget that cuts funding for women, children, and seniors.
Get our free weekly newsletter
It's true that Melania didn't ask for any of this, but here she is, and her silence in the face of her husband's excesses, so perfectly rendered in her portrait, speaks volumes. Her gauzy visage certainly captures the essence of the Trump White House: slightly out-of-focus with a lot of sparkle distracting from the fact that there's nothing solid behind it.