Twenty years have slid by since Tiger Woods set out on his era-defining journey with that first record-breaking Masters win at the age of 21.
Since 1997, he's amassed 14 major titles and 79 PGA Tour wins, against the backdrop of a very public divorce and a catalog of injuries.
Ongoing battles with back problems mean Woods won't take to the tee at Augusta this week. Despite his absence, the American's impact on one of golf's most prestigious events in undeniable.
Throughout his career, he's been the subject of images that have become iconic – burned into the memories of sports fans as well as the people who captured golf history in the making.
Below, photographers from Getty Images select their favorite pictures and tell us what makes them so special.
Major breakthrough, 1997
Woods won his first major with a record 12-shot victory at the Masters in 1997, announcing his arrival at the top of the game.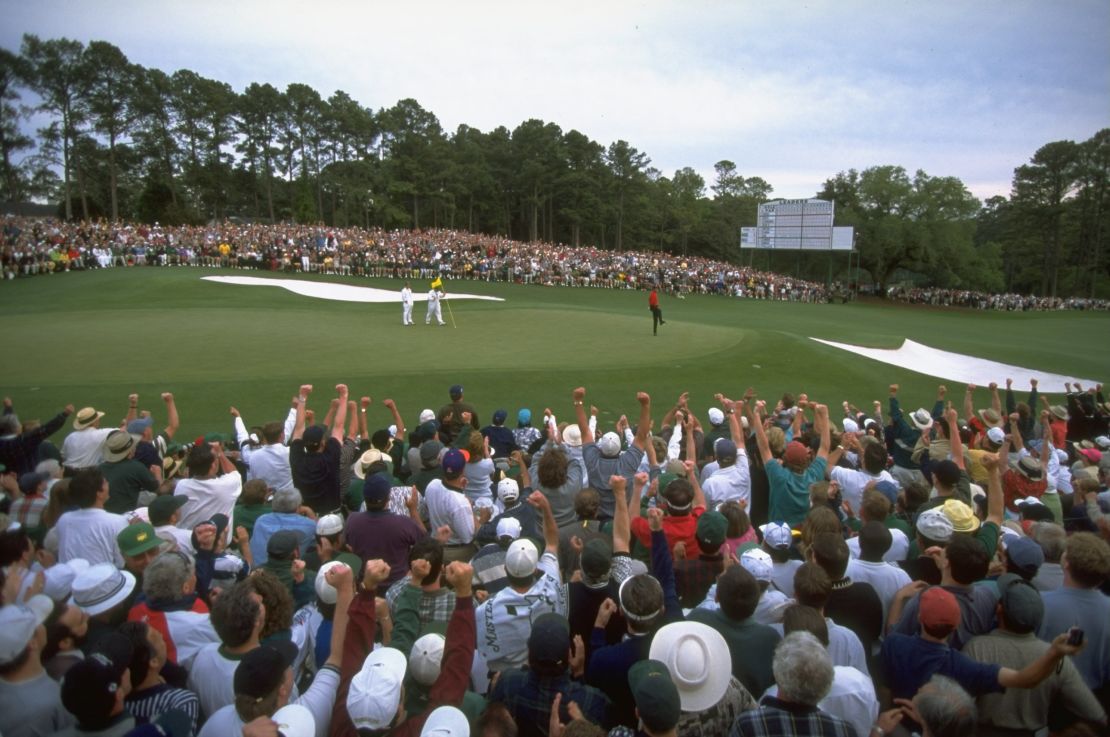 David Cannon: "I shot this picture using a remote camera clamped to the infamous – now removed – photographers' tower beside the 18th green, while shooting Tiger 'tight' at the same time with a 400mm lens from that great vantage point. I had witnessed probably the most astonishing performance by a young golfer in history. Tiger had annihilated the field in one of his most dominant displays of golf. This was the new world superstar announcing himself to the world of sport, let alone golf."
Defending champion Nick Faldo helps the 21-year-old Woods into the green jacket.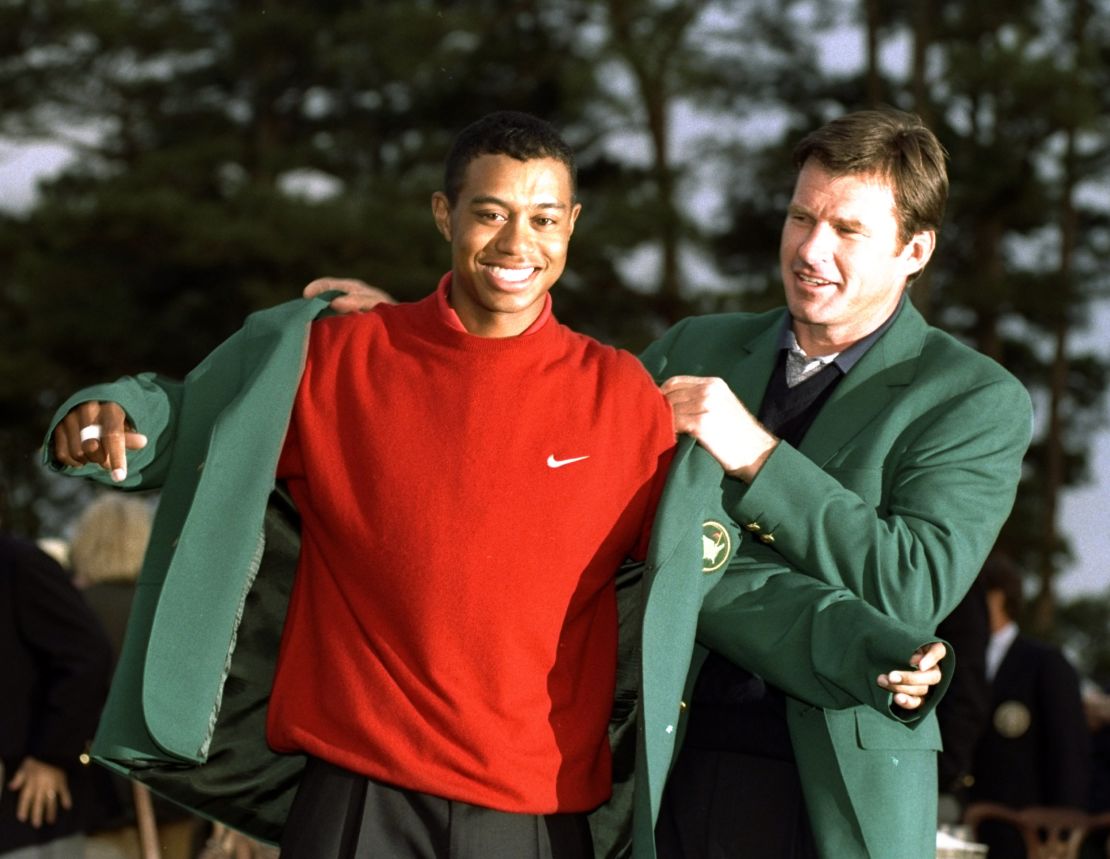 Cannon: "I suppose the most striking memory I have of this moment is that it was Nick Faldo's last as a current major champion. He was handing the coveted green jacket over to a man who was to dominate golf like nobody before. In fact, here was a superstar being born who went on to transform the modern game of golf. I don't imagine that anyone present that warm April evening could possibly imagine how significant this moment was going to become."
Height of his powers
Woods hits a drive from the helipad of the Burj Al Arab during a trip to Dubai in 2004.
Cannon: "This is still one of my most exciting assignments. This shoot, around one of the world's most iconic buildings with the world's most recognizable sportsman, summed up Tiger and his global reach.
"Along with the CNN news coverage, I remember reading somewhere at the time that this was the single most successful PR shoot in sport. It was so successful because the PR crossed over so well with the editorial story, the location and Tiger.
"The story I would have loved to have told at the time was that he was desperately trying to hit one of his drives into the helicopter as we circled around him!
"In fact, he reminded me of this recently when he landed back on the helipad on the Tuesday of the 2017 Dubai Desert Classic. With a very cheeky smile, he said, 'hey buddy, the last time I was up here I was trying to hit you.' He was such a story everywhere he went."
READ: What's the best shot Tiger has ever hit?
Masters magic
Woods chips in from off the 16th green on the way to winning his fourth green jacket in 2005.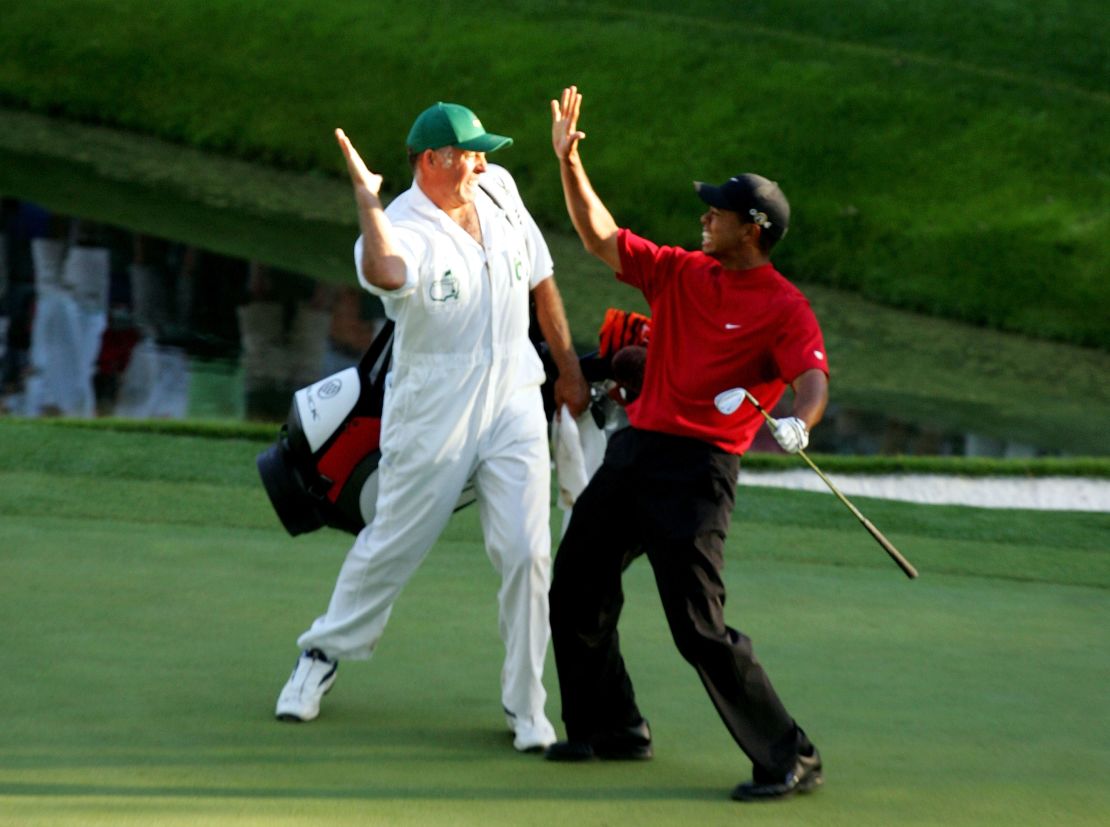 Harry How: "Tiger was at the top of his game but following him around Augusta National is problematic as we don't have 'inside the rope' access. I remember hustling to the green and politely squeezing my way through crowds to get to my position in a sweaty mess.
"Most people remember the roar that followed but it's the long silence, when the ball hung on the edge of the cup, that I remember most.
"I like how Steve [Williams] and Tiger come together for the photo in the small area of the green where there is still light and how clumsy their emotional, unrehearsed high five is."
READ: Tiger's advice to his younger self? "Get away from golf"
Tiger's tears
An emotional Woods wins the 2006 British Open at Hoylake, his first major title since the death of his father Earl.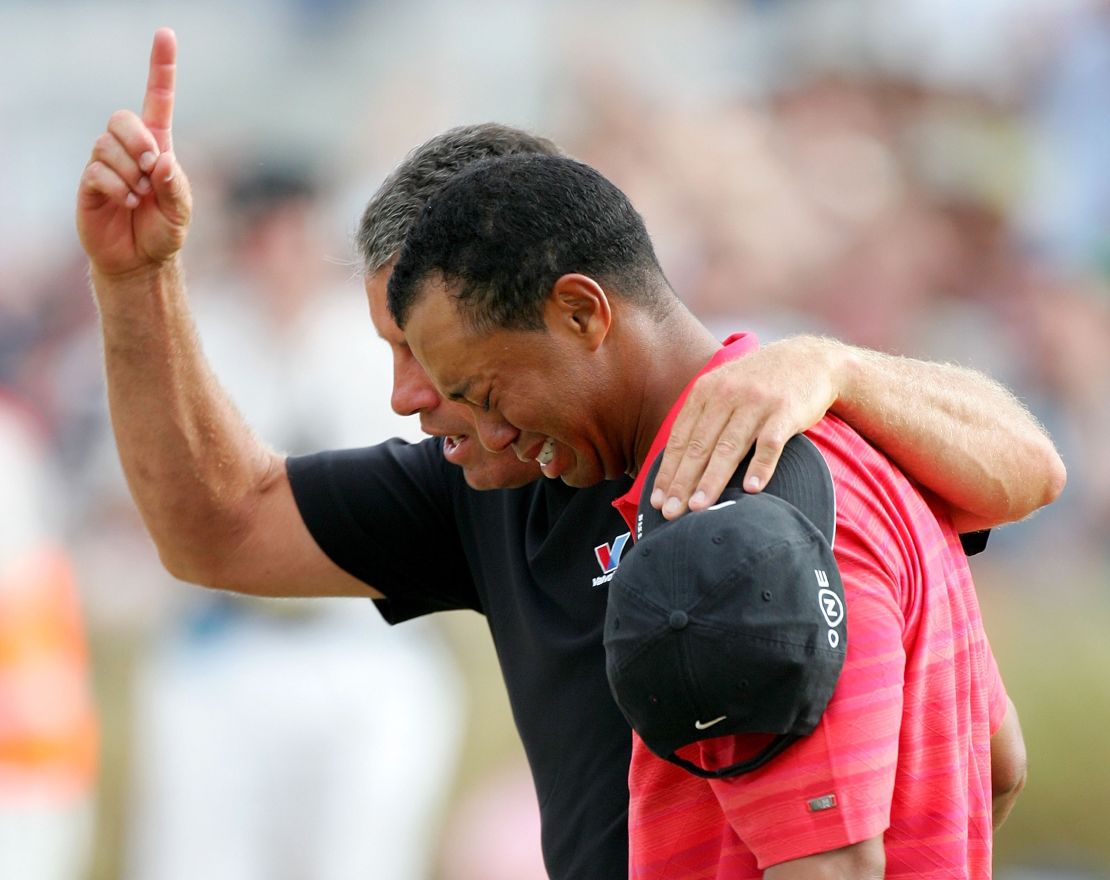 Ross Kinnaird: "It was the first major after the passing of Earl Woods, Tiger's father. It must have been a strange week for Tiger not having his 'Pops' around or on the end of a telephone line. You would not have guessed it from the defending champions' golf that week. It was a peerless and controlled golf all four rounds. After the final putt had dropped Tiger and caddie Steve Williams held a long embrace on the green. We don't know what was said between them but as they left the 18th Steve's gesture gave us all a clue. That win was for his dad."
READ: Caddyshack and oatmeal – Tiger's perfect day
End of an era?
Playing with a serious leg injury, Woods forces a playoff in the 2008 US Open at Torrey Pines. It's the most recent of Woods' 14 major titles.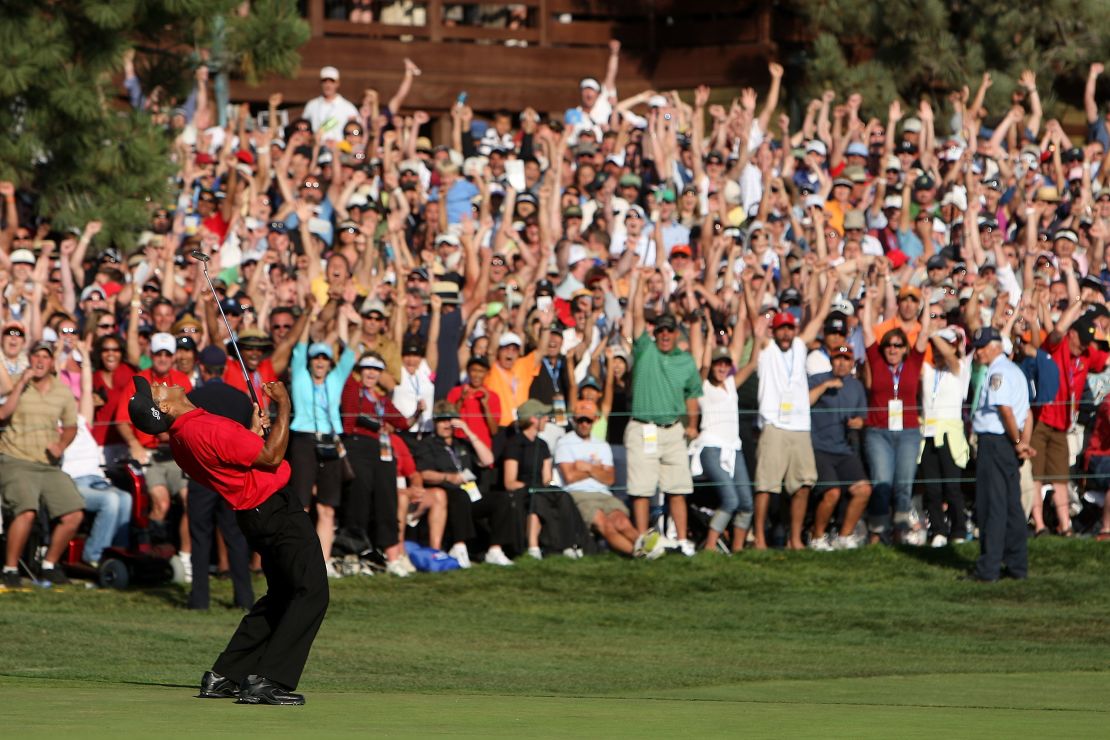 Donald Miralle: "I was covering the 2008 US Open at the Torrey Pines Golf Course in my home town of San Diego which was a treat.
"I knew the course very well having covered the PGA event there for many years, many of which Woods had won. Tiger made an amazing shot on the 17th to set himself up for a chance to tie on the 18th.
"As he was lining up this putt on 18th green, the atmosphere was electric as he needed to sink it to send the US Open to a Monday playoff against Rocco Mediate.
"I decided to go with a slightly wider shot to show more of the gallery, as I knew when (not if) he sunk the putt the place would go crazy. He ended up draining it, the place erupted and he went on to win the playoff with ease."
Silence is golden
Woods practices at the 2009 US PGA. A few months later he would be engulfed by scandal.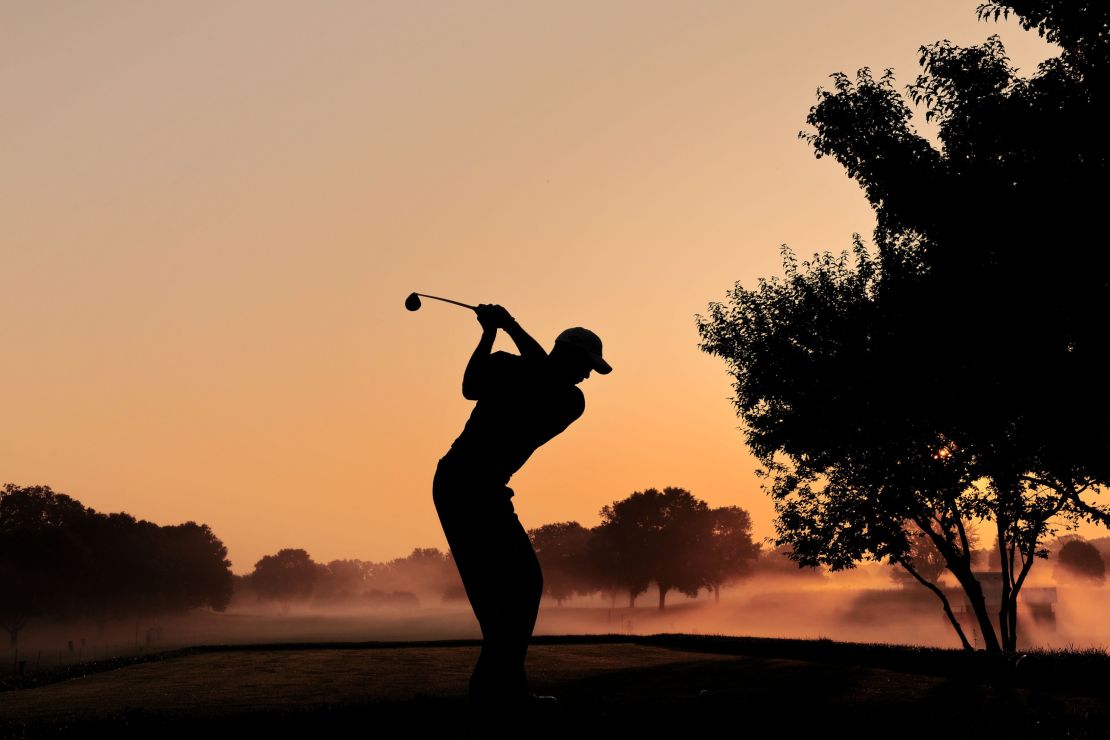 Stuart Franklin: "II took this picture of Tiger on the Tuesday of the 91st US PGA Championship at Hazeltine National Golf Club in 2009.
"The morning was very special, I remember arriving and parking just as the sun was getting up and hoping that Tiger would be on the course.
"He has always created an excitement even on practice days, and especially for photographers as you were able to shoot him in light that you wouldn't get later in the week.
"He was always practicing very early but not always for very long. He seemed to like the solitude of the early mornings and this gave him the time and peace to be able to do his preparation for the week ahead. I remember this light and mist only lasted for around 30 minutes.
"I like this picture very much. To me it gives the feeling of wanting to be there playing myself, but also I think it illustrates that golf is a game of man versus the course, and this is true for all of us even if you are Tiger Woods.
"Sadly for Tiger it wasn't to be his week but luckily for me I still have the memory of this magical morning with him."
Public apology
Woods hugs his mother Kultida after reading out a statement in which he admitted to cheating on his wife.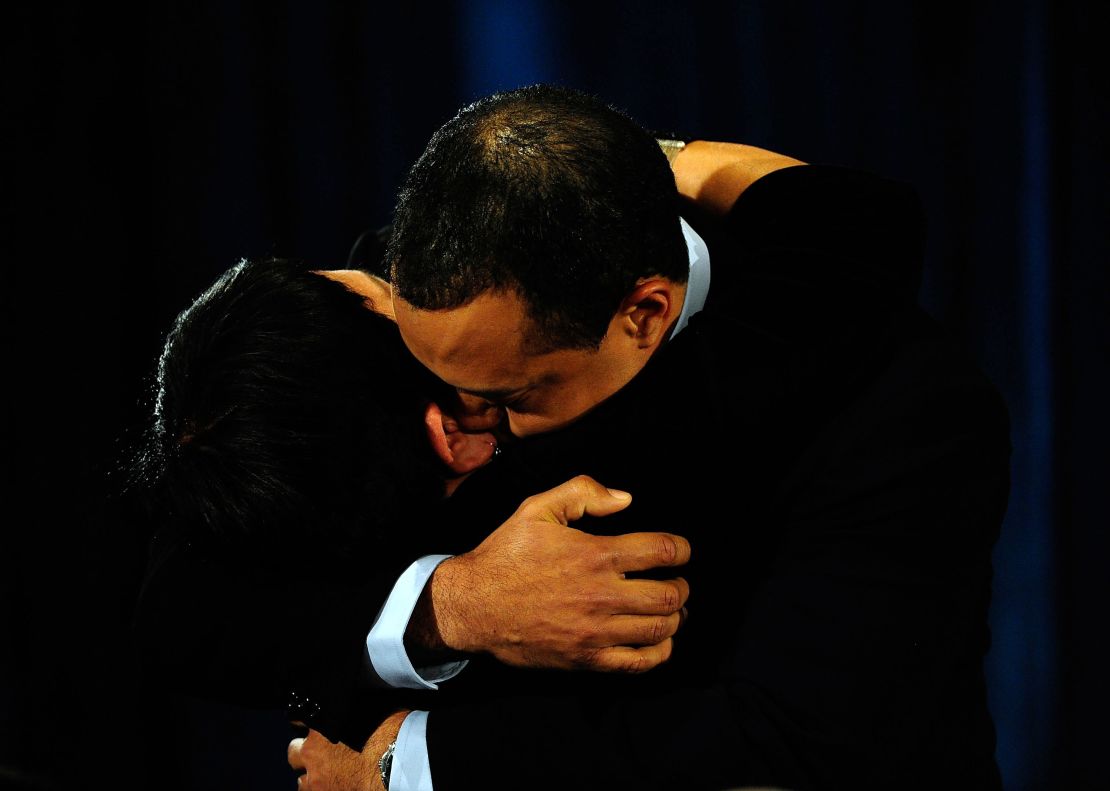 Sam Greenwood: "I was one of four photographers allowed to be in the private room where the apology press conference was televised. Tiger's mom Kultida was sitting in the first or second row and I thought how hard it would be to say what Tiger did to the world, but more importantly to his mom who was only a few feet away. I think Kultida was the first one to stand when Tiger was finished and they hugged for a long time."
Masters controversy
Woods is embroiled in controversy at Augusta after taking an illegal drop on the 15th in his second round of the 2015 Masters.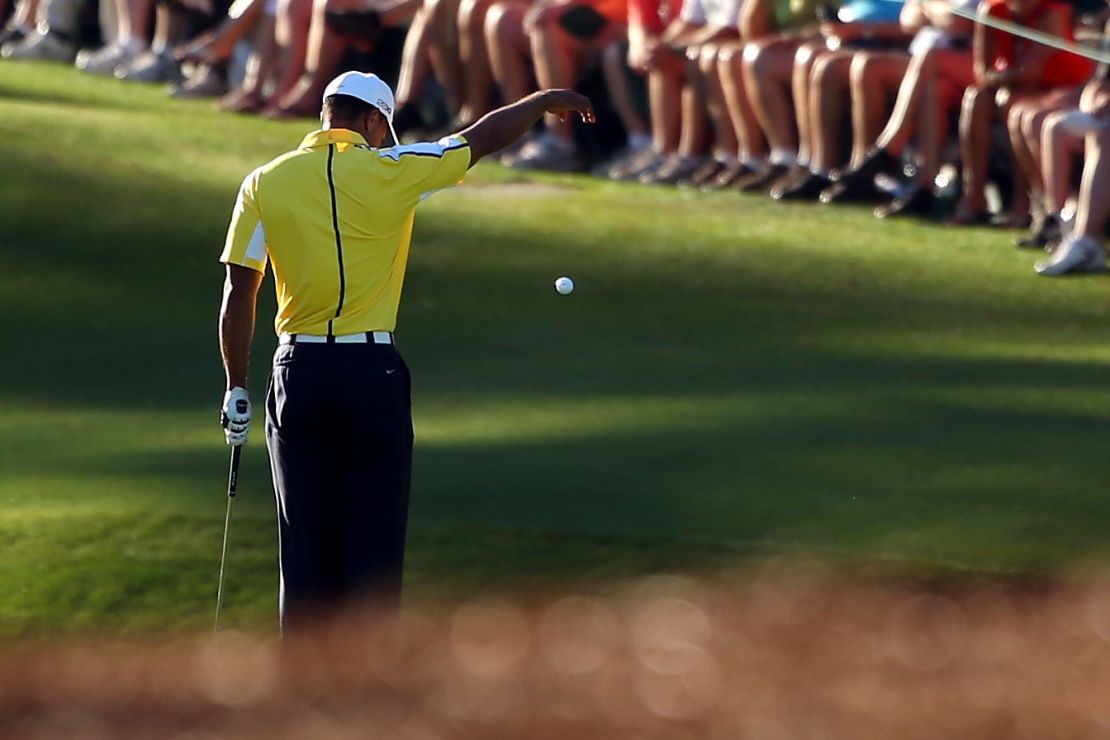 Mike Ehrmann: "I was covering the group behind Tiger when we were coming up 15. I was standing at the top of the hill and watched his approach find the water.
"I always want him to do well so I was very in tune with what he and Joe LaCava were talking about. I guess a little bit out of habit I shot the drop, almost just to signal to the editors that he had to take one, never thinking it would be such a story."
Injury woes
A sign of things to come as Woods struggles with a back injury during the fourth round of The Barclays at Liberty National Golf Club in 2013.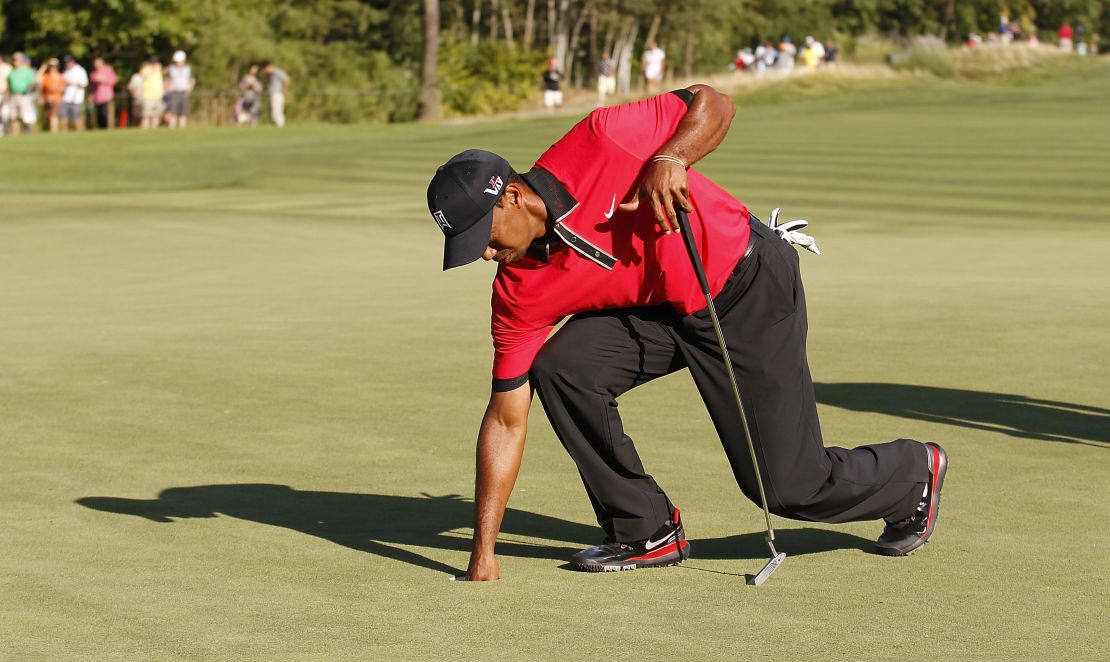 Michael Cohen: "This Tiger shot was on the 15th green during the final round of The Barclays at Liberty National in 2013. Tiger had gone to his knees after a fairway shot a couple of holes before and his back appeared seriously injured. But he was contending and would not give up.
"I expected his caddie to retrieve the ball and I was surprised when he retrieved it himself. I don't think many people at the green realized he was hurt, but as he slowly leaned down to get the ball out, the gallery could see something was wrong and made a sort of gasping sound."