Story highlights
Florida's Everglades is a vast area with a climate perfect for pythons to hide and thrive
Donna Kalil among hunters trying to rid non-native species that preys on wildlife
Donna Kalil couldn't hear a python slithering in the grass with the wind blowing. But spotting a tunnel-shaped snake trail, she disappeared into the cattails hunting for one.
The Kendall, Florida, resident carried a stick. A knife and 9 mm handgun were attached to her belt.
A real estate investor-turned-amateur python hunter, she spotted a ribbon snake clinging to a leaf. She hoped it was a harbinger of success in her quest to find a Burmese python in the Florida Everglades.
Kalil, 54, was among a group of python hunters Thursday working to rid Everglades National Park and surrounding areas of the non-native species of pythons that prey on wildlife.
The 25 hunters selected from 1,000 applicants will be paid to euthanize pythons under a $175,000 pilot program by the South Florida Water Management District. The two-month hunt ends June 1.
The district hopes the hunters kill many pythons. But if Kalil finds a python, it would be the first snake she will have ever killed. "I'm not really happy about it," she said. So, what's a python hunter to do?
Hunters the best solution
The pilot program follows python challenges run by another agency that led to the capture and killing of more than 174 Burmese pythons across Florida in monthlong competitions in 2013 and 2016. Hunters from the Irula tribe in India also separately caught many pythons.
The Burmese python is native to Southeast Asia. It was first discovered in the Everglades in the late 1970s and began appearing on water management district land in 2005, said LeRoy Rodgers, an invasive species biologist with the water management district.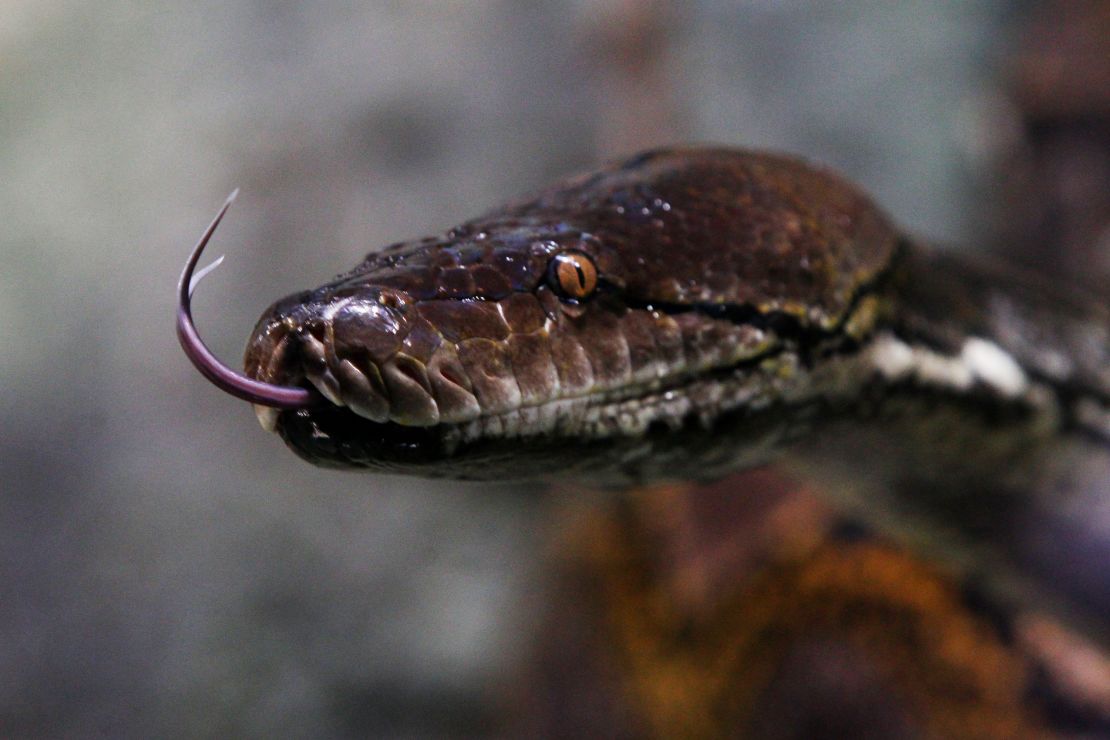 The snakes, which have no natural predators in the region, were likely introduced into the Everglades after a significant release, he said. That release was either accidental or intentional, University of Florida researchers say.
The Everglades, known as the river of grass, is a vast area with a climate perfect for the pythons to hide and thrive. There are no precise population figures, but there are believed to be thousands living in the ecosystem in Miami-Dade County, Rodgers said.
A 2012 study by Virginia Tech University, Davidson College and the US Geological Survey found that pythons caused the populations of rabbits and foxes to vanish and the numbers of raccoons, opossums and bobcats to drop by as much as 99% in the Everglades.
The giant constrictors have also been discovered farther north in Broward and Palm Beach counties.
The water district has tried to cull the population in a several ways, including dedicating a staff member to hunting the pythons since 2006, Rodgers said.
"We really haven't found any tool that works better than human hunters going out in the field looking for them," he said of the snakes that can grow to about 17 feet long and weigh up to 150 pounds.
Not in it for the money
The water district program will pay $8.10 an hour for up to eight hours of hunting a day. A python measuring 4 feet fetches an additional $50. Each additional foot will draw $25 more. Hunters can make an extra $100 if they kill a python guarding a nest.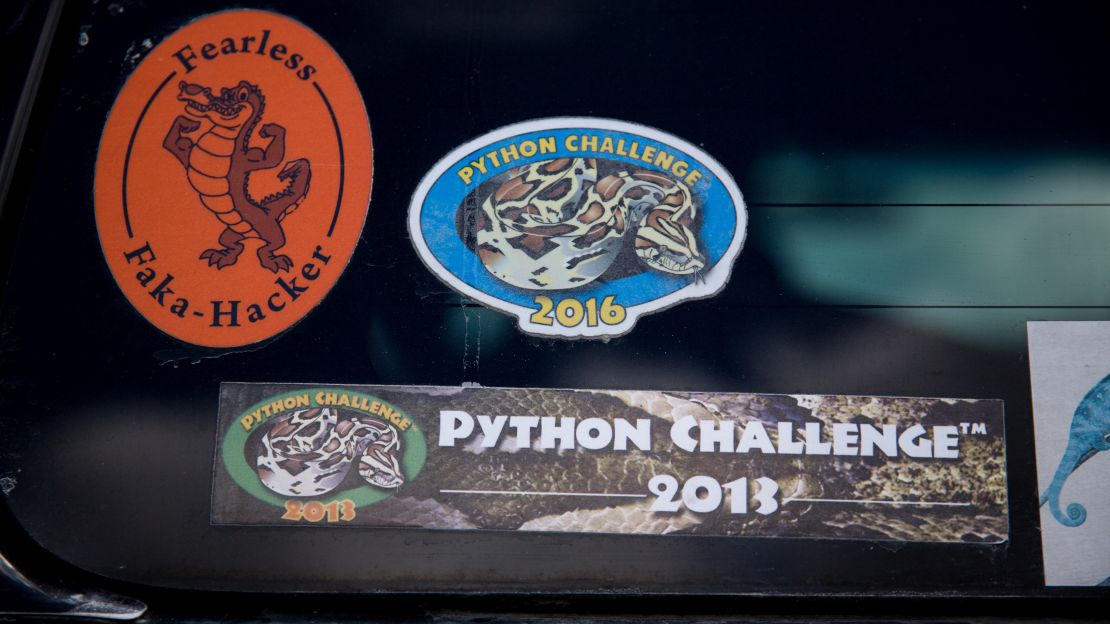 Kalil planned to use her earnings for gas money and to buy gadgets for python hunting such as a drone and spotlights for her sport utility vehicle. But she's not in it for the money, she said.
"It's about getting out there and trying to make a difference to the wildlife that we find," she said.
Kalil wore camouflage pants and rain boots. A slender woman, she hoped the Velcro wrapped around a wooden stick from Venezuela used to herd cattle would give her an edge.
"Maybe he'll grab a hold of that and get stuck," she said. "And then I could grab him."
Kalil would then hit the snake over the head and stab it in the brain, as if she were spearfishing.
Reliving a childhood playing in the woods
She walked over sunbaked rocks, crouched and crawled through hardwood hammocks. She poked the brush and thrusted the stick in holes in tree trunks.
She marveled at a black swallowtail butterfly and an endangered American crocodile in brackish water.
"This is reliving my childhood. I used to live in the woods as a kid," she said. "After school, I'd just come and climb through the hardwood hammock. This is my favorite ecosystem."
Kalil grew up in northern Miami in a family of Air Force veterans. She admired her brothers – "all-out boys, running around trying to catch stuff" – and wanted to be like them, she said.
She recalled playing with their venomous tigra mariposa as a child when her father was stationed in Caracas, Venezuela. Her panicked nanny saw her with the reptile and pummeled the snake.
"The image is, unfortunately, seared in my memory. I felt sorry for the little guys since then," she said.
Her brothers taught her how to hunt snakes, and she has been hunting them since.
Kalil kept pet snakes, too, and once had a boa constrictor.
'Go get a snake'
Recently, Kalil took part in the python challenges, bringing family and friends to hunt with her. She found a dead python each time – a 9-foot one and then a 10-foot snake with its head chewed off.
She barbecued one, and had purses, wallets and key chains made from the skin. She had the python bone attached to existing snake-shaped earrings. It was a good luck charm. But more than two hours into Thursday's hunt – even with the earrings – she hadn't found any pythons. Neither had most hunters.
The mild temperatures at night, and the wind and lack of humidity, weren't ideal conditions.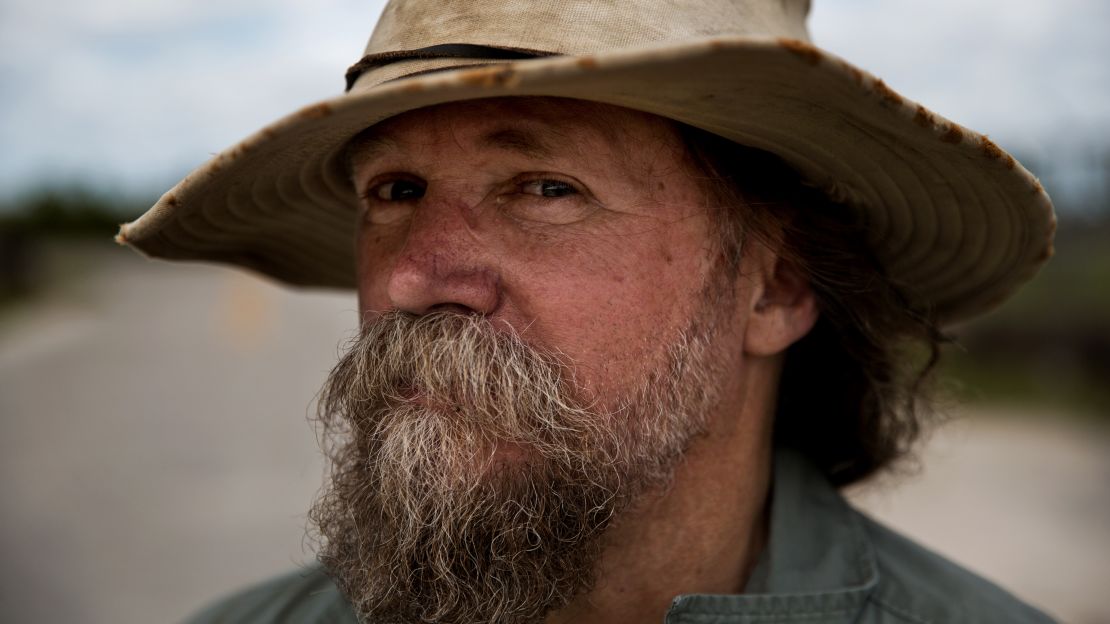 "It's always a good day to be out in the Everglades. However, it's a better day to be out there getting pythons," said Tom Rahill, founder of the Florida-based Swamp Apes, an organization dedicated to taking veterans out on wilderness adventures to help them transition to civilian life.
Rahill said he has captured 400 pythons; he struck out on Thursday, too.
But he serenaded Kalil with a baritone pick-me-up tune.
"Oh, Donna is amazing. Oh, Donna's a friend of mine. Go get a snake," he sang.
"You can do it. You can do it," Rahill said.