Story highlights
Trump has been plagued by questions about Russia
The FBI has an investigation
(CNN) —
Donald Trump's Russia problem is getting worse – and more complicated.
Questions about his campaign's alleged ties to Moscow seem to proliferate by the hour. The mushroom cloud surrounding his baseless allegations that President Barack Obama wiretapped Trump Tower is spreading faster. The investigations have become difficult to keep track of – and those are just the ones we know about.
But the revelation on Thursday that fired former Trump national security adviser Michael Flynn, who also served as a top campaign aide, was offering his testimony to Congress in exchange for legal immunity signaled a potential turning point.
"Gen. Flynn certainly has a story to tell," his lawyer said, "and he very much wants to tell it, should the circumstances permit."
If you're arriving on the scene late, the Flynn news can be summed up this way: One of Trump's highest-ranked and most-trusted campaign hands, who then scored one of the most powerful positions in the White House, is now saying he wants to answer questions under oath about the Trump team's alleged Russian connections.
That's the news. What follows is a reminder of how we got here. It's not a timeline, but four distinct points that, if properly digested, will help put the next big scoop into its proper context.
First, though, some quick history.
Vladimir Putin has some deep-seated issues with the US – and Hillary Clinton
Russian politics have a reputation for being a difficult to decode. As stereotypes go, this one is well-earned and enduring.
Moscow's intentions have bedeviled world leaders for more than a century. Winston Churchill famously declared that even he, the celebrated political prognosticator, could not "forecast to you the action of Russia."
"It is a riddle wrapped in a mystery inside an enigma," he said in October 1939.
Some time has passed, but the old chestnut holds up. A world war and Cold War later, the Soviet Union eventually collapsed under its own weight – with a shove from the West – and, by the early 1990s, the Russian state was depleted. The global superpower had begun to look (and act) like a gangster state. One with an uncomfortably large nuclear weapons cache.
Enter Vladimir Putin. On December 31, 1999, the former KGB officer assumed power after the president, Boris Yeltsin, resigned. Putin has since claimed 21st century Russia as his own. His desire to restore Moscow to the head of the international order has never wavered.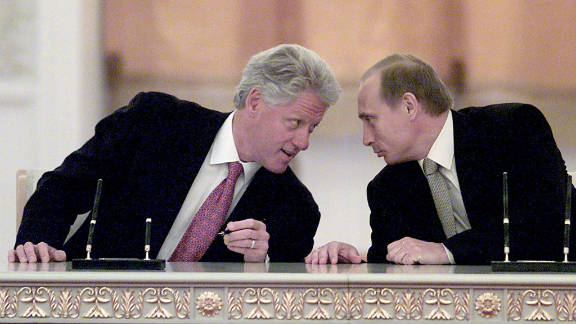 AFP/Getty Images
The US mostly embraced Putin at the beginning of his reign. In the post-Soviet scramble, he appeared to leaders anxious over global stability (and all those nukes) like a steady hand. Cunning perhaps, but a pragmatist. Someone you could work with.
But the relationship soured. Various attempted "resets" failed and, by 2011, Putin was accusing the US of ginning up domestic protests against his government. Putin reportedly blamed the secretary of state, Hillary Clinton.
Four years out from the American election cycle that would eventually pit Clinton against the Republican businessman Donald Trump, the US-Russian relationship turned toxic.
Hacks! Here's what the US intelligence community says actually happened
During the campaign, hackers stole emails from the Democratic National Committee and the personal account of Clinton campaign chairman, John Podesta. The messages were then published by WikiLeaks.
The DNC emails revealed that party leaders had favored Clinton in her primary contest with Sen. Bernie Sanders. Chairwoman Debbie Wasserman Schultz, a congresswoman from Florida, resigned her post on the eve of the Democratic convention in Philadelphia. The episode put a damper on the quadrennial confab and confirmed, to some Sanders supporters, the idea that the race had been rigged against them.
The Podesta hack yielded less damaging information.
If anything, its contents showed how banal the inner workings of Washington can be. But their slow bore dissemination kept a cloud over the Clinton campaign during the summer and into the fall of 2016. Political opponents, critics and conspiracy theorists seized on every word, even the most innocent, and concocted or hinted at faux scandals.
By campaign crunch time, many found it hard to distinguish between the DNC and Podesta hacks, or separate them out from the roiling FBI probe into Clinton's use of a private email server during her time as secretary of state.
This was not, the US intelligence community has concluded, an unlucky development for the Democrats. It is their conclusion, made public on January 6 but without – for now – any unclassified evidence to back it, that the Russians acted intentionally to damage both Clinton and the American public's trust in the electoral process.
Did Moscow expect it to work? Did they think Trump could, despite his consistently lagging poll numbers, defeat Clinton? That's hard to say. But a quick Google search of the weeks before the election shows that it might not have mattered. Congressional Republicans were poised to tie down the expected Clinton administration with endless inquiries into an assortment of alleged wrongdoing.
Win, lose or draw, the US was headed into a prolonged period of political turmoil.
Trump officials and Russia talked a lot. But about what?
Here's where things can get a little complicated.
An important reminder right off the top: Connections do not suppose collusion or collaboration. Take the incident that led to Flynn's ouster. Incoming officials in newly elected administrations routinely make contact with the people they'll be working with (or against) after taking office.
Flynn was fired because he lied to the vice president, both a workplace blunder and, in the eyes of the Justice Department, an action that could make him liable to blackmail by the Russians. Trump's personal reasoning is still unclear, but taken together, it's pretty obvious why he had to go.
Beyond Flynn, there is a vast web of connections among Trump campaign officials and Russian officials and business leaders. There is nothing to suggest, at this point, that any of the contacts were made for the purpose of coordinating activities. Nor is there proof that anyone, including Trump, was aware of what US officials allege Moscow was up to.
But the volume of contacts is enough to raise reasonable questions.
Here's a taste: Former campaign chairman Paul Manafort worked for a pro-Kremlin Ukrainian leader before joining the Trump team. He has since denied reports that he worked to further the interests of the Putin regime. Attorney General Jeff Sessions, a top campaign surrogate, failed to disclose during his confirmation hearings that he'd met before the election with the Russian ambassador – twice. He later announced he would recuse himself from any probe related to the 2016 campaign.
Jared Kushner, Trump's son-in-law and senior aide, had two December meetings, one with the ambassador and Flynn, another with a Russian banker, neither disclosed until media reports made them public. The list goes on.
Trump himself has done business in Russia for years. He is not a stranger to the country. That he still refuses to release his tax returns, like every candidate and president since the Watergate era, also muddies the water.
It all added up to what multiple current and former intelligence, law enforcement and administration officials tell CNN was a state of constant contact between Russians known to US intelligence and the Trump campaign.
The FBI is currently investigating the matter, according to its director, James Comey.
At issue, he said: "The nature of any links between individuals associated with the Trump campaign and the Russian government, and whether there was any coordination between the campaign and Russia's efforts."
Stay tuned. That one could take a while. But in the meantime.
Trump accused Obama of wiretapping him. That never happened. But this did…
It is Saturday morning, March 4, at 6:49 a.m. Trump is tweeting about his predecessor, President Barack Obama. Here's where things really go off the rails.
The accusations are baseless. There is no evidence that the Obama administration ordered surveillance of any kind – phone "tapp" or otherwise – at Trump Tower. In subsequent testimony, delivered under oath to the House Intelligence Committee, Comey very publicly dismisses the allegations.
"I have no information that supports those tweets," he told the committee.
The hearing where Comey testified was presided over by Rep. Devin Nunes, a California Republican who worked on Trump's transition team. Nunes has become the face of the House investigation. He gives frequent press conferences. At the start, he would speak alongside the ranking member, Rep. Adam Schiff, the committee's top Democrat.
But the pretense of bipartisanship disappeared on March 22, when Nu