Story highlights
Ian Grillot was shot in the hand and the chest
One Indian man was killed, another injured
(CNN) —
A Kansas man shot while intervening in an attack that killed one Indian man and wounded another has received a big "thank you," and $100,000, for his efforts.
Ian Grillot was shot in the hand and the chest last month as he tried to stop a gunman who had just shot the two Indian tech workers in Olathe, Kansas.
An Indian charity group in Houston said it raised the money to help Grillot buy a house in his Kansas hometown.
The suspect in the February 22 shooting reportedly shouted "Get out of my country" moments before he opened fire.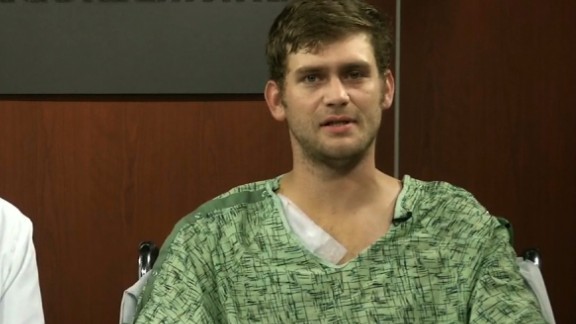 The incident gained international attention. A White House spokeswoman said it appeared to be "an at of racially motivated hatred."
Adam Purinton, 51, has been charged with killing Srinivas Kuchibhotla and wounding his friend Alok Madasani, both 32.
Honored as 'genuine hero'
Grillot was the guest of honor Saturday night at the Indian community charity India House Houston's annual gala. "It is not every day that one meets a genuine hero – a person who risks his life for another, and takes a bullet for a complete stranger," said Jiten Agarwal, the group's chairman.
"Ian Grillot is a man who reminds us of the promise of America and its greatness," Agarwal said.
The idea began when a prominent Houstonian of Indian descent offered to match every dollar raised by India House members.
"I don't know if I could've lived with myself if I wouldn't have stopped or attempted to stop the shooter, because that would've been completely devastating," said Grillot, 24.
"I do now have a very powerful message and if I can help empower people and spread hope and love, then why not?" he said. "I am honored to be at India House that serves so many families from so many communities in the Houston area."