Fox's "Bones" is coming to an end on Tuesday having produced 246 episodes of often-gory crime cases, cracked by a team led by the brilliant Dr. Temperance Brennan (Emily Deschanel). For some female viewers of the long-running series, the show has been about much more than entertainment; it's encouraged them to pursue a career in science.
Morgan O. John is one of them.
She's a "bonehead" – a term of endearment used by fans of the show to describe themselves as a collective – but also anything but.
The 22-year-old is just months away from completing a double major in anthropology and French at Texas Christian University in Fort Worth, Texas.
Growing up in what she describes as " a very, very, very, isolated rural town in Southwest Louisiana," many head to work or the nearest community college after graduating from high school and live "quiet, uncomplicated" lives.
When John, who describes herself as "naturally curious" and an "avid learner," began watching "Bones" 8 years ago, the world of career possibilities opened up for her in a way that television and books never had before.
"Without the TV series 'Bones,' I honestly do not believe that I would have developed an interest in anthropology like I did," she told CNN. "Besides the field of study, I really admired [the] 'Bones' character. She was smart, strong, independent, and had an exciting life. I wanted to be like that."
John is not alone in her realization.
The way women are portrayed on television has power.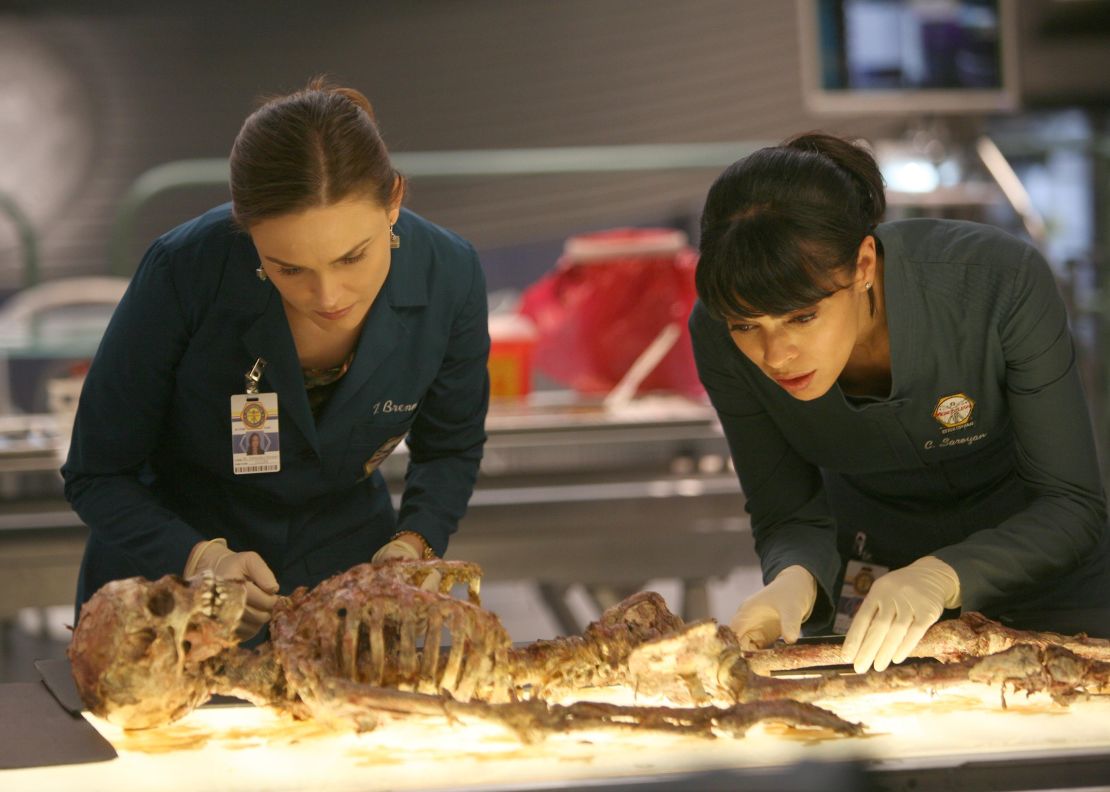 Deschanel pointed to "The Scully Effect" as an example from the past.
The phrase refers to the increased number of women encouraged to enter the law enforcement, science and medical fields thanks to the success of Fox's "The X-Files" and the popularization of Dana Scully (Gillian Anderson).
"I love continuing that," Deschanel told CNN.
On "Bones," Deschanel's character is not alone in her efforts.
FBI agent Seely Booth, played by David Boreanaz, is her partner in crime-solving, as well as her husband after several seasons of a for-the-TV-history-books romantic tango.
The lab, meanwhile, has been a revolving door of names and faces, but three have remained constants: Jack Hodgins (T.J. Thyne), Angela Montenegro (Michaela Conlin), and Camille Saroyan (Tamara Taylor).
On screen, the trio of women have an enviable friendship and equally enviable skills in their respective areas.
"I feel like that was in the DNA of the show from the start, long before I got there" said executive producer Jonathan Collier. "That was [creator Hart Hanson's] vision of the show and very much Emily's vision of the show."
Collier has been with "Bones" six seasons, taking the helm after longtime executive producers Stephen Nathan and Hanson departed the series.
He said the show always remained "respectful" of the fact that they were portraying three diverse female scientists – something rarely seen and of importance. When crafting arcs for the characters, "Bones" writers aimed to give them stories that went "beyond men."
"I think the real reason for that is that we had these really strong, good, female writers on staff who weren't going to accept anything less and were there to remind us," Collier explained.
Like "CSI," "The X-Files" and a few shows before it, "Bones" has seemingly bred its own generation of scientists. Call it "The Jeffersonian Effect."
"There's nothing that makes me more proud of doing the show than meeting or hearing about young girls … who wanted to go into science because of my character or other characters on the show," Deschanel said. "That makes it all worth it to me."