Story highlights
Multiple protesters facing public nuisance charges
Lawmakers warn the charges may be just the beginning
Nine leaders of Hong Kong's 2014 pro-democracy street protests have been charged with public nuisance offences more than 27 months after the "Umbrella Movement" ended.
The protesters told CNN they were told to report to a police station Monday, one day after Carrie Lam was selected by a Beijing-dominated election committee to be the city's next leader.
All of those charged were released on bail. They are scheduled to appear in court Thursday.
The Department of Justice later said in a news release that nine people would be prosecuted based on new evidence and legal considerations.
Lawmaker Nathan Law, one of the leaders of the protests, accused Lam's predecessor CY Leung of trying to "clean house" ahead of her swearing-in on July 1.
"He's going to do these sorts of things to clear a new road for the Carrie Lam government," Law said.
Leung's term was dominated by the 2014 protests, which saw hundreds of thousands of people take to the streets to call for the right to elect their leader. Parts of Hong Kong were shut down for 79 days.
CY Leung's office did not immediately respond.
Speaking to reporters Monday, Lam said that prosecutions are "undertaken independently by the Department of Justice."
She said the charges were "an action of the current (government) done independently by the investigation and prosecution authority."
The Department of Justice also denied reports that the arrests were tied to Lam's selection.
"Such surmising is completely baseless and utterly untrue. When handling prosecution work, the DoJ does not give prior notice to the executive branch, nor did the DoJ give prior warning to the Chief Executive-elect," it said in a statement.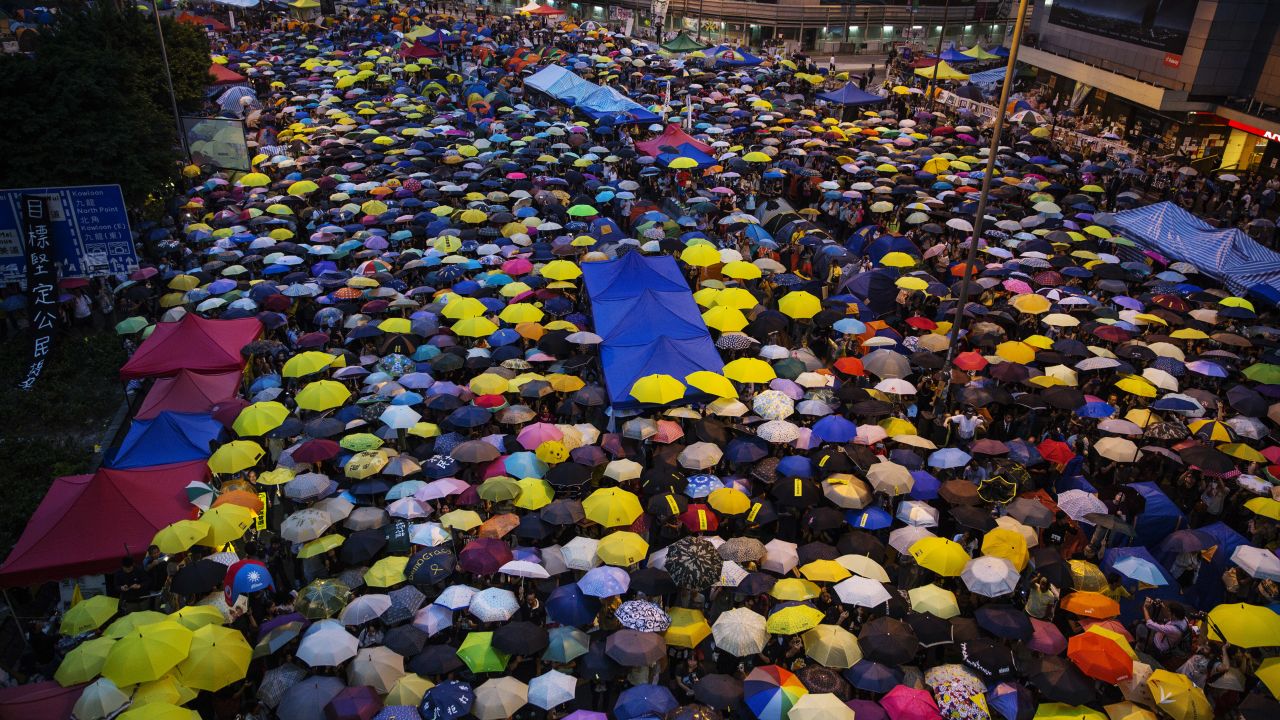 Charges
Professor Chan Kin-man, one of the organizers of the Occupy Central protests – a civil disobedience campaign and precursor to the Umbrella Movement – told CNN that he and two other organizers, Benny Tai and Reverend Chu Yiu-ming, were facing charges of public nuisance and incitement to public nuisance.
"It is a deliberate decision of the government to prosecute us right now," Chan said. "They didn't want it to affect the election campaign of Carrie Lam."
He said the move to charge protesters "sent a strong signal that the government is going to continue a hardline approach dealing with the civil society."
Representatives for pro-democracy lawmakers Tanya Chan and Shiu Ka-chun, both of whom were involved in the protests, confirmed to CNN that they were also facing public nuisance charges.
Speaking to reporters Monday, Chan accused Lam of going back on her promise to "unite society" and said the charges were a bad sign for the incoming administration.
Law – secretary general of the Hong Kong Federation of Students during the protests – said former HKFS officers were also facing charges.
Hong Kong and China: One country, two systems
Unity
Speaking Sunday after she was selected as the city's next leader, Lam promised to heal divisions and "unite our society."
Lam was chosen by 777 members of an election committee made up of 0.01% of Hong Kong's 7.3 million population.
"The work of uniting our society to move forward begins now," she said.
That work may now be harder than previously thought, said Johannes Chan, a professor of law at Hong Kong University.
"(The charges) could not have come at a worse time," he said. "To proceed with it immediately after the election will do no good at all to the vowed attempt of (Lam) to mend the relationship with the pan-democrats."
While the decision was likely taken by the current administration, Chan said it put Lam in a "rather embarrassing position."
Mabel Au, director of Amnesty International Hong Kong, said in a statement that "the authorities have had years to consider these cases."
"The timing of the charges, the day after Carrie Lam won the closed race to be the city's new chief executive, raises serious questions as to whether political maneuverings were a factor in the decision to bring charges now," Au said.
Speaking Monday, Lam said she had "made it very clear that I want to unite society and bridge the divide … but all these actions should not compromise the rule of law in Hong Kong."
Hong Kong's Umbrella Movement leader vows to fight
'Just the start'
Au Nok-hin, a Democratic Party politician and spokesman for the Civil Human Rights Front, which regularly organizes mass anti-government protests, said the charges showed the government "is not going to stop the conflict" with pro-democracy groups.
"The arrest of people from the Umbrella Movement will just be the start," he said.
Law also predicted further arrests. He and three other lawmakers are currently facing expulsion from the Legislative Council after the government sued them over protests during their swearing-in ceremony.
If the decision was made with Beijing's approval, Chan Kin-man said, "it is sending a strong signal (to Hong Kong) that it will use a strong hand."
CNN's Mark Lu contributed reporting.