(CNN) —
GM has a new app in its vehicles that lets you order Starbucks while you drive. Here's what else you need to know to Get Up to Speed and Out the Door. (You can also get "5 Things You Need to Know Today" delivered to your inbox daily. Sign up here.)
1. Harvey
Brexit is a go: UK Prime Minister Theresa May will trigger Article 50 today, kick-starting the process that will see Britain leave the European Union in the next two years. How will it affect the UK? The better question is: How won't it? Pro-Brexit politicians have promised a lengthy list of improvements, from new trade deals to huge savings on EU payments. Whether these all pan out remains to be seen.
There's a risk for House Republicans too. If they vote against the bill, they'll have to explain why they passed on their best opportunity to get rid of Obamacare, the law they've railed against for years. By the way, the revised bill is costlier and insures even fewer people. 
2. Travel ban
On a related note, Secretary of Homeland Security John Kelly told CNN the department is considering separating children from their parents at the border. He said the plan would help combat child exploitation, since currently adults found crossing the border with children are typically allowed to stay in the US.
3. Brexit
The ink's not even dry on these divorce papers and already there's drama. British Prime Minister Theresa May has been accused of using security as a bargaining chip as the EU and UK hammer out Brexit. In the letter sent to the EU notifying it that the UK was leaving, May said that if a deal couldn't be reached, it would affect the continent's security. Critics called that "shameful" and "blackmail"; May said security was one of many things that would need to be negotiated with the rest of Europe over the next couple of years.
4. Economy
Republicans insisted they had no Plan B for their plan to repeal and replace Obamacare. But after that plan was scuttled last week before it could even get a vote, there is, all of a sudden, a Plan B. President Trump, who seemed content to let the Affordable Care Act "explode" and move on to tax reform, told a bipartisan group of senators last night, "I know we're going to make a deal on health care, that's such an easy one."
4. Russia investigation
Here's a real tragedy coming out of Texas' Hill Country. Thirteen people in a minibus were killed in a collision with a pickup truck. The folks in the bus were church members returning from a retreat. Two people were injured, including the driver of the truck. Counselors will be on hand today at the church.
BREAKFAST BROWSE
People are talking about these. Read up. Join in.
An 86-year-old raises $400,000 and then gave it all away.
This is the small handful of people Trump follows on Twitter
Maybe he's trying not to feel isolated?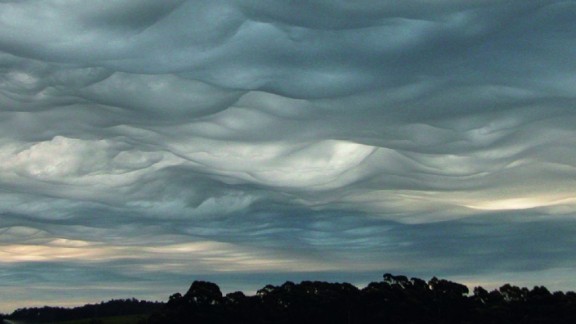 WMO International Cloud Atlas
The 61-year-old actor's death last month shocked the acting world.
For those long flights in this electronics ban age, Royal Jordanian has some suggestions: "Engage in primitive dialogue from the pre-internet era."
What's cooler than a portrait of Mother Teresa? A portrait made out of more than a million staples!
QUOTE OF THE DAY
"There were other immigrants who came in the bottom of slave ships, who worked even longer, even harder, for less…"
Dr. Ben Carson, offering an alternative perspective on slavery, during an address to employees at the Department of Housing and Urban Development
First ladies
AND FINALLY …
The Academy of Country Music Awards makes fun of the Oscars' big screw-up. (Click to view)
Cuteness alert! Watch the world's most patient Great Dane put up with the hyper antics of a dachshund puppy.