A day after Londoners were confronted with a cruel and ruthless attack, crowds gathered in the heart of the city to pay tribute to the victims.
Just a few minutes away from the scene of Wednesday's carnage, helicopters circled above Trafalgar Square – a location for protests, celebrations and rallies, but increasingly the site of impromptu vigils in the wake of recent terror attacks in Europe.
With the work day done, hundreds slowly trickled into the square and together with the Mayor, the Home Secretary, members of the police and figures from several religious communities they projected a display of solidarity and defiance to the world.
"We come together as Londoners tonight to remember those who have lost their lives and all those affected by the horrific attack yesterday. But also to send a clear message, Londoners will never be cowed by terrorism," Mayor Sadiq Khan told the crowd.
"Those evil and twisted individuals who try to destroy our shared way of life will never succeed and we condemn them."
Read more: How the Westminster attack unfolded
The displays came in different forms.
Four homeless street artists sketched colorful messages of solidarity on the stone slabs in front of the National Gallery.
Putting the finishing touches on a drawing of the iconic London Tube sign, emblazoned with the words "we are not afraid," Dwaine Rossiter told CNN he came out after reading about the attack in the free sheet Metro newspaper.
"Normally I come out with money on my mind, but today I came to spread the message that we are not afraid. The world's a dangerous place, but I wanted the public to know we're all in this together," said 24-year-old Rossiter, who moved to London from Dublin last November.
Gathered at the foot of the Gallery's steps, a small group of men, each in an #IAmAMuslim T-shirt, held a banner "Love for all, hatred for none" between them.
One of them, 27-year-old Imam Abdul Quddus, who grew up in London, told CNN that being British and Muslim are not contradictory things.
"It's unfortunate that something like this has happened and that it is associated with Islam," he said.
"For me it's important to come here [and] say this is not what Islam is about."
Lipa Nessa, 18, a sports student from London agreed.
"As a Muslim I felt I had to come here to show that nothing can divide us, that we are united together, to make London stronger."
Related: A city stilled, shocked and then enraged by attack
London has a long history of standing up to terror, and some at the vigil remember the devastation caused by IRA bombings of decades gone by.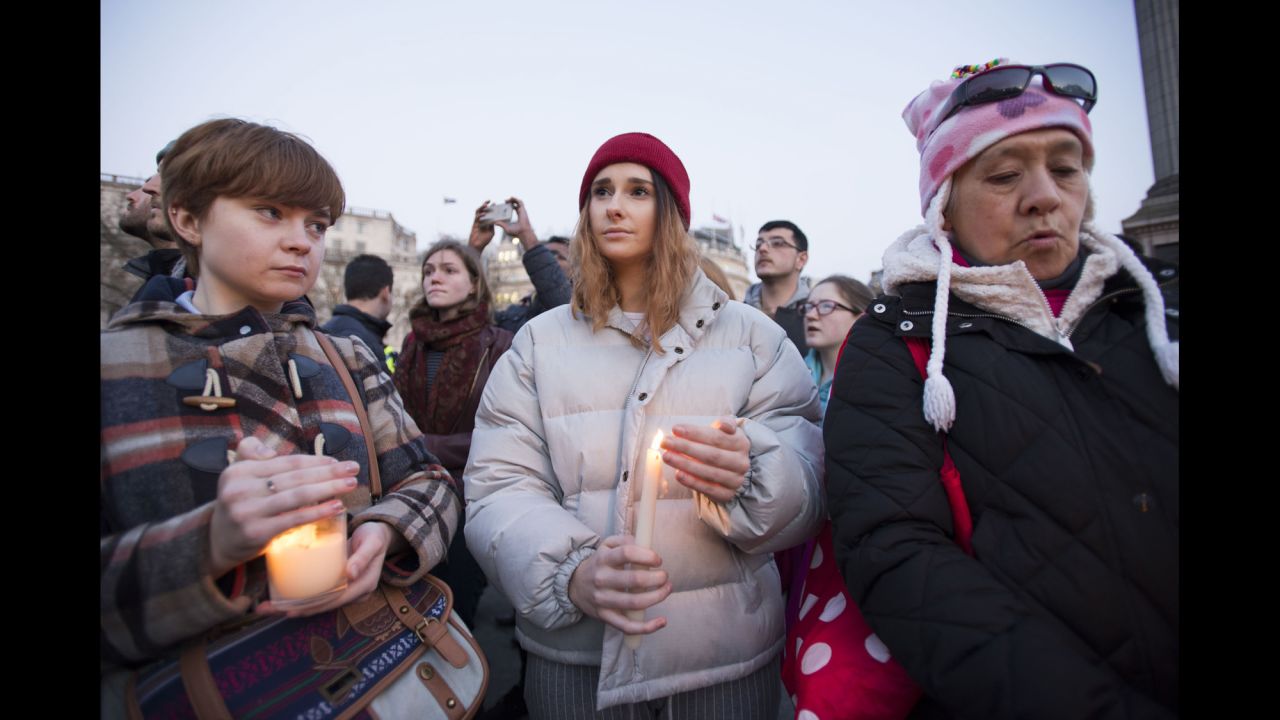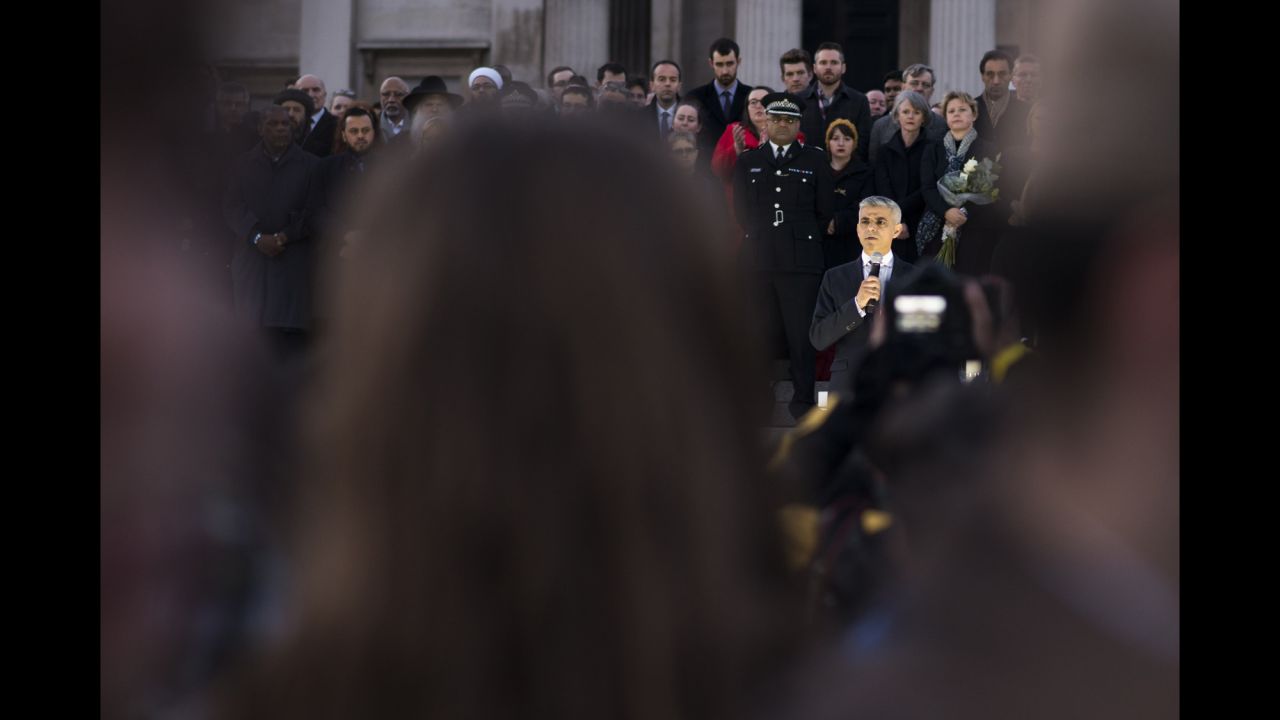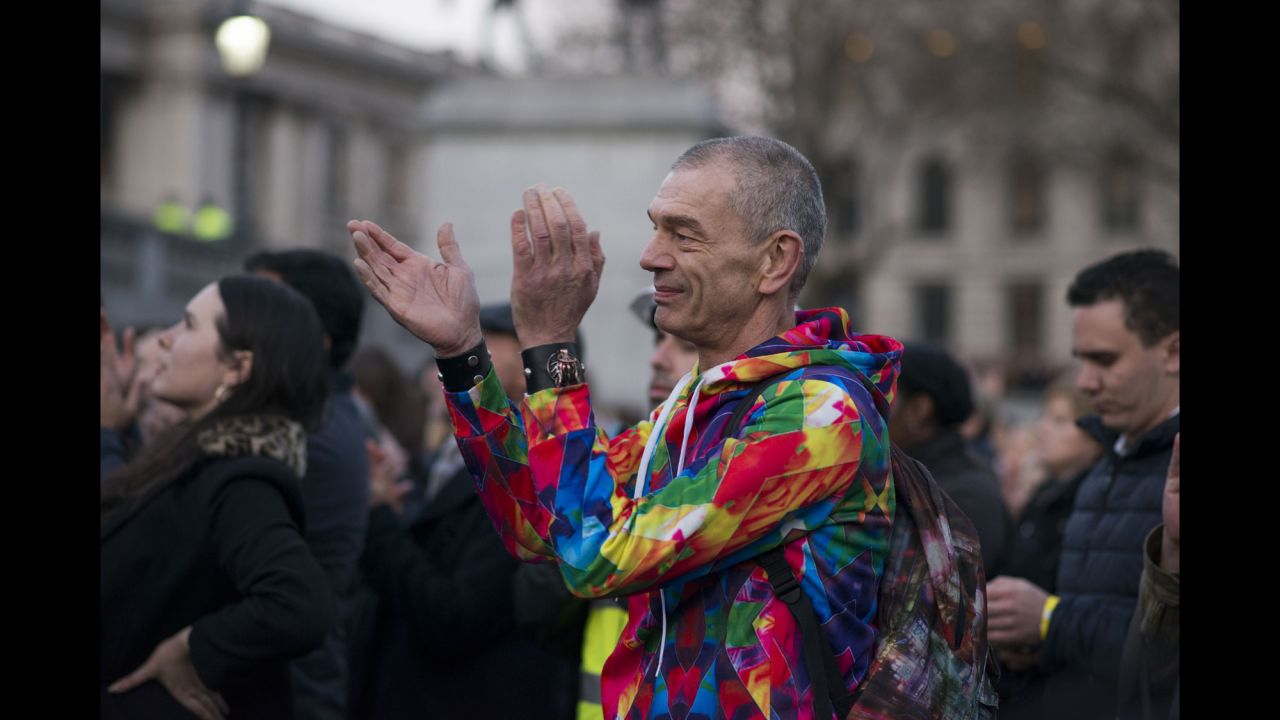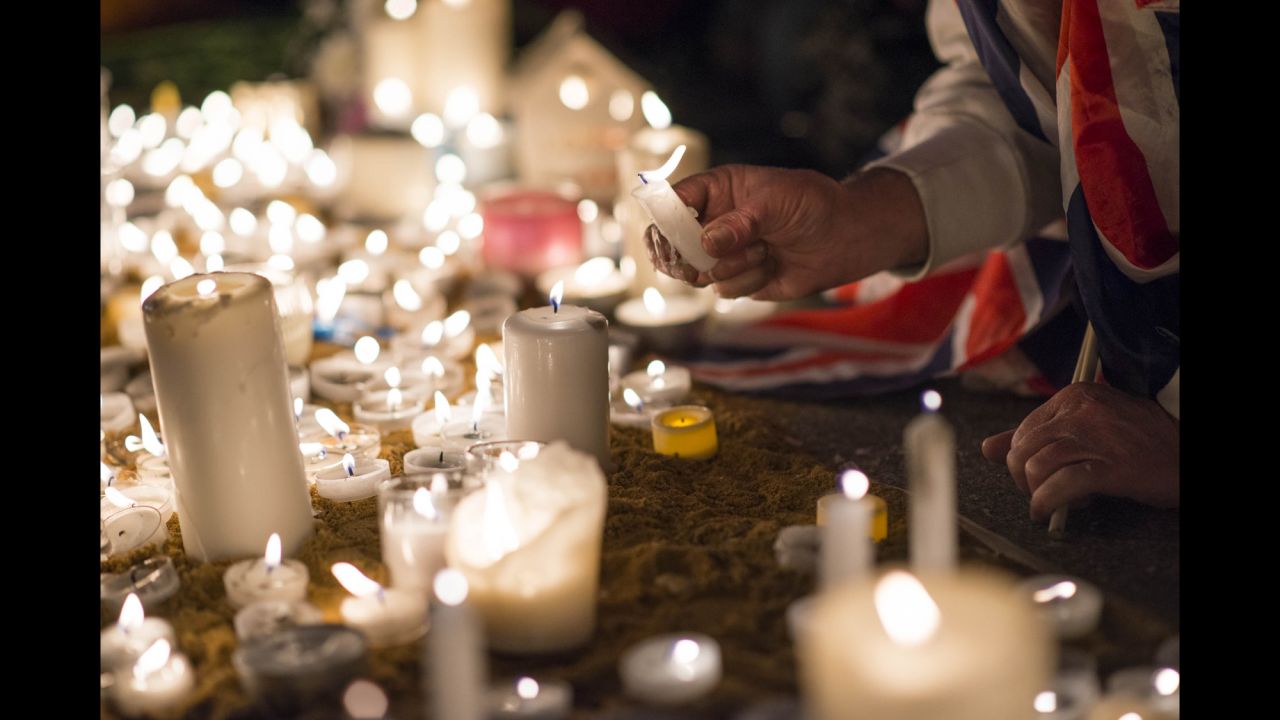 London vigil: 'We are not afraid'
"I've been here since 1975, so I was here during the IRA bombings and it hasn't deterred me," said 67-year-old Jennifer Richards.
"I love London. I wouldn't consider living anywhere else."
For others, Wednesday's attack brought back memories of the 7/7 bombings in 2005; the coordinated attacks on London's transport system left 52 dead and more than 700 injured.
Patrick Johnson's mother was caught up in that attack. On Thursday evening he stood amidst the crowd, clutched a bunch of flowers and held a sign that read "London will never be beaten! We stand as one and united!"
"This isn't going to defeat anyone," he said in a thick east London accent. "We're strong."
"7/7, that didn't break us. This won't either."
The crowd slowly dispersed, trickling out of the square as the sun set and pink clouds streaked across the sky. Others congregated at the base of a fountain to light candles, sheltering from the sharp cold wind.
Among them was 62-year-old John Loughrey.
Dressed in a Union Jack jumper, two Union Jack flags in hand, the South Londoner who attends service at Westminster Abbey every Sunday, dismissed pleas from his friends not to attend to vigil.
Instead he took the train into the city; laid flowers at Westminster Abbey across the street from the scene of Wednesday's attack and walked up past Downing Street to Trafalgar Square.
There he took out 22 candles, marking the date of the attack. As candle after candle extinguished in the wind, a defiant Loughrey re-lit each one.
"We must continue on as normal," he said, kneeled on the ground as he paid his respects to the dead. "We can't let the terrorists win."