Story highlights
Testimony could reveal more about why Sandusky's crimes were kept quiet
Graham Spanier faces charges of felony conspiracy and endangering the welfare of a child
Five years after former Penn State assistant football coach Jerry Sandusky was convicted of molesting young boys, Penn State's former president will stand trial, accused of helping to cover up Sandusky's crimes.
Graham Spanier, once one of the nation's most well-respected university presidents, will face a jury on felony charges of conspiracy and endangering the welfare of a child. Jury selection in his trial began Monday in Harrisburg, Pennsylvania.
Two top officials – former Athletic Director Tim Curley and former Senior Vice President for Finance and Business Gary Schultz – pleaded guilty last week to a misdemeanor child endangerment charge in the case and will likely testify against him.
The testimony could reveal more than has ever been known before about how and why Sandusky's crimes were kept quiet at Penn State for years.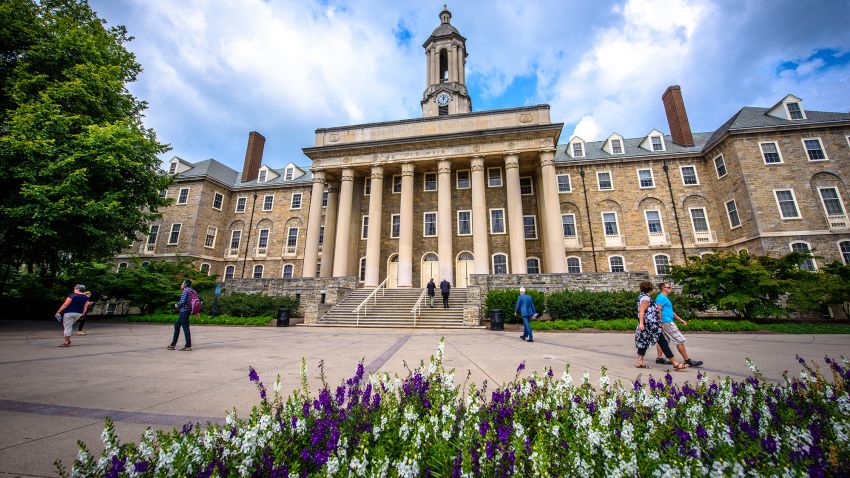 Penn State sexual abuse scandal in 60 seconds (2016)
Since the arrest of Curley and Schultz in 2011, and that of Spanier in 2012, questions have been raised about how officials handled multiple reports that Sandusky was acting inappropriately with young boys at Penn State facilities. Some reports alleged rape, some alleged nothing more than strange behavior.
Curley and Schultz have never before testified in open court, but are expected to do so for the first time in Spanier's trial.
Many are looking to see if they will point the finger at the late Joe Paterno, the legendary head football coach who fell from grace amidst this scandal, just weeks before dying of lung cancer.
Did Paterno know about sex abuse in the 1970s?
Who is Graham Spanier?
Spanier made a name for himself in the world of academia by successfully raising millions of dollars and transforming Penn State into one of the most well-respected state institutions.
He was also a fascinating character: He studied sociology and wrote papers about mate-swapping and extramarital behavior, which made for entertaining reading for students. He played the washboard at a local bar in town, and spent a night each semester sleeping in freshmen dorms.
Feds hit Penn State with historic $2.4 million fine
But he was also notorious for his ego. Critics say he had a misperception of the world outside of his bubble and did not understand the implications of the Sandusky scandal when it broke. He didn't appear to understand that the world was watching, telling people the news vans would soon leave campus and things would go back to normal in a few days.
He was wrong. Four days after Sandusky's arrest on November 5, 2011, Spanier was fired, along with Paterno.
By the end of the following year, he'd been charged with crimes that could bring a sentence of several years in prison, if he's convicted.
He has always maintained his innocence, and has not been shy in talking about it. Spanier has given multiple media interviews to tell his side, and testified in several civil cases against the university regarding the scandal – unlike Curley and Schultz, who have pleaded the Fifth.
The problem is that he often came across poorly on the stand, talking about how busy he was, traveling the world. Saying that he couldn't remember what exactly happened when accusations of child molestation came to his attention, since he gets so many emails.
The space between trials
Five years ago, attorneys for the three administrators wanted as much space as possible between Sandusky's trial and that of their clients. They wanted to see if public opinion would change in their favor, or die down altogether. Inside Pennsylvania, not much has changed. There is still a great divide over how to treat Paterno's legacy. And there are still weekly headlines in the local papers about the Sandusky case.
Along the way, attorneys for Spanier, Curley and Schultz had successfully beaten back perjury, conspiracy and obstruction charges after arguing that Penn State's legal counsel, Cynthia Baldwin, had misrepresented herself to them when they testified before the grand jury. The administrators, attorneys said, thought Baldwin was there on their behalf. In fact, she was representing the university, not the men individually.
Then, Baldwin turned on them, becoming a witness for the prosecution in the cover-up case. Faced with having to either admit that she broke lawyer-client confidentiality, or that she misrepresented herself to Curley and Schultz when she went with them as counsel to the secret grand jury proceedings, Baldwin chose to admit to the latter – although she was not charged in connection with that admission.
The charges of perjury, obstruction and conspiracy against Spanier, Curley and Schultz were tossed, but not before a years-long legal limbo, complicated by the fact that the grand jury judge was removed from his post after being accused of losing his objectivity – he allegedly brandished a knife in front of one of the attorney general's secretaries (an accusation he said was overblown). It was further complicated by the fact that the trial judge, Todd Hoover, was battling health problems.
When Hoover died in August 2016, finding a replacement was not easy. All of the judges in the county recused themselves because of Penn State connections.
Far-reaching implications
The outcome of this case could have far-reaching implications: what the jury decides could set legal precedent for future child sex abuse cases in the state.
According to court documents, Spanier is expected to fight the charges with a two-pronged argument: First, that as president of a university, he was not a mandated reporter of suspected abuse of a child that was not under his care. The children that Sandusky brought onto the campus were mostly from his charity, The Second Mile. Second, that the two-year statute of limitations has run out.
Prosecutors argue that every day that Spanier did not report what he knew, the two-year clock to report the crime reset.
The jury's decision on that point could affect how future cases are handled – most notably, cases involving the Catholic church, where decades-old abuse and cover-up is also alleged.